Summer Hairstyle Tutorial- The Fishtail Braid
Summer Hairstyle Tutorial- The Fishtail Braid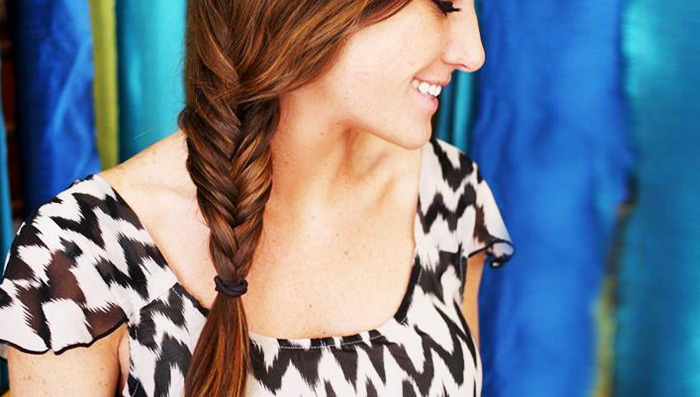 Come summer, with the temperatures going up, style quotients keep going down. If your go-to hairstyle for long hair is to throw your hair in a boring slouchy ponytail, just follow our easy-to-do-at-home hair care tips and recreate this hairstyle of the month, in a jiffy!
Our featured hairstyle for long hair this month is the fishtail braid. Here's a step by step procedure to replicate it:
You can try this look with freshly washed hair. Shampoo you hair with Vatika Heena Olive Shampoo.
Blow dry your hair using your finger till it is semi dry.
Follow it up with a dab of Vatika Enriched Olive Hair Oil.Follow this hair care tip to keep frayed ends in place.
Next, divide your hair into two sections such that it's parted right in the middle. To make the look sharper, comb it well, remove tangles and make sure the parting is even.
Now pull a thin strand of hair from the outer end of the left part, pull it over the top of the left section and under the right section.
Next, pull a strand from the outer end of the right section and weave it over the right, then under the left section.
The hair care tip here is to make sure each strand is of the same thickness; otherwise the braid will end up looking uneven. Also remember, the skinnier the strands, the prettier the braid.
Keep repeating this with alternating sides till you get to the bottom of the braid.
You can end the braid with a simple black hair tie, a pretty bow, a beaded hair band or a cute clip – pick an accessory based on how dressed up you want your look to be.
If you think the braid is too tight, you can use your fingers to loosen it a bit. But remember, once you loosen it, you can't tighten it back again. Also, the braid will tend to loosen on its own with time, so don't mess around with it much.
And here's the best part, the fishtail braid is the perfect hairstyle for long hair - any day, any time. It looks dressy enough for evening dates, casual enough to for Sunday brunches, formal enough for the workplace or college, and if you have long hair and setting out for a hectic day, this style stays on for long. What's more, though it seems elaborate and time-consuming in the beginning, after you try your hand at it a couple of times, it's a piece of cake. So go on and rock the look. And don't forget to come and check out a new hairstyle for long hair next month. Follow our blog to read more
natural tips long hair growth
. Photo Credit:
1
Also read
Easy Braided Hairstyles For Long Hair
Hairstyle For Long Hair For Party
Cute Bun Hairstyles For Long Hair
Wedding Hairstyles For Long Hair
Short Wavy Hairstyles
Easy Summer Hairstyles
Different Ponytail Hairstyles
Best Hairstyles For Thin Hair
Hairstyles For Wavy Hair
Holiday Hairstyles
Romantic Hairstyles
Tips For Thick Hair
Different Hairstyles For Long Hair

*
Fields are required. Make some cool noise, please don't spam and your voice will be heard.
Was this Article helpful?