9 Rainy Season Hair Care Tips & Hair Fall Home Remedies in Monsoon
9 Rainy Season Hair Care Tips & Hair Fall Home Remedies in Monsoon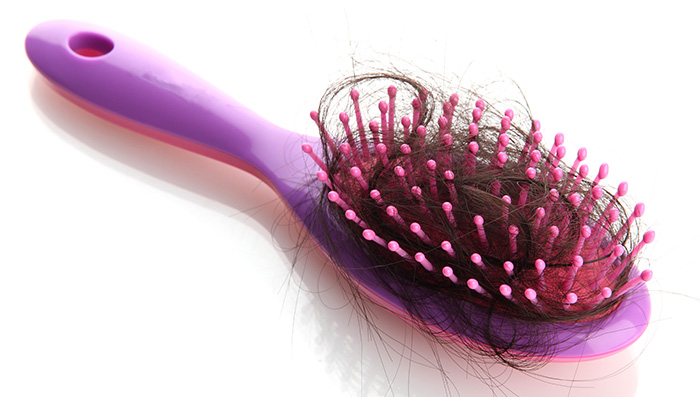 If 'Rain, rain go away; let my hair stay healthy and in place' is the song that you sing every monsoon, then time you stopped doing that. We have got you covered some incredibly awesome yet easy-to-do home remedies that will not only prevent your hair from falling in monsoon but also make them look healthy and gorgeous.
Video:
Vatika Enriched Coconut Oil For Hair – Reduce Hair Fall By 50%| MyBeautyNaturally
Why Hair Fall In Rainy Season

Humidity:

Hair fall during monsoon is a common problem faced by almost everyone. Due to excess humidity in the air your hair tend to become limp, brittle and as a result you start losing clumps of them.

Dandruff:

The damp moist weather during monsoon provides an ideal situation for dandruff to grow. Monsoon is the season when most of the people suffer from the problem of fungal or bacterial infections, excess sebum and skin irritation. All three of which are the main reasons behind one getting dandruff. With dandruff come the problem of dry and itchy scalp and dull & brittle hair that keep falling excessively all the time.

Read more about tips on how to remove dandruff naturally.

Damp Scalp:

While we hair are not to be totally blamed for causing dandruff, but to an extent, wet or damp scalp can lead for the problem to aggravate. Microbes are always present on the scalp and they thrive best in damp, warm or wet conditions. So leaving your hair wet for long can cause the problem of dandruff and leave your hair damaged

Lack Of Nutrients In The Scalp:

Dry, itchy, dull and damaged hair could be because of lack of nutrients in your diet. A healthy diet goes a long way in giving you healthy and strong hair while an unhealthy one can do the reverse. Shun the junk and adopt healthy eating habits. Vitamins, proteins, minerals, calcium and a plethora of other essential nutrients are required to keep your mane in good condition. If you lack nutrients in your diet, time to change it or else fall prey to the problems of dandruff, hair fall, hair breakage and dryness.

Hair Styling Products

Shampooing your hair too much or using other hair products in excess can cause dandruff. It is so because most of the products available in the market are chemically treated and too much of chemical in the scalp can cause irritation, dryness and make it itchy. This can trigger intense reaction in the scalp and lead to problems of dandruff and hair fall.

Pollution:

While humidity causes the hair to lose its natural shine and nourishment, couple the problem with the presence of pollutants in the rain water, which when enters your hair culminates into fungal infection that weakens the roots and causes your hair to fall; and you have the perfect recipe for hair disaster ready!

Chemicals:

Another reason for excess of hair fall in monsoon is use of chemicals and hair products that you might be applying to save your hair from any further damage. But the truth is that these hair products do more damage to the health of your hair and scalp than reverse the damage. So what should you do to regain the lost lustre of your crowning glory? Return to your roots and by that we mean restoring to natural and homemade remedies.

Monsoon Hair Care Tips & How to Prevent Hair Fall in Monsoon?

To prevent hair fall in monsoon you are require to take few easy steps and first & foremost need to elevate your regular hair care regime to the level of a special hair care in monsoon routine. Next in line, you need to keep certain basics in mind while designing your own special hair care in monsoon routine. It must include the following:

Shampoo:

Using a mild shampoo like Vatika Hair Fall Treatment Shampoo will help clean your scalp off any impurities or germs; keep it conditioned; and add volume and natural shine to the hair.

Oil Massage:

Hair tend to get frizzy and at times dry and dull due to excess of humidity in the air. To keep your hair controlled and managed, apply a hair oil like Vatika Jasmine Hair Oil. This non-sticky formula nourishes the hair from root to tip and restores the moisture balance for your hair to look smooth and frizz-free.

Avoid Hair Products:

Your scalp is at its vulnerable best during monsoon. To avoid hair fall in monsoon avoid exposing it to styling products. Chemical based products can make your hair greasy that cause irritation to the scalp. Dandruff and itching are few other things that occur due to excessive use of hair products and can lead your hair to fall.

Eat Healthy:

Saying no to your junk food craving and eating a healthy diet of protein, minerals and calcium rich foods will keep your hair healthy, thick and gorgeous even in the rainy season. Including fresh fruits and vegetables is another thing that you must follow if you wish to add life to your hair and avoid hair fall during monsoon at all cost.

Keep Your Hair Dry:

Wet hair can work like a magnet to attract dirt, pollution and grime. It is also the reason for microbes to spread across fast and cause infection to the scalp. To keep your scalp infection free and hair healthy, always make sure you dry your hair before stepping out. While blow drying is an option that must be followed with discretion, as too much of heat on the hair can destroy the follicles and cause the hair to fall. Restore to natural remedies like air drying instead.

Wash Hair After Getting Drenched:

While you may love to get drenched in the rain, the havoc it can later cause to your hair and scalp can be pretty unpleasant an experience to deal with. The dirty, acidic water of rain can cause infection in the scalp and if not dealt with in time can become something more serious like eczema or psoriasis. To avoid your hair from getting spoilt, do wash them with a mild shampoo post the rain session. It will not only help get rid of dirt and infection causing germs and bacteria but also make your scalp and hair feel fresh and healthy.

Condition Your Hair:

Using a quality hair conditioner can provide plenty of benefits to the hair. It can prevent your hair from becoming dry, moisturize them from root to tip, prevent their breakage, smoothen the cuticles, untangle them and make them soft and silky smooth.

Do Not Tie Wet Hair:

Wet hair is at their vulnerable best. Applying any kind of pressure or pull can make them break from the root and fall. Therefore, it is always advised to not tie your hair in a tight ponytail or a bun when they are wet. Before tying them in any hairstyle, make sure you have dried them to avoid causing any damage to them.

Stop Using Hair Styling Products:

Do you often feel your hair becoming dry and brittle despite you trying every product in the sun to add healthy and volume to them? It maybe because of the chemicals you are applying on them. Constant use of hair products can cause them to break and fall. It can also make them frizzy and unmanageable and cause irreversible damage in the long run. Try and limit your use of chemically treated hair products and switch to herbal or natural remedies to bring back health and natural shine.

Hair Fall In Rainy Season Remedies

While reasons for hair fall in monsoon could be many, but so what? So are the number of natural remedies that you can try to banish away all your hair woes. Try some of these!

Amla Overnight Hair Mask:

Amla is very high in antioxidants, anti-inflammatory, exfoliation and antibacterial properties that aids in fighting the problems of dandruff, greasiness and scalp itching that are very common during monsoon. It also stimulated regeneration of hair.

Mix a tablespoon each of lemon juice, aloe vera juice & amla pulp
Gently massage the scalp with it & leave it overnight
Rinse with mild shampoo the morning after

Read more on benefits of amla for hair.

Honey & Almond Oil Mask:

To naturally condition your hair, add strength & keep them nourished from root to tip:

To 1 cup of honey add a cup each of Dabur Almond Oil & ground chamomile leaves
Mix well & apply to the scalp
Let it dry for an hour before rinsing it with a mild shampoo

Mint & Hibiscus Mask:

Monsoon can rob your hair of its natural oils thus leaving them look dull, dry and lifeless. To add life back to them:

Crush 20 hibiscus leaves
Mix with 3 tablespoons of mint leaves paste & 2 teaspoon on lemon juice
Mix well and apply on your scalp & hair
Let it dry for 30 minutes
Wash it off with a mild shampoo

Coconut Oil, Lemon & Orange Mask:

Who can deny the benefits of hair oil massage on the hair! An age old hair fall control home remedy, a deep conditioning hair oil massage not only provides nourishment to the scalp but also brings back dull and limp hair to life.

Mix the two oils together in a bowl
Apply them on the scalp and gently massage for 10-15 minutes in circular motion
Leave it in the head for 45-50 minutes
Rinse it off using mild shampoo
Repeat at least once a week

Honey, Almond & Chamomile Leaves Mask:

To promote hair growth and strengthen the roots, try this home remedy for hair fall.

Puree chamomile leaves in a blender
To the pureed leaves, add coconut oil and honey and mix well
Apply the paste to the hair and scalp and gently massage your head for 10-15 minutes
Thereafter, leave it to rest for an hour and then rinse it off using a mild shampoo followed by conditioner
Repeat at least once a week for desired results

Multani Mitti Natural Shampoo:

As an essential monsoon hair care tip and home remedy for hair fall, making your own natural shampoo is the best advice that you can make use of. Since the skin on the scalp is extra sensitive during monsoon, avoid usage of harsh chemicals or hair products. Instead wash your hair with natural shampoo made with ingredients like fuller's earth (multani mitti), fenugreek, mint and lemon juice.

Blend 3 tablespoon fenugreek seeds (soaked overnight) and 5-6 mint leaves into a mixer and make a smooth paste
Now add 2 tablespoon of multani mitti and juice of ½ lemon to the paste and stir well
Apply the paste to the hair and scalp and leave it to rest for 1-2 hours or till it has dried
Rinse it off with warm water
Repeat at least once a week for effective results

Follow our blog read more tips for long hair in one week.

Honey and Cinnamon Hair Mask:

If the question of how to control hair fall naturally keeps bothering you then you must try this natural remedy for hair fall.

Mix 2 tablespoons Vatika Enriched Olive Hair Oil , 2 tablespoons honey and 1 tablespoon of cinnamon powder in a bowl
Apply on the head and leave it to dry for 30-40 minutes
Rinse with warm water followed by a mild shampoo
Repeat at least once a week to add luster to the hair while nourishing the scalp from within

These hair fall home remedies are the ultimate answer to how to get rid of hair fall. For more such remedies for hair fall and tips on how to get rid of hair fall in monsoon keep following our blog.
Click here to know more on how to prevent hair fall at home and various other hair care tips.
Read More Tips On:
Olive Oil for Hair Loss
Hair Fall due to Dandruff
Coconut Oil For Hair Loss
Hair Oil
Tips for Dry and Damaged Hair
How to Get Shiny Hair
How To Remove Dandruff
*
Fields are required. Make some cool noise, please don't spam and your voice will be heard.
Was this Article helpful?