7 Holiday Hairstyles For Long Hair
7 Holiday Hairstyles For Long Hair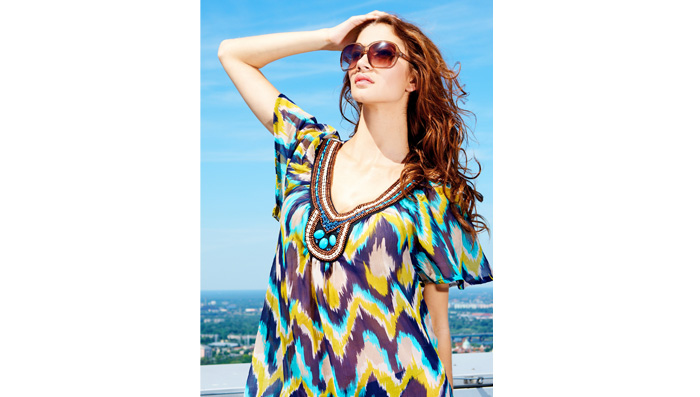 Summer is here and so is the holiday season. This is the time to book your tickets and escape to a paradise which gives you the much needed break from your mundane life. Holidays are an amazing time for spending quality time with your family and friends. They leave behind a great time and fun memories. So make sure you look chic and super amazing in the snaps which freeze those memories with these hairstyles for long hairand hair care tips.
For a sophisticated and seasonal hairstyle for long hair, blow hair straight with a paddle brush, or run a flat iron over dry hair.
Between last minute shopping, packing and traveling, the time for hair styling is inadequate. But that doesn't mean you can't attain a fabulous hair style. Simply brush your hair back and top it off with a chic scarf or headband.
A half-up look works great if you have a clear glowing face and a casual look overall. Simply tie the upper half of your hair and leave the bottom half lose to attain it.
Turn your everyday waves into a special hairstyle for long hair by adding a quick French twist. Add a French braid to your crown along the partition, or ear-to-ear for instant romantic glamour.
A side-pony can make you look stunning, sexy and effortless. Barring a few strands as a trendy flick, secure your hair into a side pony over your ear using a free lock around the base.
If you're hitting the beach and don't want the wind to rule your hair this time, then a topknot is the perfect hair care tip. Secure it using bobby pins that match your hair colour for an even more mysterious effect.
This is a hair care tip for those girls who are holidaying with their special someone. If keeping the hair open in summer is beyond you but you still want to add that little quirk in your look, then try this. Make a pony tail; set your hairband low on the pony, leaving some gap between the elastic and your head. Use one hand to make a space in the hair between your head and the elastic, while the other hand pulls the ponytail down and through the open space. This will result in a ravishing hairstyle!
If you have a week's trip planned then these
hairstyles for long hair
will take care of your hair for all 7 days. But make sure that your hair is bouncy, silky and clean for these hairstyles to work best. You can condition them prior to the trip using
Vatika Enriched Almond Hair Oil
which makes your hair 2X stronger and 30% thicker. It also
fights dandruff
with its two active natural ingredients and keeps your
hair smooth & silky
. If your hair is weak then bequeath strength into it using
Dabur Amla Hair Oil
.This hair care tip will keep your locks free of any damage and breakage. Go on and show some love to your tresses!
Read More Tips On:
Tips for Dry and Damaged Hair
How To Remove Dandruff
How to Get Shiny Hair
Healthy Hair Tips
Hair Fall
Hair Care
Hair Oil
How To Make Hair Silky

​
*
Fields are required. Make some cool noise, please don't spam and your voice will be heard.
Was this Article helpful?