Easy Homemade Face Pack & Skin Care Tips for Monsoon
Easy Homemade Face Pack & Skin Care Tips for Monsoon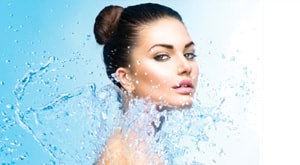 After the sultry summer heat, the monsoon may be a welcome respite, but the humid weather plays damp squib on your skin. And that means bad news for all skin types. Read on for homemade beauty tips specially meant for the rainy season.
Hot showers may feel great during cold rainy days, but they do a lot of damage to your skin and you don't want that! Hot water weakens the capillaries and gives you redness. Follow our skin care tip and use lukewarm water instead!
When you come home drenched in the rains, you may think that the rain accidentally washed your face. But that's no reason to skin the cleansing routine because bacteria build-up and skin break-outs are on a high during this season.
Drink a lot of H2O. Increased water intake keeps you hydrated during the humid monsoons.
Increase your protein intake and good proteins. Check out our article on skin-friendly foods for more information.
Monsoons = wet, humid weather, which means sweaty feet and sticky shoes that can cause fungal infections and other diseases. If you're wearing open-toed shoes or sandals, the dirty water plays havoc with your feet; if you wear closed shoes they remain wet and don't let your feet breathe, so make it a point to wear monsoon- friendly footwear like gum boots or floaters that don't mess with your feet. Make it a point to wash your feet every time you get home and ensure your feet are completely dry before wearing new footwear or socks. Regular pedicures are a must! So follow our skin care tip and read up on how to do a pedicure at home.
The first homemade beauty tip involves pomegranate seed, oatmeal, honey and buttermilk. Blend these ingredients and apply it all over your face. Keep it on for 15 minutes, scrub and wash, the anti-ageing compounds like antioxidants and vitamin C nourish your skin, remove dead skin and give you a rejuvenated look.
This homemade face pack is meant to give your lost radiance back. Mash an apple, add one spoon of sugar, 2 spoons of milk, and a few drops of essential oil to it. Now apply it on your face, let it be for 15 minutes and then wash. Your face will be well-hydrated and deeply nourished at the end of it.
Here's another homemade face pack that will give you all that your skin loses in the humid weather. You'll need a spoon of besan, turmeric powder and curd. Make a paste and apply it on your face and neck. Leave it on for around 10-12 minutes, then spray Dabur Gulabari Rose Water on your face and gently wash off. You'll be left with baby-soft skin that's clean and nourished.
The rains ruin your hair as much as it ruins your skin, for
monsoon hair care tips
read this article.
Also read
Face Pack For Fairness
Multani Mitti For Fairness
Aloe Vera Gel For Face & Skin
Honey For Skin
Turmeric Face Pack for Skin
Benefits Of Cucumber For Skin
Almond Face Packs & Benefits for Skin
---
*
Fields are required. Make some cool noise, please don't spam and your voice will be heard.
Was this Article helpful?