Discover the Power of Almond Oil and Its Benefits for Hair
Discover the Power of Almond Oil and Its Benefits for Hair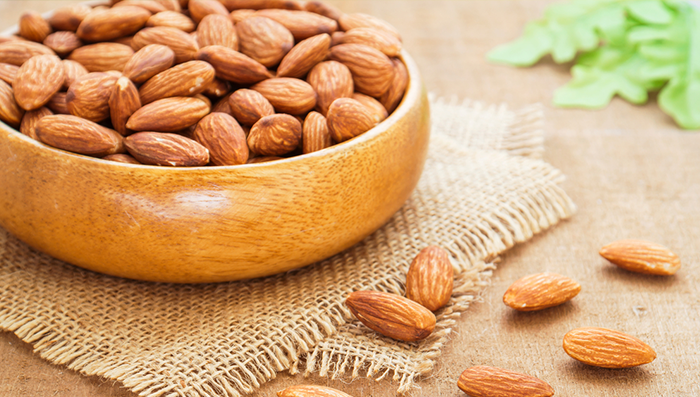 Almonds are counted in the list of super foods that carries many health as well as beauty benefits. The list of
almond benefits for hair
as well as health is long and surprising too. In the world of beauty, almond plays a crucial and important role in enhancing the skin as well as hair beauty. Almonds are high in fats but consuming almonds in a certain limit for healthy hair and beautiful skin won't add any extra fat to an individual's body. A healthy digestive system helps in maintaining glowing skin and healthy hair and almonds is a healthy ingredient for proper functioning of digestive system. Talking about the benefits and nutritional value almond carries; it is rich in Vitamin E, Vitamin B complex, potassium, zinc, copper, riboflavin, fiber, calcium, iron, panthothenic acid, thiamin and many other benefits. With no surprise, almonds are used in many
home remedies for hair growth
and
natural skin care tips
due to its amazing benefits for beauty. Talking about the positives that are backed by almonds for healthy hair, there is magnesium and vitamin D. Magnesium and vitamin D is could be seen in variety of cosmetics and hair care products as they help in promoting the growth of hair. To summarize
almond benefits for hair
, here is the list of qualities in almond:
Good amount of nutrients: Almonds holds an impressive and long nutritional profile which is full of fiber, protein, fat, vitamin E, manganese and magnesium. Vitamin E and the essential proteins in almond are known for promoting hair growth and helps in preventing hair loss problem.
Filled with antioxidants: Antioxidants are very essential for healthy skin and hair. Antioxidants are necessary for the body in reducing stress and oxidative impact over skin and overall beauty of an individual. The presence of antioxidants in almonds makes it an ideal ingredient for healthy and strong hair.
Magnesium maintaining blood pressure: For healthy hair, it is important that individual has balanced blood pressure. High blood pressure leads to hypertension, which is amongst the reasons for hair fall problem.
There are many benefits of almond that helps in enhancing the overall beauty of an individual. And the best part about almond is it's available in other form such as almond oil and even used in various beauty products. Focusing on the enhancement of hair beauty and hair care, almond could be used in various ways to deal with various hair problems. Here are some hair problems in which almond could be efficiently to put a full to these problems:
Almond for hair loss problem: It is very much clear and known to the world that almond is good for health but very few know that almond could come in rescue for falling hairs. Being rich in omega-9 fatty acids, vitamin E and magnesium, almonds has the power to put a full stop over hair loss problem.
Almond to prevent grey hair problem: Everyone wants to look young and ravishing forever. But alas! It is not possible to stop the aging signs like graying of hair after late 40s. But what if the grey hair starts popping out in the early age of 20s. It could be the last thing any lady would like to see in their personality. The problem of grey or white hair in early age starts when the body has stopped producing a pigment called melanin. In this situation, massaging of hair with good almond oil such as Dabur Almond hair oil could prevent premature graying of hair.
Almond for dry hair problem: Hairs becomes dry and lifeless when it lacks moisture and nourishment. The problem of frizzy hair starts troubling when the outer layer of hair loses natural oil that keeps the hair shiny and moist. And to give deep nourishing and moisturizing effect, almond oil is the best choice.
Almond for dandruff problem: Sometimes, the scalp inflammation, itching issue, pollutants, dust, changing weather could give the problem of dandruff. To fight this problem effectively, utilizing the almond oil benefits is a great idea. In case of dandruff or scalp inflammation, almond oil works as a natural coolant that helps in reducing inflammation, itching and dryness of scalp. The oil spreads like a protective shield over scalp and protects it from external pollutants, dust and other harmful elements.
There are endless ways in which an individual could use raw almonds or almond oil or almond in any other form to resolve various beauty related issues. As mentioned earlier, almonds are used in many
home remedies for shiny hair
and
10 Home Remedies to Increase Hair Growth Naturally
; it's time to discover some of those remedies for long and beautiful tresses. So, here is the list of home remedies that uses almond in some or the other form:
Almond oil massage: Oiling is the most old and trusted practice for strengthening and natural healthy hair. One must have heard stories from their mother and grandparents highlighting the almond oil benefits and importance of oiling hair. Oiling of hair with pure or some good almond hair oil such as Dabur Almond Hair oil makes the hair follicles strong and strengthens the roots of hair. The best way of utilizing the benefits of almond oil is by heating up the oil a bit and then gently massaging the oil from the roots to the end. It is important to ensure that oil is evenly massaged all over the head and has covered all hair. After completing the oil massaging practice, choosing the right shampoo for washing hair is also very important. To nourish the hair, it is better to use a mild shampoo such as Dabur Almond Shampoo. Using a mild shampoo to rinse hair will keep the hair nourished and soft for long time.
Almond Oil and Lemon Juice: Almond oil is rich in antioxidants and vitamin E that helps in preventing premature graying of hair and boosting up hair growth. If someone is really worried about the few grey hairs appearing in early age, they should give a try to the lemon juice and almond oil combination. Being a rich source of vitamin C, B and phosphorous, lemon provides deep nourishment to the roots of hair. Also, lemon works well in providing shiny hair and adding volume to hair. To prepare a balanced combination of both ingredients, take two tablespoons of almond oil and three tablespoons of lemon juice. Mix them in a bowl and apply it gently over scalp and hair. Keeping on the mixture over hair for half an hour would be enough. At the end, rinse head with mild shampoo and lukewarm water.
Almond Milk and Coconut oil: Many ladies spent lots of money to get the soothing silky salon effect in hair. Without even realizing the fact that the chemical based products in salon will give smoothness to hair for just few hours. It is better to give a try to the amazing combination of almond milk and coconut oil that has the potential to give salon effect to hair that would surely last longer than real salon treatments. To get ready with the hair mask, gather three to four tablespoon of egg white, two tablespoons of coconut oil and five tablespoons of almond milk. Now, mix all the ingredients in a bowl properly and use a brush to apply the mixture over hair. Keeping the hair mask over hair for an hour would be sufficient; if the hairs are too damaged then keeping the hair mask overnight would work better. To wash off, use cold water and mild shampoo.
Almond Oil and Indian Gooseberry Tonic: Indian Gooseberry, also known as Amla is popular hair care tips and remedies for promoting hair growth. Beyond increasing the hair growth, Amla fights with bacteria multiplying in scalp and works as natural nourishing agent. And to enhance the potentials of Amla, one could use almond oil which is also a great nourishing and conditioning agent for hairs. Using the Almond oil and Indian gooseberry hair tonic on regular basis could provide relief in hair fall and add volume and luster to hair. To prepare the hair tonic, extract the juice of some fresh Amla and add one or two tablespoons of almond oil to it. Now, boil the mixture to lukewarm temperature and massage the hair with the prepared tonic. Now, leave the tonic for few hours and wash hairs with mild shampoo. There is variety of mild and nourishing shampoo available in market, one good example is Dabur Almond Shampoo which comes with creamy base and milk extracts.
Even after bringing out number of
almond oil benefits
and the usage of almond oil for hair growth, there are plenty of facts that still rest untouched. And to explore those facts, one has to read and explore more about the benefits of almond. Beyond using and application of almond in different forms, consuming raw almonds in daily diet would also enhance the natural beauty of an individual.
Also read
Benefits & How to Use Almond Oil for Hair

Read More Tips On:
Benefits of Almond Oil For Hair
Home Remedies For Dry Hair
Healthy Hair Tips
How To Make Hair Silky
Hair Oil
How To Remove Dandruff
How to Stop Hair Fall
How to Get Shiny Hair
Long Hair Tips

​​
*
Fields are required. Make some cool noise, please don't spam and your voice will be heard.
Was this Article helpful?