Top 10 Long Hair Tips to Boost Hair Growth
Top 10 Long Hair Tips to Boost Hair Growth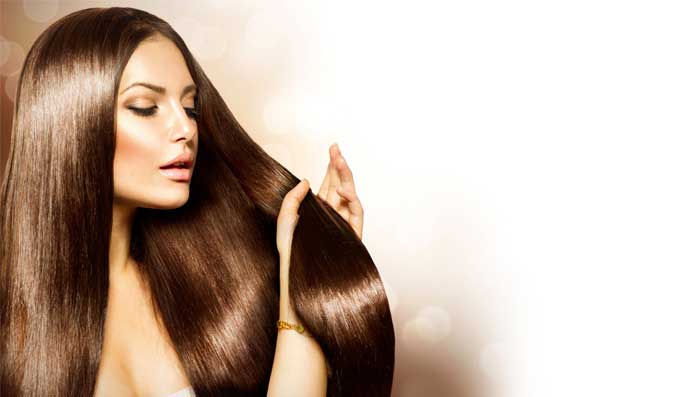 Long hair and fair skin is often synonymous to beauty in India. Long for long hair too? You don't have to resort to hair extensions and wigs, just follow our hair care tips and get longer, stronger hair. Read on for 10 hair care tips that give you long and luscious tresses.
Top Hair Growth Tips for Long & Healthy Hair:
Get a trim for better hair growth

Every time you trim your hair, you get rid of split ends, dead ends and help your hair grow longer. So a trim is essential every 6-8 weeks to keep your hair healthy and ensure it grows long and strong!

There are various ways through which one can take care of split ends in easy and effective manner.

Deep conditioning by hot oil massages

Your mother insists on oil massages for a reason. A hot oil scalp massage using Dabur Amla Hair Oil has tons of benefits – it deep conditions your hair, nourishes your scalp, stimulates hair growth and gives you long and healthy hair.
Regular deep conditioning facilitates thick and healthy hair. It restores and maintains the strength of the hair strand so as to make it able to withstand the everyday damage in terms of pollution and stress. It allows for repair to the hair shaft via surfactants which are found in conditioners, to fill in the gaps of damaged hair strands.

Drink plenty of water for stronger hair

The more water you drink, the faster your body flushes out toxins and the stronger your hair grows and stronger hair grows longer. So you know what to do – follow our hair care tip and keep yourself hydrated as dehydration directly impacts hair growth.
When the body does not receive enough water to maintain hair follicle and cell growth, the hair become dry, brittle and frizzy and eventually stops growing. The hair roots soak the water and then provide it to the hair. Dehydration affects the cell division, which does let the hair health flourish. Hence, one must consume six to eight glasses of water daily for long tresses. Drinking lots of water also helps in reduction of dandruff.

Brush regularly to help hair grow longer

Experts say it's good to brush your hair a 100 times every night before you go to bed. What it basically does is that it increases blood circulation and stimulates the hair follicles, thereby helping your hair grow longer. However, remember never to brush when your hair is wet, it causes breakage. If you brush to remove tangles, make sure it's with a wide-toothed comb!
Many people use wrong combs and brushes, which causes more damage to the hair. And damage hair for sure cannot grow longer. It is very important to be careful while removing tangles and styling the hair. Remember to bush hair only when it is needed and that too softly.

Avoid blow drying

Yes, blow drying makes your hair look fab, but excessive exposure to heat and styling makes the roots weaker, increases split ends and therefore hampers growth. So follow our hair care tip and avoid blow drying or flat ironing as much as possible.

Space out hair washes

Washing your hair is important, but washing every day is not. In fact, washing 2-3 times a week is more than sufficient. What happens when you wash too often is that you rob your hair off its natural oil and conditioning, you also expose it to unnecessary chemicals. Always go for a gentle herbal shampoo like Vatika Premium Naturals and help your hair grow longer.

Sleep well to maintain beautiful long hair

Regular, undisturbed sleep of 8 hours a day maintains your beauty and health. We also have a few hair care tips to follow before you go to bed - avoid making tight braids or hairdos while sleeping, this causes breakage and hampers the length of your hair. The best way to do your hair before you hit the sack is to leave it loose and just pull back your hair with a head band that doesn't tug your hair. Sleeping on a silk pillow cover also helps as other fabrics tend to cause hair breakage. The problem with cotton pillow covers is that it causes friction and you'll find at least a few strands of hair on your pillow every morning.

Say no to stress to prevent hair fall

With the sedentary lifestyles we live in today, stress is very much a part of our lives. And with stress, hair problems like hair fall go hand in hand. So if you want great hair, lead a stress-free life. Invest time in calming devices like yoga, music, etc., for better hair, glowing skin , and a beautiful you. This is an important hair care tip.

Eat healthy protein rich food

We've said it before, we say it again. Depending on what you eat, your hair gets the supply of nutrients that enable the rate of growth. Hair-friendly food include salmon and other fatty fish, protein-rich food like eggs, nuts, diary, veggies and of course, lots and lots of H2O.
Top 16 Home Remedies for Hair Growth:
ONION JUICE Onion is used extensively in Indian cooking and apart from rendering flavors to the cuisine it also helps in preventing hair fall and boosting hair growth.

Onion & honey mask

Onion and honey when combined together, work wonders for boosting health of hair.

Ingredients:

¼ cup onion juice
1 tablespoon honey

Method:

Mix ¼ cup of onion juice with a tablespoon of honey in a bowl
Apply the paste onto your scalp gently and massage for a while
Leave it on for at least 30-45 minutes. You can also cover it with a shower cap and leave it overnight
Rinse it off with cold water and repeat the process twice in a week

Onion & rum mask

Rum is known to be a natural conditioner and hence when combined with onion juce, it works for benefit of the hair.

Ingredients:

A small onion chopped into pieces
60 ml rum

Method:

Chop the onion into small pieces
Place the chopped onions and the rum in a jar and let it sit overnight
Strain the mixture and apply it to your scalp
Rinse with shampoo and warm water
Do not apply the mix more than once a week as rum can dry the hair

FENUGREEK

Fenugreek treats dryness and hence helps in preventing hair fall. It also helps get rid of eczema, fungus infection and dandruff.

Fenugreek and coconut oil mask

Both fenugreek and coconut provide the nutrition and potion to hair which makes it grow longer without breakage.

Ingredients : Method:

Take half cup fenugreek seeds and soak them in water overnight
Add a tablespoon of warm coconut oil into the paste and apply the mixture from roots to tips of the hair
Keep the mask on for an hour and rinse off with cold water
Repeat the process once or twice a week

Fenugreek and Egg mask

This hair mask will help cure itchy scalp and give a soft bounce to the hair, preventing hair fall and bacteria.

Ingredients:

2 tablespoon fenugreek seeds
1 egg yolk
½ water

Method :

Soak fenugreek seeds in water and paste it next day
Add an egg yolk to the paste and mix it properly
Massage it on your hair and scalp and leave it on for at least 30 minutes before washing it off with cool water

Fenugreek, Besan & Shikakai Hair Mask

Ingredients:

2-3 teaspoons fenugreek (methi) seeds
1 tablespoon gram flour
1 portion shikakai

Method:

Soak fenugreek seeds overnight and grind to a paste
Mix it with one portion of shikakai and 1/2 portion of gram flour and use it as a shampoo
Apply this homemade shampoo twice a week for healthy and glossy hair

HENNA

Henna is said to be the best way to prevent hair loss in both men and women. It helps in repairing and strengthening the roots and provides natural color to the hair.

Henna & yogurt mask

This mask helps in stopping hair fall and works like hair tonic.

Ingredients:

1 cup henna powder
½ cup fresh yogurt

Method :

Take one cup of dry henna powder and mix well with half cup yoghurt.
Apply it on the hair from roots to tips and keep it on for an hour.
Wash the hair thoroughly with cold water and a mild shampoo
Repeat the process whenever you wash hair.

Henna & fenugreek pack

This pack is amazing for restoring protein to strengthen the hair roots.

Ingredients:

2 tablespoon fenugreek seeds
1 cup amla powder
2 tablespoons henna powder
Water as required

Method:

Take two tablespoons fenugreek seeds and soak it in water overnight
Form into a fine paste
Mix the paste with amla and henna powder
Apply the mix on the scalp and hair and leave for 2-3 hours
Wash with cool water and repeat the process once or twice a month

POTATO JUICE

Apart from tasting fantastic, potatoes also help in reducing hair fall and making them healthy. There are various combinations potatoes form to help in restoring hair health.

Potato, honey and egg mask

Potato juice along with the other two wonder ingredients helps in maintaining your hair happiness. It also helps in smoothening and conditioning hair, thereby reducing the problem of hair fall.

Ingredients:

Juice of three medium sized potatoes
1 egg yolk
1 tablespoon honey

Method:

Extract juice of potatoes in a bowl and to it add a whisked egg yolk and a tablespoon of honey
Apply the pack to the hair and leave it on for 30-45 minutes
Wash off with cold water and repeat the process daily

Potatoes and Olive oil

When the two are combined together, magic happens for hair. The juice from potatoes and olive oil provides enrichment to the dull and broken hair.

Ingredients: Method :

Extract juice from a potato in a bowl and add olive oil to it
Mix it together and apply it to the scalp & hair
Keep it overnight and wash with a mild shampoo next day
Repeat the process once or twice a week

YOGURT

Yogurt is a natural conditioner, that contains vitamin B5 and proteins that are extremely beneficial for hair, preventing long term hair loss.

Yogurt & honey mask

Ingredients:

½ cup yogurt
1 tablespoon honey
Few drops of lemon juice

Method :

Take yogurt and add honey and lemon juice to it
Mix the ingredients thoroughly and make a paste
Using a brush, apply this pack to the scalp and hair roots for about half an hour
Rinse thoroughly with cold water and repeat the process weekly

BEETROOT

Apart from giving a wonderful natural color to the hair, beetroot helps in strengthening the hair roots and is extremely helpful in preventing hair fall.

Beetroot and henna pack

Beetroot and henna when combined together work like magic to stop hair fall and restore shine and bounce.

Ingredients :

1 pureed beetroot
1 cup powdered henna

Method :

Take a beetroot, boil and puree it
Add a cup of powdered henna to it and make a thick paste
Apply the paste on the scalp as well as hair and massage gently for 10-15 minutes
Wash hair with cold water followed by mild shampoo
This process can be repeated at least thrice a week for a visible change in hair texture

GREEN TEA

Everyone knows of the immense health benefits of green tea. Apart from body health, green tea also helps in strengthening the hair roots and boosting hair production. It increases metabolism and increases hair growth. For that you need to read more about how to use green tea for hair growth.

Green tea conditioner

Green tea is an excellent conditioner and its long term usage can help in softening the hair texture as well

Ingredients:

3-4 green tea bags
Hot water

Method:

Take green tea bags and immerse them in hot water. Let the tea brew for a while and get the green color.
Let the tea concoction cool down and apply on the scalp after shampooing.
Rinse with cold water and repeat the process every time after washing hair

HONEY

Cinnamon stimulates the scalp and moisturizes it to boost hair production and health. It also stops hair fall.

Cinnamon & honey mask

Ingredients:

1 tablespoon Cinnamon powder
1 tablespoon honey
Water as required

Method:

Take a tablespoon cinnamon powder and add a little water to make a thick paste
To the paste, add another tablespoon honey and apply the mask to hair
Keep the mask on for 30-40 minutes and rinse off with cold water

Avocado & Honey Mask

This hair mask helps in conditioning the hair deeply, from roots to tip, making them not just strong but also glossy and manageable.

Ingredients:

2 tablespoons olive oil
1 table spoon honey
1 ripe avocado (mashed)

Method:

Take mashed avocado and add honey and olive oil in it to make a paste
Apply the paste on the scalp as well as tips of the hair
Keep it on for 30-45 minutes
Rinse off with cool water followed by a mild shampoo
Repeat at least once a week to see the difference.

AMLA

Amla works wonders for those suffering from hair fall, hair loss and other problems. It is a sure shot ancient formula to keep the hair shining, thick, long and strong.

Amla & neem mask

Amla and neem soothe the scalp and reduce itching, which is caused by dandruff and fungal infections.

Ingredients:

2 tablespoon amla powder
1 tablespoon neem powder
Water or milk as required

Method:

Mix the two powder along with milk or water to form a paste
Apply the paste on the scalp and keep for around 30 minutes
Wash with cold water and repeat the process weekly

Growing your hair long is not an easy task. It requires proper care and attention. But a little bit of effort on your part can go a long way in giving you pretty shiny locks.

EGG

Egg white mask

Egg whites pack a ton of hair-saving properties. It restores softness, restores shine and makes it healthy, thereby helping your hair grow longer. To apply, all you have to do is follow this hair care tip – crack open a few eggs, take the whites, apply it all over your hair like a mask, keep it on for 30 minutes and rinse with a shampoo. Your hair will look 10x healthier and grow 2x longer! To get rid of brittle and dull hair, doling out a simple egg white mask at home is simple and a sure shot formula for great hair.

Ingredients:

1 egg white
½ cup yogurt
1 tablespoon honey

Method :

Break an egg and separate the white part in a bowl
Mix half cup yogurt and honey to it
Apply the mixture to your hair and keep it on for an hour
Once the mixture dries out, wash with a mild shampoo like Dabur Vatika Smoothing Treatment Shampoo
Repeat it once a week

Almond Oil & Egg mask

It is one of the best and easiest ways to get rid of split ends, dryness and dullness.

Ingredients :

A beaten egg
3-4 drops of Dabur Almond Hair Oil
A tablespoon of honey

Method:

Beat an egg and mix it with oil and honey
Apply on the hair, especially the ends and leave the mask for an hour at least.
Rinse it off with a mild shampoo

Understanding what's good for your hair and what's not, will keep it healthy and help it grow longer, faster. Remember, consistency, patience and efforts are the key. Keep at it and the results will definitely show!
Click here to check out different hairstyles for long hair. Also find more tips for long hair and various home remedies for silky hair.
Read More Tips On:
How to Get Shiny Hair
How To Remove Dandruff
Healthy Hair Tips
Hair Oil
Tips for Dry and Damaged Hair
​​
*
Fields are required. Make some cool noise, please don't spam and your voice will be heard.
Was this Article helpful?