15 Simple Homemade Remedies for Dry and Damaged Hair
15 Simple Homemade Remedies for Dry and Damaged Hair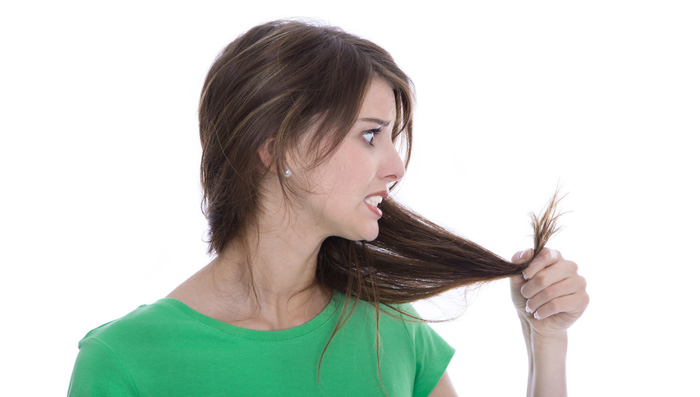 Did you know that dry hair is not a hair type? It's a condition that can be treated! Dry hair is very fragile. Dry hair won't curl, won't wave, and won't shine. Normally, the cells in each strand of hair line up in straight rows. If tiny sections of your hair's outer cell layer have been chipped or stripped away by harsh chemicals or intense heat, exposing the inner layers of the hair shaft, the hair loses moisture. Also, damaged and dry hair doesn't reflect light the way that healthy, smooth hair does, so dry hair looks dull and lifeless. Handling it roughly will cause your ends to split and could even lead to breakage.
Video:
Benefits of Almond Oil for Hair / Fix Damaged Hair with Dabur Almond Hair oil
Given below are some of the factors that make your hair dry:
HORMONE CHANGES
Birth control pills, pregnancy, and menopause can have an adverse effect on the hair, including dryness and brittleness.
HAIR TREATMENTS
Too many hair treatments done close together can increase the build-up of protein on the hair that causes it to become brittle.
THE WEATHER
Over exposure to the sun and swimming can dehydrate the hair. Also the extreme winter cold accompanied by overheated indoors, makes hair parched and dry.
BRUSHING HAIR WHEN WET
Damp hair is most susceptible to breakage. Instead of brushing wet hair, it is better to comb with a bit of leave-in conditioner on it.
DAILY HEAT STYLING
Any form of heat to the hair will strip the hair of moisture. This causes quite a bit of unnecessary damage that can be avoided.
USING THE WRONG SHAMPOO
It is better to rinse off hair a few times, with just water, to remove some of the oil, rather than risk the stripping effects of a shampoo that is not right for a particular hair type.
If you have identified the above problems and are a victim of dry hair, given below are some simple habits you can change to avoid the damage:
COMB NOT BRUSH:
Since dry hair is very breakable, brushing it can leave your hair looking frizzy and rough. Instead, comb your hair while it's wet using a wide-toothed comb.
HANDLE WITH CARE:
When you shampoo your hair, use the tips of your fingers to gently pull the shampoo through your hair instead of roughly scrubbing it in. Avoid extra hot water when rinsing. This can damage the hair. Pat your hair dry with a towel instead of twisting and wringing the extra water out.
AIR DRY TECHNIQUE:
Allow your hair to air dry. Artificial drying may make your hair look shiny but the heat is actually quite damaging and will cause breakage and split ends.
AVOID DAMAGING HAIR TREATMENTS:
If your hair is dry and you're trying to restore its health, you won't see your natural shine and texture return until you give it a break from these damaging treatments such as straightening, curling, dyeing.
USE FINISHING OILS:
For extra dry hair, apply a finishing oil such as olive oil or coconut oil to keep your hair from getting frizzy and dry throughout the day.
AVOID COMPLEX HAIRSTYLES:
Some complex styles mean extra damage for dry hair. Let your hair be free and comfortable when you're trying to nurse it back to health.
Re-LOOK AT YOUR HAIR CARE ROUTINE:
Shampooing dry hair every day will make it ever drier and more brittle since you're stripping those oils away on a daily basis. Cut back to shampooing just two to three times a week, to give your hair the chance to receive those nourishing oils.
CONDITION:
Gently massage a good conditioner through your hair, focusing on the tips and rinse out with lukewarm or cool water. Also to restore life to damaged hair, try using a deep conditioner once a week.
Homemade recipes are the best natural method to cure dry and damaged hair
Here are a few natural hair care tips and home remedies for dry and damaged hair that you can try at home
AVOCADO
The oils and proteins of avocado smooth and moisturise the locks without weighing down fine hair. You can use this home remedy for dry and damaged hair in the following way:

Mash up half an avocado and add a couple of drops of peppermint essential oil.
You can also up the moisture level of this mask by adding 1-2 tablespoons of oil, egg yolk or yogurt.
Shampoo hair, squeeze out water and apply mask.
Let it sit for 15 minutes and then rinse.

EGG WHITE
Egg can induce enough moisture to the hair strands and make them easy-to-manage. You can use this home remedy for dry hair in the following way:

Remove the egg yolk from the egg and place the white part in a small mixing bowl.
Add 3 tablespoons of water and blend well.
Now apply this mixture over your hair and wait for 30 minutes before washing.

COCONUT OIL
Coconut oil is heavy and so penetrates deep into the hair shaft. You can use this home remedies for dry and damage hair in the following way:

Take a tablespoon of coconut oil and apply to the ends of damp hair.
Keep the oil on overnight and shampoo in the morning to find smooth and nourished hair.

HONEY AND VEGETABLE OIL HAIR MASK
This mask is great for providing nourishment to dry hair. The moisturising property of honey will give you soft and super smooth tresses. You can use this home remedy for dry hair in the following way:

Mix 2 tablespoons honey with 2 tablespoons vegetable oil.
Use it on your hair as a mask.
After 15 minutes, rinse off and shampoo.

BANANA + OLIVE OIL
Banana works well for dry and damaged hair. You can use this home remedy for dry and damage hair in the following way:

Mix a banana with 1 tablespoon of olive oil and mash thoroughly until the banana is pureed.
Then massage into your hair and scalp.
Leave it on for 30 minutes.
Then rinse thoroughly and shampoo.

RICE MILK AND HONEY HAIR WASH
This is an excellent way to get lustrous hair in minutes. You can use this home remedy for dry hair in the following way:

Take a cup of rice milk and add 2 teaspoons of honey.
Mix well and spread the mixture over your hair.
Allow it to sit for 10-15 minutes.
Rinse off with water.

PUMPKIN + HONEY
Pumpkins are rich in vitamins A and C, beta-carotene, potassium, and zinc. To see its benefits on the hair, follow the instructions given below:

Add 1-2 tablespoons of honey, a natural humectant, to one cup of pumpkin puree and apply onto your hair and scalp.
Let it sit for at least 15 minutes and then rinse off.

FULL-FAT MAYONNAISE MASSAGE
This is an admired method by stylists the world over. You can use this natural beauty tip for hair in the following way:

Spread 1 tablespoon of mayonnaise uniformly over your hair.
Gently massage with your fingertips.
Cover the hair with a plastic shower cap.
Remove the wrap after half an hour and rinse off.

YOGURT
Lactic acid in yogurt will cleanse your hair and scalp while the fat in it will moisturise it, not to forget the protein that makes your hair rejuvenate. Here's how you do it:

Take some yogurt and apply to your hair and scalp.
After applying yogurt all over your hair, gently massage into the scalp.
Leave for 20-30 minutes.
Wash off with gentle shampoo.

BEER SPRAY
The alcoholic beverage claims to be one of the most effective remedies for making dry hair soft and shiny. Just wet your hair with beer in a spray bottle and let it dry.
FENUGREEK
Fenugreek is good for rejuvenating your dull and dry hair as fenugreek seeds are rich in nicotinic acid, protein, niacin, potassium, Vitamin C, amino acids and diosgenin having properties similar to oestrogen. Then there is lecithin in fenugreek seeds which is a natural emollient and hydrates your hair excellently making them healthy and strong at the same time. You can use this home remedy for dry and damage hair in the following way:

Soak fenugreek seeds in water overnight.
In the morning, grind the soaked fenugreek seeds to get its paste.
Mix yogurt with the fenugreek seeds paste to get a smooth hair mask.
Apply this to your hair, keep it for about half an hour.
Wash hair with mild shampoo.

VINEGAR MAGIC
Pour about 1 tbsp of vinegar as you wash your hair the next time you're in the shower. Rinse well and shampoo for super-soft and shiny hair!
HONEY HAIR MASK
Make a hair mask with (a paste of) honey and hair oil, keep it on for about 20 minutes, rinse and wash it with shampoo to discover smooth hair.
ALOE VERA
Mix aloe vera with yogurt, oil and let it stay on your hair for half an hour and then wash off for glossy, shiny hair and soft hair.
BAKING SODA
Simply beat some baking soda into an egg and apply the mixture onto your hair and bid goodbye to dry hair problems.
Also read
How To Make Hair Silky
Healthy Hair Tips
Long Hair Tips
How to Stop Hair Fall
Hair Oil
​
*
Fields are required. Make some cool noise, please don't spam and your voice will be heard.
Was this Article helpful?