What are Almond Oil Benefits & How to Make Almond Oil at Home?
What are Almond Oil Benefits & How to Make Almond Oil at Home?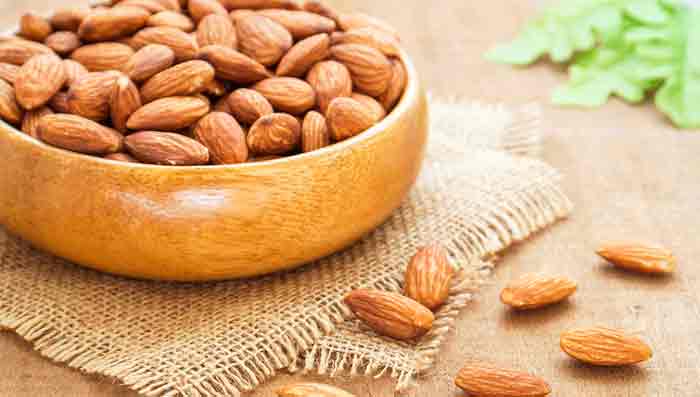 Almond oil comes in two varieties-sweet & bitter. Bitter almond oil is poisonous and non-edible as it contains hydrogen cyanide. Sweet almond oil, on the other hand is one of the tastiest oils and is popular for various uses. It is originally from the Mediterranean & Middle East but now is produced almost everywhere. The benefits of almond oil are wide ranging, to say the least.
Benefits of Almond Oil:
Has anti-inflammatory properties :

Applying almond oil on inflamed or irritated skin, soothes it and makes it soft and supple.

Fights wrinkles :

Collagen is the substance that keeps the skin supple and soft by forming a layer underneath the skin. When this layer starts to thin out, mainly due to oxidative stress, wrinkles and fine lines start to appear. Almond oil is rich in vitamin E and a great source of antioxidants. Applying it regularly on the skin helps in collagen formation and reduces & prevents appearance of wrinkles.

Adds a natural glow and radiance :

Mixed with natural ingredients and applied on the face, almond oil aids in giving you a glowing complexion. The presence of vitamin E enables to add shine and lustre to the hair when applied directly or in form of an overnight hair mask.

Gives flawless skin tone :

Getting flawless, blemish free and even skin tone are some of the positive effects of including almond oil in your everyday beauty regime.

Removes dark circles & tan :

Applying almond oil regularly on the affected area, before going to bed, will help in getting rid of dark circles. To remove sun tan, mix a teaspoon of honey with few drops of lemon juice and almond oil and apply on the affected area. You will notice the difference within days.

Relaxes muscles :

Almond oil benefits include muscle relaxation. Heat almond oil and massage your body with it. You will feel rejuvenated in no time.

A good anti-dote to dandruff :

When talking about hair, one of the benefits of almond oil for hair is dandruff removal. Almond oil has properties, which nourishes the scalp and reduces formation of dandruff on the scalp. Its moisturising elements keep your scalp healthy and flake free.

Hair strengthening :

Almond oil is known to make your hair strong from roots-to-tips. Dry and damaged hair are not the easiest to handle. What almond oil does is, it revitalises the roots, which thereby reduces split-ends and hair breakage. It also aids in improving the texture and health of the hair by keeping them bouncy and naturally radiant.

Now that you know about the multiple benefits of almond oil for hair, how about learning how to concoct your own almond oil at home? Follow our step-by-step guide to preparing a super effective almond oil and bid all your hair problems farewell!
How to make almond oil at home with ease :
Take two cups of almonds and put it in a blender and mash it well.
After the almonds are properly mashed, add 2 teaspoons of olive oil to the blender to form a smooth and creamy paste
Keep blending till the mix achieves a soluble consistency
Pour the solution in a glass jar and seal it for a minimum of 14 days at room temperature
Use it at your discretion or whenever you feel like pampering your hair with something naturally awesome
If you think preparing homemade almond oil can be quite a lengthy, tedious and time-consuming process, you can always opt for readymade quality almond hair oil like
Dabur Almond Hair Oil
. Enriched with the goodness of almond protein and vitamin E, regular use of Dabur Almond Hair Oil help prevent split-ends and hair loss, promote hair growth and restore the natural moisture of the scalp; thus giving you longer, thicker & lustrous hair. So, if you love styling your hair but suffer from time-crunch, you must apply it at least twice a week to keep your hair damage free, nourished and healthy.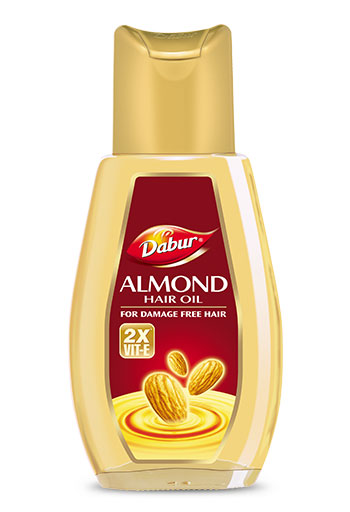 Almond oil benefits reap positive results when applied in combination with other natural ingredients as well. If you are the kinds who love to go an extra mile to add shine, strength and bounce to your hair then you must try out these simple home remedies. They are going to leave your hair feeling happy and gorgeous!
To treat damaged and split end prone hair, combine 2 tablespoons each of Dabur Almond Hair Oil, castor oil & olive oil. Mix well and use it to massage your head and especially the ends of your strand at least once a week for better results.
To nourish and condition your hair naturally, mash 1 ripe avocado and add a teaspoon each of almond and olive oil and 1 tablespoon of milk. Mix well and apply. Leave it to dry for 30 minutes before washing it off with a mild shampoo like Dabur Almond Shampoo .

Combination of strawberries and almond oil works best in treating dull and lifeless hair. To freshly grounded paste of 2 strawberries, add 2 tablespoons of almond oil, honey and milk. Apply on the scalp and let it dry for 30 minutes before rinsing it off with a mild shampoo.
Read more on benefits of
almond oil for hair & skin
and also various
almond face packs for beautiful skin
.
Read More Tips On:
Tips for Dry and Damaged Hair
How to Get Shiny Hair
Healthy Hair Tips
How to Stop Hair Fall
How To Remove Dandruff
Hair Care
Long Hair Tips
Hair Oil
​
*
Fields are required. Make some cool noise, please don't spam and your voice will be heard.
Was this Article helpful?