5 Foods for Glowing Skin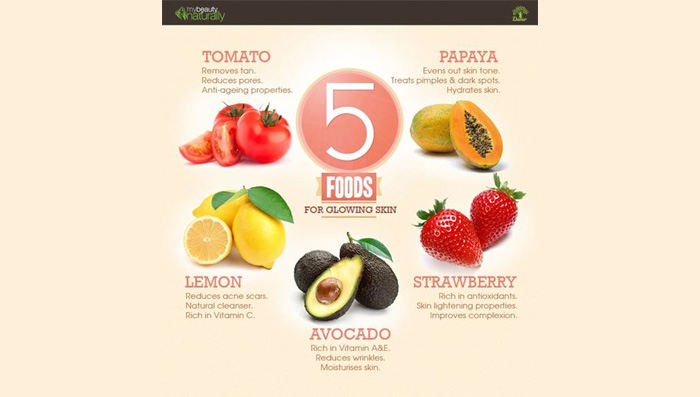 Gone are those days when beautiful skin meant fair skin. Today, glowing skin is more a mark of beauty than its colour. But how does one nurture and protect one's skin such that it looks flawless day in and day out? Include 5 skin-friendly foods in your daily diet and see the change. Read on to learn more about these wonder ingredients.
Tomato

A staple in every single kitchen, tomatoes don't just feature in most Indian dishes, they also have their very own beauty benefits. From reducing pores to soothing sunburn, curing acne and tightening skin – tomatoes are hugely used in various homemade beauty recipes. Tomatoes are rich in vitamin A, C and K that have tons of anti-acne and anti-ageing properties. Try this simple skin care tip for starters – cut a tomato in half, scoop out the pulp, apply on your face, leave it on for a while and then rinse with water. The acid in tomatoes will dry up your acne and cure it. Follow this skin care tip whenever you have a pesky pimple that you wish would vanish fast!

Lemon

Another skin-friendly food that that is a beauty treasure is lemon. The antibacterial properties in lemon make it a great ingredient to treat acne, and the skin-lightening properties help zap away pimple marks with ease. Try this simple skin care tip – take a spoon of multani mitti (read more natural skin care tip using multani-mitti (fuller's earth) ) , lemon juice, natural honey and Dabur Gulabari Rose Water , mix it together, apply the pack, keep it on for 15 minutes and rinse for lovely glowing skin. For more such beauty recipes on oil control and skin lightening, check out our article on the Benefits of lemon for skin.

Avocado

Though not very popular in Indian kitchens, avocados are among the healthiest ingredients that can be included in our diet. With over 25 vital nutrients, tons of vitamins and a bounty of minerals, there's no better way to nourish your body than with avocadoes. What's more, avocados are a great way to replenish your body with natural conditioners, the Vitamin A provides anti-ageing properties and the antioxidants help detox your body by removing all impurities and giving your skin a natural youthful glow.

Strawberry

You love eating them, but did you know that these tasty berries are also beauty enhancers that work wonders for your skin? Rich in antioxidants and packed with skin lightening properties, strawberry extracts can be used on your skin as a facial mask, scrub or toner to promise you supple glowing skin. Try this simple skin care tip at home – take a few ripe strawberries, smash it up, apply the pulp all over your facial skin, leave it on for 20 minutes and then rinse it off with lukewarm water. You'll be left with a lovely complexion with visibly less pigmentation.

Papaya

Papayas help in preventing premature aging, softens and whitens the skin, reduces the appearance of freckles and red spots. It also has exfoliation properties, removes dead skin, has anti-inflammatory properties and anti-cancerous properties. Basically, when it comes to skin, papaya packs a punch and is thereby a must-have for healthy glowing skin. Try this easy skin care tip – rub the peel on the face, let it stay for 5 minutes and wash off with cold water. Follow this regularly to see a remarkable change in your complexion. Read our expert skin care tips using papayas for more details.
Click here for more tips on
how to get fair skin naturally
. Also read more about
diet and foods for glowing skin
and tips on how to get fair skin.
---
*
Fields are required. Make some cool noise, please don't spam and your voice will be heard.
Was this Article helpful?