Avoid Sunburn Without Avoiding The Sun
Avoid Sunburn Without Avoiding The Sun
30 August 2016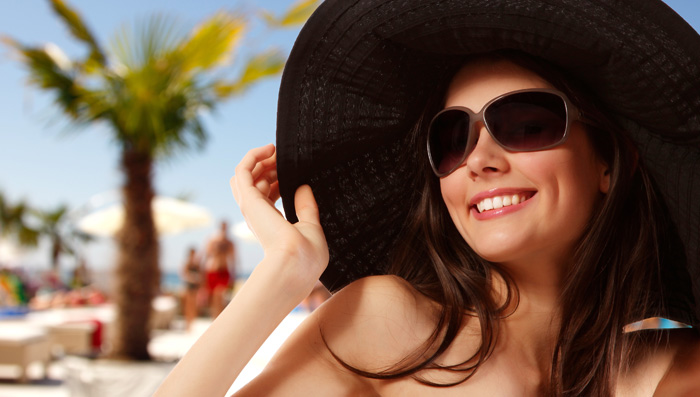 Does the gorgeous summer sun pep up your spirits or dampen them? Well, it really depends on how you make the most of sun shine, without letting it burn you up in anyway. Read on to know the dos and don'ts for a perfectly bright summer day!
COVER UP WITH STYLE Enjoy the summer sun but don't let it ruin your glowing skin. Always wear stylish hats or scarfs and don't forget to glam up your attire with a pair of sexy shades. You must also stich in a pair of fashionable long sleeves to all those sleeveless dresses and avoid peak afternoon adventures. Combat the sun damage and keep looking radiant, pretty and dodge possible skin problems!
SCREEN THE SUN Never dare to bare without an effective sunscreen. After all you'd like to get sun-kissed, not sun burnt! Understand your skin type, speak to your dermatologist about the most advisable sunscreen for your skin and keep it on for as long as you are outdoors. Sunscreens are available in many variants- creams, gels and mists, to suit various skin types. Also pick the right SPF based on how sensitive your skin is and how your lifestyle is. Re-applying it after a couple of hours is a must, so please follow the instructions on the product packaging carefully. Make sure whatever you choose is not harsh for your skin to avoid any skin problems!
EAT TO STAY SUN SAFE Keep your body hydrated! This is the first rule you must follow to keep yourself protected from a sun burn or stroke and achieve that perfect glowing skin. Next, ensure that you include all those ingredients in your diet that can help build a resistance in your body against skin burn. Remember to incorporate plenty of veggies, juices and fibres in your diet and enjoy the brilliance of the summer sun, looking brilliant yourself!
*
Fields are required. Make some cool noise, please don't spam and your voice will be heard.
Was this Article helpful?