7 Uses and Benefits of Rosewater for Skin
7 Uses and Benefits of Rosewater for Skin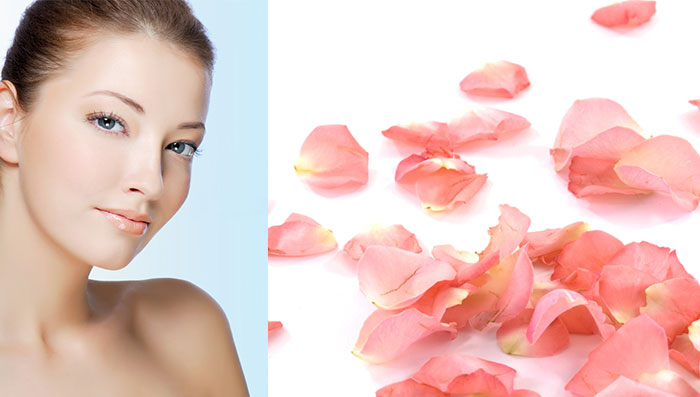 The benefits of rosewater are innumerable. Millions use it in various ways to benefit the skin and overall well-being. Irrespective of the skin type, it has been consistently used from generation to generation and is known to be one of the biggest secrets behind naturally
glowing skin
. But in case, you haven't heard of the uses and benefits of rose water for skin or do not know how to use rose water in correct manner– this "wonder of nature" can bring you handful of goodness! Read on to understand the various ways in which it can be used with the following uses and benefits of rosewater for skin-
With glycerine –
Make a mix of Dabur Gulabari Rose Water lemon and glycerine in equal proportions, and store this mixture in a container. Apply it in the night and wash it off with normal water in the morning. You will notice an evident improvement in skin tone and texture. Keep this mix around your bed and follow this skin care tip every night for glowing skin.
In face packs – In face packs – Replace regular water with Dabur Gulabari Rose Water in home-made face packs. This will make the face pack more effective and make your skin super fresh and supple. Not to forget a lighter skin tone and hydrated radiant skin.
As an impurity cleanser – remove impurities and refresh your face by putting some Gulabari Rose Water on a cotton ball and cleansing your face with it. Learn more about face cleansing tips.
As an eye rejuvenator – Relieve your tired eyes and reduce puffiness by putting some Gulabari Rose Water in a bowl, dipping 2 cotton balls in it and storing the bowl in the refrigerator for 10 minutes. After 10 minutes, place the cotton balls on your eyes for 20-25 minutes and feel the instant whiff of freshness.
In the bath – To enjoy the beautiful aroma of roses while bathing, add a cup of Dabur Gulabari Rose Water to your bucket. This will not only soften your skin, it will also leave a wonderful scent on your body and give you glowing skin.
Treat oily skin – Take half a spoon of Gulabari Rose Water and mix it with tomato juice. Apply this mixture on face for 15-20 minutes and rinse off with normal water. This will reduce oiliness and keep your face fresh for whole day long.
While scrubbing – Dip your fingers in a Gulabari Rose Water bowl. This will smoothen the scrubbing and help remove the dead skin cells more effectively, giving your face a rose pink glow.
So, no matter what your skin type may be, make Gulabari Rose Water your best friend and use it every day to witness the best results. Don't forget to let us know how these uses and benefits of rosewater worked for you in the comments section below.
---
*
Fields are required. Make some cool noise, please don't spam and your voice will be heard.
Was this Article helpful?