Vital Nutrients to Make Your Hair Healthier & Silkier
Vital Nutrients to Make Your Hair Healthier & Silkier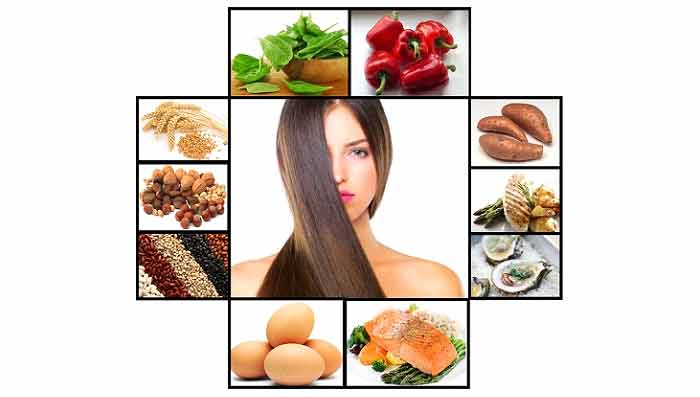 Heard the saying "you are what you eat"? Well, this holds true for your hair as well. The nutrition that you give your body automatically mirrors on your hair. A healthy diet, full of vitamins and nutrients mean growth of healthy, gorgeous hair. You can continue giving more importance to expensive salon treatments and products but the fact is, if you don't eat right the effect of these temporary treatments will wear off soon and what you will be left with is a mess of dull, dry and damaged hair.
Video:
Dabur Amla Hair Oil for Strong & Beautiful Hair
Hair growth vitamins come in different forms and foods and incorporating them in your daily diet can do wonders for your hair. It will not only save you time and energy but also lot of money that you'd otherwise would burn on expensive hair treatments. Here is a list of vitamins for hair growth that you absolutely need to make a part of your everyday diet if you wish to infuse your hair with strength, beauty and health.
Protein:

While protein is technically not a vitamin, it is one of the essential nutrients for hair. Your hair is made up of protein and lack of this essential nutrient leads to unhealthy hair follicles, undernourished scalp and dry and brittle hair. Therefore, including protein in your daily diet should be a no brainer. Examples of protein rich foods are fish, meat, eggs, nuts, tofu/cottage cheese, spinach, broccoli to name a few.

Biotin:

As a good source of vitamin B, biotin needs special mention as the best vitamins for hair. Biotin or B7 as it is popularly known, is the key to producing glucose for the body and helps break down proteins into amino acids. Biotin is a soluble vitamin, which means that regular intake is a must. Good sources of biotin are eggs, liver, soy, mushrooms, avocado, salmon, peanut butter etc.

Vitamin C:

While vitamin C is known more for its immunity boosting properties , it is also one of the best vitamins for healthy hair. Vitamin C helps in producing collagen, which is an essential protein to give your dull and brittle hair a boost of health. Its consumption aids in fighting free radicals, which are detrimental to the hair as they cause them to thin, fall and split at the roots. If your hair continue to break and fall despite you trying your best to keep them healthy with a proper hair care regime in place, it is quite possible you are suffering from a vitamin C deficiency. Start intake of foods items that are rich in vitamin C like oranges, broccoli, papayas, strawberries, kiwi and red bell peppers etc. and notice the change.

Vitamin E:

Vitamin E is one of the most important hair vitamins because it is a strong antioxidant. It repairs damaged hair follicles, reduces inflammation, increases blood circulation and boosts oxygen supply. Good sources of vitamin E include almonds, avocado, broccoli, spinach, sweet potato and sunflower seeds etc.

Omega 3 & Omega 6 fatty acids:

These two are among the essential nutrients for hair and the best hair growth vitamins that you can give to your hair. Often synonymous with fish oil, these fatty acids are the foundation for the sebaceous glands to create sebum. Sebum imparts a natural shiny coating to the hair and also helps in making them smooth & silky. Food items that are considered to be a rich source of omega 3 & 6 fatty acids include flaxseed, salmon, olive oil, brazil nut and walnut etc.

Vitamin A:

Vitamin A features among the top in the list of vitamins for hair growth. It promotes hair quality, growth & lubricates the hair follicles. It also contains antioxidants which keep the scalp healthy and moisturised. Vitamin A rich foods are carrots, spinach, sweet potato, pumpkins, mangoes etc.
Apart from these hair vitamins, there are other minerals which are good for hair such as zinc, manganese & iron.
Internal care always takes the upper hand when to comes to adding beauty and health to your hair. But equally important is taking care of the external health of your hair as well. To keep free radicals from affecting the health and quality of your scalp and hair and to add a natural shine; you must follow a daily hair care regime. From oiling your hair to shampooing and conditioning them with mild and chemical free products, will not just keep hair problems at bay but also add a natural shine and lustre to them.
Here are few points that you need to keep in mind if you wish to keep your hair bouncy and radiant on the outside:
Oil your hair at least once a week with coconut hair oil to add strength and keep problems like dandruff, dry scalp and other scalp conditions at bay. Heat Vatika Enriched Coconut Hair Oil to moderate temperature and massage your scalp. Leave it for an hour and rinse it off with a mild shampoo.

Washing your hair thrice a week will keep your scalp clean and hair damage free. A mild shampoo like Vatika Hair Fall Treatment Shampoo will not only prevent your hair from falling but the natural extracts of methi, avocado, hibiscus and essential amino acids will make them smooth and silky.

Always condition your hair with a good quality hair conditioner post every wash. It will help lock the moisture, maintain the scalp's pH balance and restore the natural shine and beauty of your hair.
If you want those gorgeous silky locks all year around, your diet needs to incorporate these hair growth vitamins and healthy hair tips in your everyday routine. Also read our article on best foods for healthy hair and how to get silky & shiny hair at home. For more hair care tips follow our blogs.
Read More Tips On:
Tips for Dry and Damaged Hair
Healthy Hair Tips
How to Stop Hair Fall
How To Remove Dandruff
Long Hair Tips
Hair Oil
​
*
Fields are required. Make some cool noise, please don't spam and your voice will be heard.
Was this Article helpful?