Top Foods & Vitamins That Helps You Fix Your Hair Fall Problems
Top Foods & Vitamins That Helps You Fix Your Hair Fall Problems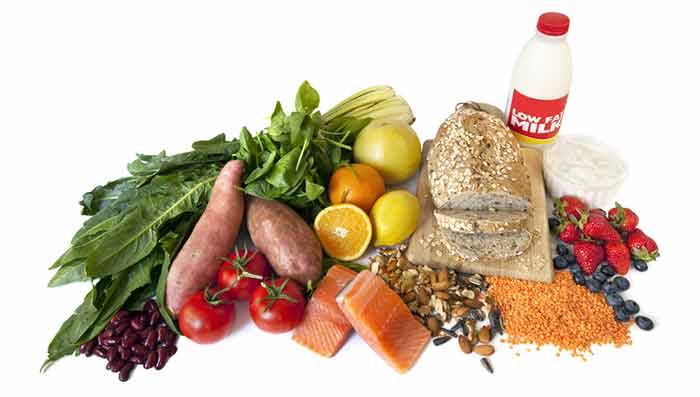 They say, 'you are what you eat.' True that because the diet that you follow naturally reflects on your skin and hair. A good diet will always result in you looking radiant and feeling fit. On the other hand, consuming foods that are unsuitable or unhealthy, like a variety of junk foods, can make your skin dull and undernourished and your hair limp, lifeless and in some cases even cause them to fall.
Losing your crowning glory (read hair) can be quite terrible. Although there are many reasons that can cause your hair to fall—genetics, excessive use of hair products, undernourishment, nutrient deficiency, medication, illness etc.—but changing your diet can to a very large extent be helpful in fixing the problem of hair fall. According to experts, consumption of proper diet and supplements doe help a lot in slowing down or reversing the problem of hair fall.
So, what are the best hair growth foods that you should eat to stop hair fall and promote growth of thick, shiny and gorgeous hair?
To prevent you from getting lost in the sea of suggestions, we have got you covered here top super foods that promote hair growth. Including these hair growth foods in your everyday diet will not only forever free you from your hair fall woes but also give tresses worthy of everyone's envy. So, stop worrying and start eating!
Spinach:

Lack of mineral, vitamin or any other nutrient in your diet can lead you to the problem of severe hair fall. As a vegetable rich in iron, omega-3 fatty acids, magnesium, calcium and potassium; spinach provides your hair with all the nourishment and care that it deserves. Also, since it contains sebum, which acts as a natural conditioner for hair, it is perhaps the best hair fall control food that you need to consume for lustrous and shiny hair.

Cinnamon:

The aroma of this super spice does remind of something sweet and festive but as a food for hair growth, it aids in improving your blood circulation which in turn improves the flow of oxygen and nutrients to the hair follicles. Sprinkle it in your tea, coffee or even toast to reap the benefits of this super food to stop hair fall.

Eggs:

Packed with the goodness of vitamin B called biotin and protein, which is the primary constituent of hair, eating eggs is an excellent option as a food to prevent hair loss.

Lentils:

Wondering which are the best foods that promote hair growth? Let lentils do the doubt clearing job for you. As an excellent hair growth food, lentils are full of protein, iron, zinc and biotin. They are also a great source of folic acid that is required to restore the health of red blood cells that supply scalp with quality oxygen to prevent the hair from falling.

Barley:

Dull, limp and lifeless hair are a sign of something not going right up on your scalp. Undernourished scalp breed unhealthy hair that ultimately lead you to the problem of hair fall. To prevent this problem becoming a norm with you start including barley in your daily diet. As a rich source of Vitamin E, barley indeed is the hair fall control food that you must turn to. Eating it will not only strengthen your hair from root to tip but also provide your scalp with deep nourishment that is the basis for regeneration of thick and lustrous hair.

Nuts & seeds:

Go nuts for nuts if you are really looking at including food to prevent hair loss in your diet. Nuts like walnuts, almonds & pistachios contain vitamins, minerals, healthy fats and essential oils that adds to the amount of elastin in your hair, which is the key to keeping your hair soft and prevent from breaking. Seeds like that of sunflower is considered to be an ideal food to stop hair fall as it is a rich source of biotin, protein, magnesium, calcium and zinc among others and aids in keeping hair cuticles strong and healthy.

Oats:

Eating oats will not only provide a great start to your day but also help fight any nutrient deficiency that is causing your hair to fall. As a food to stop hair fall, oats is a rich source of fibre, minerals, vitamins and other beneficial compounds that are required to keep your scalp nourished and hair strong and shiny.
While a healthy diet is a must what is equally important is to follow a regular hair care regime. To prevent your hair from falling:
Avoid use of excessive hair products as chemicals weaken hair cuticles and rob your scalp of its natural oil and moisture thus resulting in your hair to become thin and break.
Indulge in regular oil massages. Massaging your hair with Dabur Amla Hair Oil or Vatika Enriched Coconut Hair Oil will provide your hair with all the nutrients and essential vitamins that are a key to keep your hair strong and nourished from deep within and shiny, thick & lustrous on the outside.

Keep your scalp clean and hydrated by washing it with a mild and nourishing shampoo like Vatika Hair Fall Treatment Shampoo to make your hair lesser prone to hair fall & damage, strengthen them and enable them to maintain their natural silky texture.
Need to more on foods to reduce hair fall? Follow our blog.
Click here for more
hair care tips
and
foods for healthy skin & hair
.
Read More Tips On:
Tips for Dry and Damaged Hair
How to Get Shiny Hair
How To Make Hair Silky
Healthy Hair Tips
How To Remove Dandruff
Long Hair Tips
Hair Oil
How to Stop Hair Fall
*
Fields are required. Make some cool noise, please don't spam and your voice will be heard.
Was this Article helpful?