The Double Rope Braid Bun
The Double Rope Braid Bun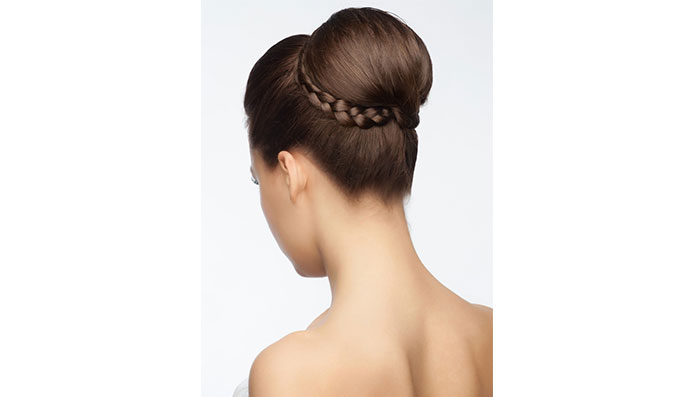 We love the rains as much as the girl next door, but monsoons = frizzy hair. And that's never a good look. But who said you can't have great hair during the rainy season, read on for handy hair care tips and a
hairstyle for long hair
that cleverly hides the frizz and makes you look super stylish, at the same time!
First of all, start with a day old hair, i.e., hair that has been washed a day back. Our hair care tip is to choose a Vatika Premium Naturals shampoo that suits your hair type.
So now, brush your pre-washed hair to make sure you have no tangles at all.
Dab a bit of mousse and tease your hair. Then flip your hair upside down and gently brush backwards till you have enough volume.
Lift your head back and smoothen the crown of your head using a fine-toothed comb or just your fingers.
You can use some hairspray at this stage, if needed. But it's best you limit the use of chemicals on your hair. This is an important hair care tip.
Flip back and gather all your hair in your hands. This will increase your hair's volume and help eliminate bumps.
Now scoop your hair into a high ponytail, make sure your head has no bumps.
Next, grip the ponytail, pull the hair halfway through a rubber band and create a loop.
Secure the loop with the elastic and then wrap your hair around the base of your ponytail like a ballerina bun.
Secure the bun with bobby pins.
Now comes the important part – adjusting the bun. Pull the bun away from your head gently to loosen it and allow some strands to fall loose. Tug the bun to make it wider and messier. Play around till you achieve the desired level of messiness.
Next up, you can accessorize your hairstyle for long hair to make it look dressy. Here are some ideas:

Loosen the front of your hair; pull out a few stray hairs like a side-swept fringe to add texture and a romantic touch. You can use a flat iron to create gentle waves too!
Slide in a thin embellished headband or multiple colour bands to give it a girly look. Just make sure the colour of the bands are prominent when seen in contrast with your hair.
Now finish it with a spritz of hairspray all over your head. An important hair care tip to follow is to hold the spray about eight to ten inches away from your head, so it doesn't get into your face/eyes and your messy bun stays put for a longer time.
That's it, you're done! It's easy, it's quick, it adds volume, it's perfect for the humid weather, and it makes you look chic without trying too hard! So go on and play with your hair, already!
Also Read
How To Get Silky Hair
Healthy Hair Tips
Tips for Long Hair
How To Remove Dandruff
How to Get Shiny Hair
Tips for Dry and Damaged Hair
How to Stop Hair Fall
Hair Oil

*
Fields are required. Make some cool noise, please don't spam and your voice will be heard.
Was this Article helpful?