Say Goodbye to Hair Loss by Adding Coconut Oil To Your Routine
Say Goodbye to Hair Loss by Adding Coconut Oil To Your Routine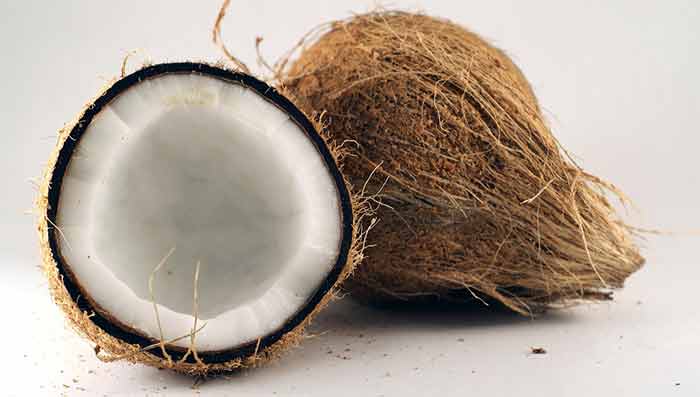 Hair loss is something that leaves us dreading the day we'll lose it all. It is certainly an alarming eventuality but all is not doom and gloom. With the right care and nutrition for your hair, you can not only prevent hair loss but also improve the texture of your hair. So, what should you do if unwanted hair fall is bothering you to no end? Simple, give a little pampering of pure coconut oil for hair!
Reasons for hair fall:
Simply put, hair loss is more common than we think it is. While there are no definitive reasons for why you might be experiencing hair fall but a combination of few of the reasons as given below might help you figure out its cause.
Poor health
Excessive use of hair products
Dryness of scalp
Genetics
Medication or illness
Hormonal imbalance
Benefits of coconut oil for hair :
Hair loss is overrated but it can get worse if not stopped in the tracks. The benefits of coconut oil for hair are wholesome to say the least. Rich in vitamins and essential fatty acids, coconut oil is a natural conditioner that easily penetrates inside the hair shaft and prevent it from any imminent damage. It also aids in nourishing and conditioning the hair and scalp from deep within thus encouraging growth of healthy, shiny and beautiful tresses. Including coconut hair oil in your hair care regime will free you from the problems of:
Dandruff
Scalp inflammation
Dryness & itchiness
Greasiness/ excess of sebum formation
Split ends
Greying & baldness
How to use coconut oil for hair benefits?
While there are coconut oil hair treatments that are available dime a dozen in the market, trying out natural and homemade remedies is always recommended. To know how to use coconut for hair benefits and how best you can make natural remedies using coconut oil as a base, that too right from the comfort of your home, read ahead.
Note: In all the home remedies mentioned we recommend the use of
Vatika Enriched Coconut Hair Oil
. Enriched with the triple goodness of henna, amla & lemon besides natural extracts of coconut; this hair oil is like many solutions in one bottle. Amla provides outstanding nourishment and care, henna deeply conditions the scalp and lemon enhances hair growth by exfoliating and removing dead cells from the surface of the scalp. All these ingredients in combination with coconut oil completely nourish your hair as well as make for an effective remedy to treat any hair damage.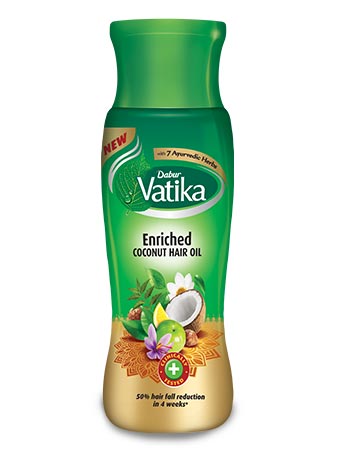 Coconut oil with lemon juice :

Mixing coconut oil with lemon juice is a more popular remedy. With the addition of coconut oil, lemon juice also helps in detoxifying hair and scalp and prevent dandruff. Mix 3 tablespoons of coconut hair oil with 1 tablespoon of juice of freshly squeezed lemon. Apply the mixture on hair and massage scalp for deeper penetration of the mixture. Leave it on for 10 minutes and rinse with cold water.

Honey & coconut oil for hair growth :

To encourage hair growth and to nourish and condition the scalp from deep within, the combo of honey with coconut oil is by far the best hair remedy you can make use of. Apply equal portions of both on the hair and rinse after 1/2 hour. Result—healthy, shiny and gorgeous looking hair.

Apple cider & coconut oil for hair :

If your dry, damaged and brittle hair are bothering you to no end, this hair mask is a must try.

Warm 2 tbsp of coconut oil
Add 1 tbsp each of apple cider and honey to it
Use the mix to gently massage your hair for 10 minutes
Wrap your hair with warm towel & leave it on for 30 minutes
Rinse with a mild shampoo

Egg white & coconut oil for hair regrowth :

Using eggs in combination with coconut oil will not only add volume and shine to your hair but the protein and vitamins rich properties of egg will aid in encouraging new hair to grow on your scalp. To make this hair mask:

To 2 egg whites add 1 tbsp of coconut oil
Mix and apply on your scalp
Leave it to dry for 30 minutes
Wash it off with a mild shampoo
While trying home remedies is a good option but coconut oil for hair benefits the most when massaged regularly on the scalp and hair. Just warm 3 tablespoon of Vatika Enriched Coconut Hair Oil and gently massage your scalp with it for 10 minutes. Wrap your hair in a warm towel for 30 minutes before rinsing it off with a mild shampoo followed by a conditioner. Voila, beautiful, healthy and shiny hair are for you to flaunt.
Read more on
benefits of coconut oil for hair
,
hair care tips
and
skin & hair benefits of coconut oil
.
Read More Tips On:
Tips for Dry and Damaged Hair
How to Get Shiny Hair
How To Make Hair Silky
Healthy Hair Tips
How To Remove Dandruff
Long Hair Tips
Hair Oil
How to Stop Hair Fall
*
Fields are required. Make some cool noise, please don't spam and your voice will be heard.
Was this Article helpful?