Lemon and Tea Tree Oil Shampoo Review
Lemon and Tea Tree Oil Shampoo Review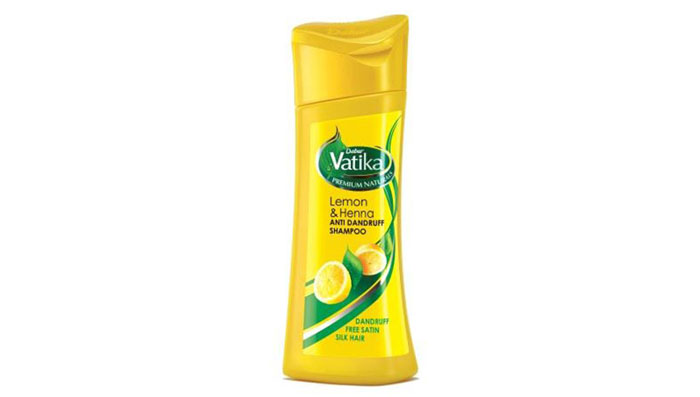 With a head filled with dandruff and bad past experiences with other anti-dandruff products I bought this shampoo because I was impressed with the natural ingredients it has. With all the goodness of Tea Tree Oil and Lemon, this shampoo gently washes away excess oil and dirt that causes dandruff, without stripping your hair off its natural moisture. And since I have normal hair with an excessively oily scalp, Dabur Vatika Lemon and Tea Tree Oil Shampoo worked wonders for my tresses! It controls the excess oil secretion and keeps the scalp fresh, hence combating dandruff and keeping the scalp dandruff-free for a long time.
When I used it generously on my hair, I found that it lathers well. And after shampooing, once my hair dried, I saw an instant difference as the dandruff flakes started getting off my hair. I realised that it made my scalp lose those pesky little flakes while keeping my hair nourished, smooth and shiny. And ever since I went to that store to get this shampoo, the visits have increased as I'm already 2 bottles down and about to go for my next one.
Benefits of Vatika Lemon and Tea Tree Shampoo
Removes excess oil and dirt from hair and scalp
Revitalises scalp
Strengthens and protects hair
Sturdy packaging with flip cap
Natural Ingredients
Chemical- free
Controls excessive oil secretion from the scalp
Stops dandruff from recurring
My Experience With Vatika Lemon and Tea Tree Shampoo
I had been searching for a shampoo that helps to cure dandruff and also which is has natural ingredients. Hence I finally came across this shampoo while I was in the market to find shampoo to fulfil my requirements. I have been using the shampoo for 3 months now and I have seen a drastic change in the volume of my hair. I feel my hair is more healthy and silky now. Also this shampoo has really helped me to solve the problem of dandruff I had been facing from past 5-6 months before I tried this shampoo. In about 2-3 weeks upon using this shampoo I was impressed that this shampoo has really helped me to cure the problem of dandruff which I had been facing.
Also because of the dandruff problem I had also started experiencing acne on my face. But since this shampoo includes lemon and other natural ingredients it helped me reduce my acne and dandruff at the same time once I switched to Dabur Vatika Lemon and Tea Tree Oil Shampoo. Moreover once you cure the problem of dandruff using this shampoo this product will also help you with issues related to hair fall since many people start experiencing hair fall once they get dandruff. Hence this shampoo really helps to stimulate the scalp and therefore promote hair growth.
Main Ingredients:
Lemon –
Lemon is a natural ingredient which really helps to get rid of dandruff. Moreover it really helps to avoid dandruff from arising again and keeps hair damage-free because of its natural properties. According to my experience it has not only helped me with dandruff, but has also helped me to add volume to my hair. Lemon helps to remove excess oil, adds volume, removes dandruff and hence can be used to keep hair healthy, nourished and roots of our hair strong.
Tea Tree Oil – Tea tree oil is a great ingredient for those who looking to solve the problem of hair fall, since tea tree oil helps to promote hair growth and provide you with long, strong, shiny and beautiful hair. Tea tree oil is a natural elements which contains no chemicals and helps to cure the problem of itchy scalp. Tea tree oil is known to solve the problem related to fungi and bacterial impurities.
Will I repurchase this?
Yes. This product has provided me with positive results which reassures me to keep purchasing this products since it helps to solve the hair problems I usually face from time to time and this shampoo really helps to avoid those problems. Hence would definitely keep purchasing.
Will I recommend this?
Yes, people who have been experiencing the problem of dandruff or hair fall should definitely give this product a try.
So, what are you waiting for? Grab your Dabur Vatika Lemon & Tea Tree Oil Shampoo today!
Also read
How to Use Lemon for Hair Growth
Hair Growth Tips
Hair Oil
Home Remedies For Dry & Damaged Hair
Home Remedies for Shiny Hair
How to Stop Hair Fall
How To Remove Dandruff
Hair Care

*
Fields are required. Make some cool noise, please don't spam and your voice will be heard.
Was this Article helpful?