Dabur Vatika Henna and Olive Shampoo Review
Dabur Vatika Henna and Olive Shampoo Review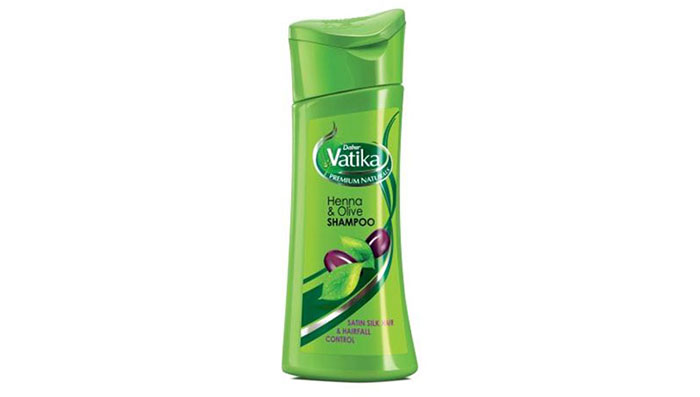 Since I've heard a lot about Dabur natural products from so many people around me I had made up my mind about giving Dabur Vatika Henna & Olive Shampoo a try.
Having tried the best of other shampoos that contain chemicals that never suited my hair, I wanted to put a stop to it. My mother and aunt sat me down one fine day and asked me to give this one a shot and I'm glad that I did.
Enclosed in a thick durable green bottle with a flip flop cap,Dabur Vatika Henna & Olive Shampoo is really easy to carry while travelling.
Blessed with a beautiful natural herbal fragrance and henna and neem, this shampoo looks pale green in colour. And I love how the aroma of the shampoo stays in my hair for a long time. The smell of the shampoo is not too strong for someone who has a sensitive nose like me. The consistency of the shampoo is just perfect, neither is it too runny nor is it too thick. With a great satin soft texture, it leaves a natural lustre that makes the hair shine. But the more generously you use it on your hair and scalp, the silkier your hair becomes. Vatika Henna & Olive Shampoo is a very mild shampoo that naturally deep conditions your tresses making them soft, smooth and tangle free after every wash.
Here are some points to consider if you want to change your shampoo:
Easy availability
Travel-friendly packaging
Affordable price
Lathers really well
Perfect consistency
Pleasant aroma
Henna and Olive Extracts helps in providing deep conditioning.
My Experience:
Will definitely continue to use this product since it really adds great volume to the hair, making them soft and silky. Also to add to that my scalp does not get oily too often which is beneficial to me since I can avoid shampooing my hair very often. It is usually recommended to shampoo hair twice a week. This shampoo is also a good option for those who shampoo regularly. This is because this shampoo includes mainly aayurvedic and natural ingredients which provides complete nourishment to the hair leaving them healthy and soft. I used this shampoo because I always try to use more natural products on my hair since I believe our hair needs a break from all the chemical treatments and styling we get at the salons.
Benefits
Works as a deep conditioner
Aayurvedic and Natural ingredients
Provides volume and shine to the hair
Helps with hair fall
Main Ingredients:
Olive Oil – Olive oil benefits the hair and provides them with complete nourishment. Olive oil for hair is great to use as a hot oil message or to add into your homemade hair masks because it contains many vitamins and fatty acids that leaves our hair with great volume and strength. Olive is also a great ingredient to help you avoid hair fall and also provide volume to dry and brittle hair.
Henna-
This is great ingredient if someone is looking to avoid using chemicals to their hair. Henna is a natural ingredient which not only protects your gorgeous hair from chemicals but also helps to avoid spending money on getting expensive chemical treatments in beauty salons. It is also known to be used as a natural conditioner, which helps to keep hair strong and shiny.
Will I repurchase this?
Yes. It really helps to keep my hair conditioned and healthy.
Will I recommend this?
Yes, I will definitely recommend this since it works really well to provide deep conditioning to the hair.
Also Read
Hair Growth Tips Hair Oil
Home Remedies For Dry & Damaged Hair
Home Remedies for Shiny Hair
How to Stop Hair Fall How To Remove Dandruff
Hair Care

*
Fields are required. Make some cool noise, please don't spam and your voice will be heard.
Was this Article helpful?