Benefits Of Amla For Hair and Skin
Benefits Of Amla For Hair & Skin
01 February 2017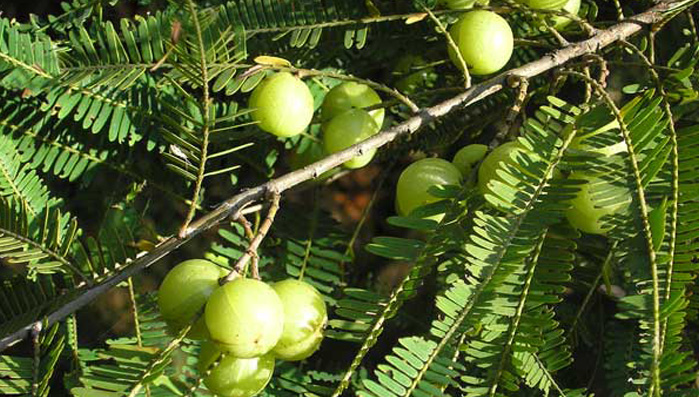 Weight loss, cholesterol, blood pressure, osteoporosis, digestion, diabetes – the Indian gooseberry, a.k.a., the amla, is packed with magical properties that prevent a multitude of health problems. But did you know amla is also a beauty ingredient for gorgeous hair and glowing skin? We'll share some amazing benefits of amla for hair and skin that will enhance your beauty, naturally.
Amla for Hair Fall Eat it, drink it or apply it – amla is a natural ingredient that has been used for ages in reducing hair fall. Dabur Amla Hair Oil, penetrates the scalp and strengthens roots, nourishes the hair from root to tip, thereby giving you hair fall control.
Amla for Dandruff Well-known for its conditioning properties, use amla to wipe out dandruff from your scalp. All you have to do is mix dry amla powder with water and apply it on to your scalp, leave it on for 30 minutes and rinse. You can also use ground tulsi or basil with this mixture for effectiveness.
Amla for NourishmentThe high levels of vitamin C make amla great for hair, adding lustre and softness and doing away with dryness of the scalp. It is also a rich source of essential fatty acids that keep the hair follicles strong and nourish the roots. Mix some amla powder with water and keep overnight, then apply this paste on to your hair the next day, leave it on for a few hours and rinse with a mild natural shampoo.
Amla for Greying Amla is rich in antioxidants which prevents premature graying of hair. By itself, amla does not have the ability to dye hair; however the Indian gooseberry is often used in hair dyes and colouring products because it helps in pigmentation. Consuming amla improves the color of your tresses, thereby making it darker and thicker, it also tones down the red or brown colour of henna, by adding its own natural shine. So make sure you have a glass of amla juice on an empty stomach every morning.
Amla for StrengtheningAmla strengthens hair follicles, prevents hair breakage and promotes hair growth. One of the best benefits of amla juice it to mix it with lemon juice, leave it on your scalp for 15 minutes and rinse it off with warm water for stronger hair from root to tip.
Amla for Conditioning If you have dry and rough hair, amla works as a great natural conditioner. Try blending some amla juice with henna and apply it on your hair for extra shine and zero frizz.
Amla for Scalp Cleansing Try a home remedy made of amla juice and one beaten egg. Massage it on to your hair and rinse - you'll be left with a squeaky clean nourished scalp.
There are countless benefits of amla for your hair, skin and body, so make sure your incorporate it in your diet and beauty regime to look beautiful and stay healthy. Also learn about amla oil for hair and
how to use it for better hair growth
.
*
Fields are required. Make some cool noise, please don't spam and your voice will be heard.
Was this Article helpful?