Amazing Home Remedies to Get Rid of Dandruff Using Lemon
Amazing Home Remedies to Get Rid of Dandruff Using Lemon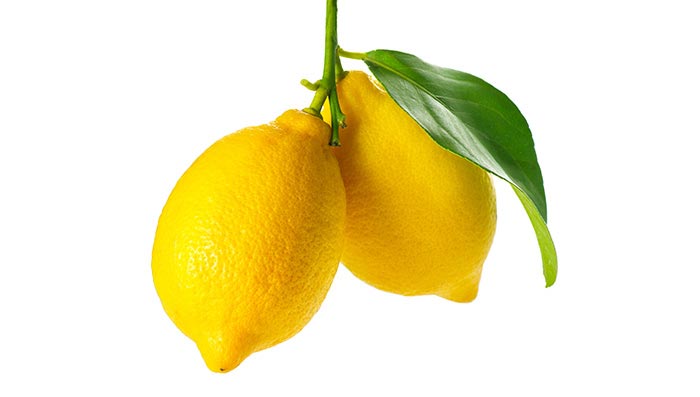 It's not easy to live with dandruff. From excessive formation of dry skin flakes to hair fall to itchiness; one goes through a lot when suffering from dandruff. It can become a major cause of embarrassment and can put a full-stop on your social life. But don't fret. Like every other problem in life, even dandruff has a solution.
Causes of dandruff:
Dandruff is primarily a result of a dry scalp but there are several other factors that contribute to its occurrence. They include:
Seborrheic dermatitis (irritated or oily skin)

Not enough shampooing
Fungal or bacterial infections
Skin conditions like eczema or psoriasis
Excessive use of or reaction to hair products
While there are many hair products available in the market that can aid in prevention of dandruff but their excessive use can damage the natural texture and health of your hair. So, should you give up on a dream of dandruff free life? Of course not. Just remember, where there is lemon there is hope!
Lemon for dandruff
Lemon for dandruff is a time-tested remedy for dandruff. The multiple benefits of using lemon for dandruff include:
Balancing the pH level of the scalp
Prevention of fungal infections
Naturally moisturizing the scalp to soothe or reduce itching
Exfoliation & scrubbing off any shampoo or other chemical residuals
Encouraging growth of healthy & beautiful hair
As a wonder ingredient, lemon is easily available and can do wonders in improving the health of your scalp and give you gorgeous looking and feeling hair. So, the next time your scalp gives you dandruff, give it lemons!
Still wondering how to have an effective dandruff treatment at home using lemon? Read below to know how to use lemon for hair dandruff and get started.
Lemon & coconut oil blend

While lemon for dandruff is a good remedy but when mixed with coconut oil it acquires the properties of a magic potion for hair. Coconut oil is antifungal in nature and aids in prevention of fungus causing dandruff. It also moisturizes the scalp from deep within thus keeping the hair nourished from root to tip. To make this effective home remedy for dandruff:

Add 2 tablespoons of Vatika Enriched Coconut Hair Oil with 1 teaspoon of lemon juice

Mix it well
Massage your scalp with the mix
Wrap your hair in a warm towel for 20 minutes
Wash with a mild shampoo

 

Lemon & multani mitti

The cleansing properties of multani mitti aids in removing toxins from the scalp; restoring the natural moisture of the scalp; thus giving you longer, thicker and healthy strands.

Combine lemon & multani mitti
Apply on the scalp
Let it dry
Rinse it with shampoo

Lemon, curd, olive oil & honey

There is no going wrong with this one! Natural properties of curd moisturizes the scalp, lemon fights any signs of itchiness or fungal infection, honey aids in soothing any inflammation or irritation of the scalp and olive oil nourishes the scalp to add strength and natural shine to the hair. To prepare this:

In 1/2 a cup of curd, add a tablespoon each of lemon, honey & Vatika Enriched Olive Hair Oil
Apply on the scalp
Let it set for 30 minutes
Wash with a mild shampoo

 

Lemon, ginger & olive oil

They say three's trouble but not when it comes to the wonderful trio of lemon juice, ginger and olive oil. While ginger and lemon are rich in anti-fungal properties, olive oil nourishes the scalp from deep within, strengthens the hair and adds natural shine and bounce. As a natural home remedy for dandruff, application of this mix will not just help clear dandruff from the root but also prevent it from coming back. To prepare this natural home remedy for dandruff:

Mix all three ingredients together in equal proportions
Massage gently
Let it set for 30-45 minutes
Rinse with a mild shampoo

Lemon & apple cider vinegar

A great home remedy for dandruff, this mix has anti-fungal properties that remove fungus, dead cells, itchiness and dryness from the scalp. To make this:

Add 4 tbsp apple cider to 2 tbsp of lemon juice
Apply on the scalp
Let it set for 30-45 minutes
Wash with a mild shampoo

Lemon & aloe vera

 

Aloe vera is anti-bacterial and anti-fungal in nature and that is what makes it one of the best remedies for dandruff.

To 3 tbsp of aloe vera juice, add few drops of lemon
Apply on the scalp
Let it set for 1 hour
Rinse with a mild shampoo
Read More Tips On:
How to Use Lemon for Hair Growth
Tips for Dry and Damaged Hair
How to Get Shiny Hair
Healthy Hair Tips
How to Stop Hair Fall
Hair Fall due to Dandruff
Hair Care
Home Remedies for Itchy Scalp in Monsoons
​
*
Fields are required. Make some cool noise, please don't spam and your voice will be heard.
Was this Article helpful?