6 Quick and Easy Hairstyles when You are Running
6 Quick and Easy Hairstyles when You are Running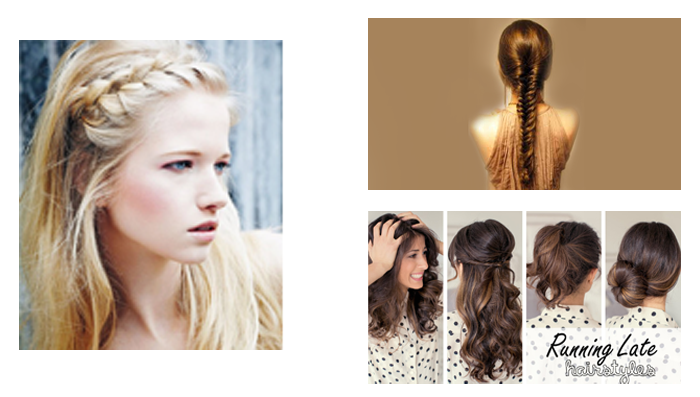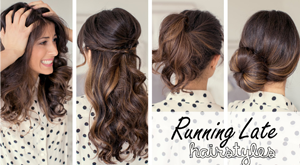 If it just happens to be one of those days when you are running horribly late and that long night simply threw your morning schedule for a toss, it means that you have very little time to do that usual fiddling with your hair. So what do you do with your hair? Don't panic, for we have your back with some easy hairstyle ideas. Here are a quick and easy running late hairstyles that can help you get that perfect hair within two minutes.
The Messy Bun
One of the best alternatives for when you're running late and your hair doesn't seem to be cooperating is to toss it up into a bun. In fact, the messier your hair, the better! All you need are a hair band and a few pins to fiddle with as per your hair's requirement, and voila!
The Ponytail
One of the best reasons to put your hair into a ponytail is that it removes all the hair off your face and can hide problems such as 'oily hair'. Let's face it, most of us carry a hairband around our wrists, so this hairstyle idea that can even be completed in class or on the go. If the hair on your crown is acting up, part your hair to the side. If you are feeling a little more outgoing, you can pull up your hair into a high pony.

The Fishtail braid
It may seem intimidating at first, but once you have mastered the fishtail braid, you will open a whole new world of options. If it feels difficult at first, practice till you get it right. The best part is that you can wear this hairstyle for long hair to both formal and informal occasions. Oh, and have you checked our step-by-step Fishtail braid tutorial.
Half up, Half down
If you are one of those people who don't mind letting their hair down in any weather, this hairstyle is meant for you. It will keep the hair off your face but your hair down nonetheless. And all that it requires is pins to pin up your hair with. It suits all hair types and lengths as well.
Hair Accessories
Investing in a few chic hair accessories will go a long way in keeping your look interesting and versatile. Alice bands will be very helpful for the days when your flyways refuse to settle down. Bows can instantly change the dynamics of any look, whether it be a ponytail, a braid, a bun or even open hair!

Braid Headband
A very refreshing and interesting way to do your hair, this hairstyle for long hair is a stylish way to keep those pesky, uncooperative bangs off your face. It takes less than two minutes to do, but you stand warned - your friends will be begging to learn it from you the second they see it!
Now that you know the tips and tricks behind making these easy hairstyle ideas, you can sleep for those extra ten to fifteen minutes you are bound to save every day. Just make sure you have
Dabur Almond Hair Oil
in your beauty shelf so the hair damage as a result of all the experimenting is taken care of and wear these
hairstyles for long hair
to college and tell us how many compliments you got!
Also read
How to Get Thicker Hair
Hair Growth Tips
Hair Oil
Home Remedies For Dry & Damaged Hair
Home Remedies for Shiny Hair
How To Remove Dandruff
Hair Care
Tips for Long Hair

*
Fields are required. Make some cool noise, please don't spam and your voice will be heard.
Was this Article helpful?