5 Effective Homemade Masks for Itchy Scalp
5 Effective Homemade Masks for Itchy Scalp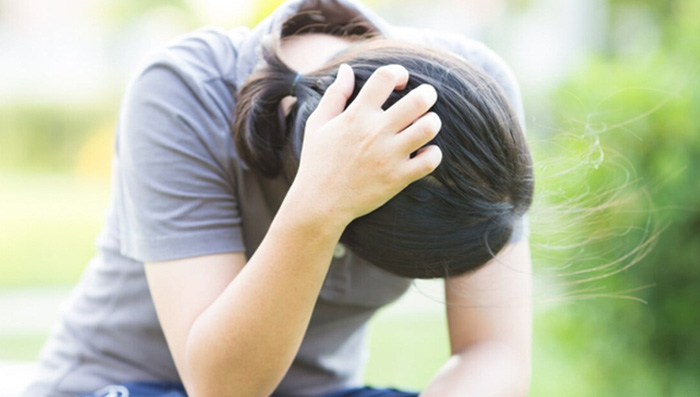 Itchy scalp is not cool! Period.
Having an itchy scalp can be a cause of lot of discomfort. From constantly scratching your head in public to embarrassing yourself by leaving behind a hair trail; itchy scalp can become a bane in your life if not treated in-time.
Causes of itchy scalp
An itchy scalp points towards a number of things that you probably are not doing right with your hair. Its causes include:
Dry scalp
Undernourishment of hair
Excessive use of hair products
Stress
Improper diet
Fungal & bacterial infections
Dandruff
If you suffer from the problem of itchy scalp, treating it at the earliest is a must unless of course you are ready to live with damaged hair.
How can you treat itchy scalp?
Going to a hair spa or saloon and indulging in expensive hair treatments should be the last resort. When there is so much you can do with natural ingredients available right in your kitchen then why opt for anything else? All you need is few tips on how to use them to your advantage. Therefore, we have sorted you few simple and effective hair masks for itchy scalp that you can easily prepare at home. These itchy scalp hair masks are guaranteed to rid you of itchy and dry scalp and give you gorgeously thick, healthy and beautiful hair. So, get going with these hair masks at home right away!
Itchy scalp hair masks:
Olive Oil, Mayo & Broccoli Hair Mask :

Dry scalp is the main culprit for your scalp feeling itchy all the time. To combat the problem of dryness of the scalp and keep dandruff at bay, try this moisturizing hair mask. Olive oil will strengthen the hair from within while adding bounce and shine. Mayonnaise will keep the scalp hydrated and broccoli will deeply cleanse it. Just mix a tablespoon each of Vatika Enriched Olive Hair Oil and mayo with the paste of broccoli and apply to the scalp. Let it rest for 20-30 minutes before washing with a mild shampoo.

 

Coconut Oil Hair Mask :

There is nothing better than coconut oil to treat any hair problem. It helps in improving the overall health of the hair and scalp, has antibacterial properties that prevent fungal infections, nourishes the hair from root to tip and keeps the scalp well-conditioned from deep within. To use coconut oil as an effective armour to fight itchy scalp, try the coconut oil hair mask. To make this hair mask at home, add 1 teaspoon each of lemon juice and honey to 3 tbsp of Vatika Enriched Coconut Hair Oil and massage the scalp gently with it for 5 mins. Wrap your head with warm towel and let it rest for 20 mins before washing with a mild shampoo.

 

Yogurt Hair Mask:

Yogurt has all the essential vitamins and proteins in it that are required to keep your scalp moisturized, healthy and happy. In a small bowl of yogurt, add 2 tbsp of almond oil and apply all over the scalp. Let it rest on the scalp for 20 mins before rinsing with a mild shampoo. The properties of yogurt when mixed with the natural goodness of almond oil result in giving you healthier, stronger and shinier hair.
Note: Apply this mositurising hair mask at least once a week.

Honey, Yogurt & Lemon Hair Mask :

There is no way you can ever go wrong with this simple yet effective hair mask for dandruff. Dandruff is one of the major reasons why you could be going itchy in the scalp. So put an end to your misery by applying this hair mask at least twice a week or till the dandruff has completely vanished. To make this hair mask for dandruff at home, mix all the three ingredients together and apply on the scalp. Let the hair mask rest for few minutes before rinsing with a mild shampoo.

 

Banana & Avocado Hair Mask :

This one is an ideal itchy scalp mask. Banana has potassium, which strengthens and repair damaged hair from the root. Avocado, on the other hand has moisturizing and deep conditioning properties and when the two are mixed together they result in giving you healthy and nourished hair. To prepare this hair mask at home, in a blender blitz together half an avocado with 1 ripe banana and apply on the scalp. Leave it for 30 mins before washing with a mild shampoo.
Read More Tips On:
Hair Masks For Damaged Hair
Tips for Dry and Damaged Hair
How to Get Shiny Hair
Healthy Hair Tips
How to Stop Hair Fall
Hair Fall due to Dandruff
Hair Oil
Hair Care
Home Remedies for Itchy Scalp in Monsoons
*
Fields are required. Make some cool noise, please don't spam and your voice will be heard.
Was this Article helpful?