Know How to Get Rid Of Dark Circles with Some Home Tips
Know How to Get Rid Of Dark Circles with Some Home Tips
08 August 2017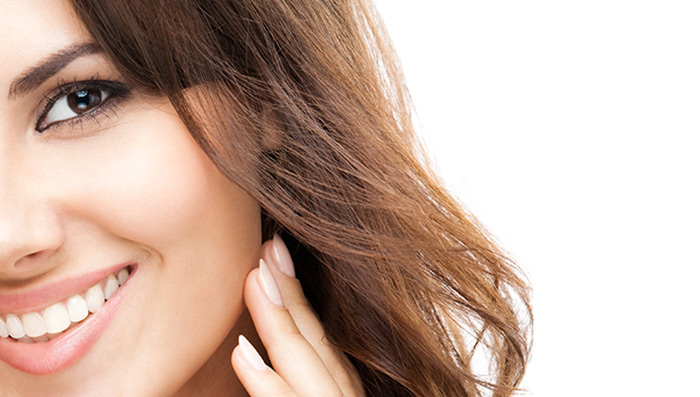 Dark circle is a bad sign indicating unhealthy lifestyle of an individual. In today's time, the problem of dark circle is quite common and every second person has dark circles under their eyes. Dark circles add oldness to face and make it look lifeless. Off course nobody would like to have this dark thing over his or her flawless face but dark circles arrive secretly without giving any intimation. People get shocked when certainly they notice those dark lines under their eyes. At that point of time, one immediately thinks how to get rid of those dark circles immediately. But remember folks when the problem of dark circle doesn't come overnight then how could that go away overnight. Hence, one has to be very patient while dealing with dark circles.
One good thing about dark circles is that it is not a serious skin issue and could be treated with some easy natural ways. So, if you are worried about how to get rid of dark circles under eyes then worry not, home remedies could easily get rid of it. But before moving to the solution of this ugly problem, one should explore the main reasons that lead to dark circles under eyes. So, here is the list of reasons for dark circles:
Age: The first and the most common reason of dark circles is increasing age. As an individual gets older, the collagen and fat in skin under the eyes decreases by the time. This eventual loss accompanied by skin thinning issue leads to darkening of skin under eyes and the dark circles appears. So, increasing age is a common and obvious reason for dark circles. But one could maintain the skin collagen and fat by giving some natural therapies to skin under eyes on regular intervals.
Lifestyle: The lifestyle and activities of an individual plays an important role in their overall health and skin issues. If a person is into some wrong habits like smoking or drinking alcohol, goes to bed late, or improper diet then getting dark circles is very easy and obvious. As the skin under eyes is very sensitive and needs proper rest and nutrition to stay healthy. Hence, maintaining a good lifestyle is necessary to keep away those dark shadows under eyes.
Abnormalities of skin pigmentation: Skin all around eyes and below it is very thin and this makes blood vessels easily visible in that area. Due to think skin and irregular flow of blood in blood vessels, melanin the component which gives skin its color doesn't reach properly in that area and skin becomes dark. Usually the issue of skin pigmentation abnormalities is seen in people of African and Asian descent.
Lack of sleep: Lack of sleep is considered the biggest culprit in giving dark circles. Generally, majority of people has the conception that only lack of sleep gives dark circles. Yes, it's true but only to a certain extent. The whole body as well as skin needs rest to rejuvenate and regenerate from time to time. If an individual is skipping or reducing the sleeping hours then the sensitive skin under eyes won't get proper time to relax and rebuild. Also, lack of sleep will slow down the blood circulation in the blood vessels of skin under eyes. So, the darkening of skin under eyes or dark circles is quite obvious to appear in case of lack of sleep.
Hereditary: In some people, dark circle is a skin issue transmitting due to hereditary factor. In hereditary cases, any other reason of dark circle might not play any role. So, if an individual has a family background of people having dark circles then it's possible that he or she might get dark circles at early age.
Stress or crying: Too much of stress is not good for health in any case. Especially when it comes to skin talks, stress is the first one to harm skin. Stress from long time or crying for hours due to any mental stress leads to dark circles under eyes. Logic behind this process is dehydration of eyes and over pressure over eyes and skin beneath it. Prolonged crying and stress disturbs the blood flow and healthy functioning of skin system under eyes. Hence, try and avoid crying and over stressing habit to keep away the dark circles in early age.
There might be many other reasons beyond the above mentioned one to get dark circles. Even some medications, liver disease and other body issues give dark circles to a person. So, one has to be little observant or throw light on the common reasons whether any one of them is in their life cycle or not, which has given dark circles under their eyes. If there is no such identical reason behind dark circles then consulting a doctor is wise advice.
Getting dark circles is very easy but removing them is slightly difficult job. But remember its only slight difficult. And if someone is really desperate to know how to get rid of dark circles under eyes then they look for some natural ways. There are various home remedies to get rid of dark circles. And by following them for sometime regularly, an individual could see significant reduction in dark circles. Check out the list of some natural ingredients which could help in getting rid of dark circles under eyes:
Raw Potato: Potato is an easily available vegetable and an all season veggie. To reduce or lighten dark circles, potato works as natural bleaching agent. It also helps in getting rid of puffiness near or around eyes. To utilize potato to remove dark circles under eyes, grate one raw potato and take out its juice. Now, take a cotton ball and soak it properly in the potato juice. After this, place the soaked cotton balls over closed ensuring the coverage of dark circles as well as eyelids. Relax for 15-20 minutes putting on the cotton over eyes and then wash eyes thoroughly with cool water. In place of potato juice, one could also use raw potato slices to reduce dark circles. Doing this practice once or twice in a day for some weeks will surely give positive results.
Rose water: Many people use rose water in their skin care regime as a skin toner. Rose water helps in cleansing skin and makes it look clean and glowing. In case of dark circles, it gives soothing effect to tired eyes and rejuvenates the skin cells where dark circles have emerged. Any good rose water such as Dabur Gulabari Rose Water or homemade rosewater would work efficiently in reducing dark circles. To use rose water to reduce dark circles, take little quantity of it in a bowl and soak small cotton pieces in it for several minutes. Now, place those soaked cotton pieces on closed eyes making sure that it covers the whole eyes and dark circle area completely. Keep it on for 15 minutes and then rinse eyes with normal water. Do this practice twice in a day for 4-5 weeks to see the difference.
Lemon juice: Lemon juice has skin lightening properties and Vitamin C content in it helps in removing dark circles in short span of time. There are two ways in which one could use lemon juice to reduce dark circles. One way is to simply apply lemon juice over dark circles with the help of a cotton ball and let it work for few minutes. Another way is to make a paste of one tablespoon lemon juice, little bit of turmeric powder and gram flour (Besan) and two tablespoons of tomato puree. With the help of fingers, apply the prepared paste under eyes covering the dark circles properly and then let it work for 15-20 minutes. Do this practice twice or thrice in a week to get rid of dark circles.
Almond oil: It might sound weird but yes almond oil works great in reducing almond oil. Almond oil is expert in dealing with delicate skin under eyes and helps in skin lightening. In substitution, one could use Vitamin E oil to remove dark circles. Try to use some good almond oil like Dabur Almond Oil or organic almond oil for the purpose of removing dark circles. All one has to do is just apply little amount of almond oil on dark circles and do gentle massage of that area. Do this practice before going into bed for sleep and let the oil stay overnight. In morning, rinse eyes with cold water.
Cucumber: One must have noticed in TV advertisements, beauty magazine pictures or in salons the eyes of a person covered with cucumber slices. Well, it is done for none other than dark circles skin problem. It is said that cucumber has mild astringent properties and skin lightening power to remove dark circles gradually. There are different ways in which cucumber could be used to remove dark circles. Easiest way out is to cut slices of cucumber and store it in refrigerator for half an hour. Now, place those chilled cucumber slices over closed eyes covering dark circles. Keep the slices over eyes for about 15-20 minutes to work properly. Another way is to make a mix of cucumber juice and lemon juice of equal ratio. Apply the solution using a cotton ball on dark circle affected skin and let it stay there for 15 minutes. At the end, wash eyes with cold water. Follow this tip once in day at least for a month.
On an ending note, it's important for an individual to have faith in nature's power and its ingredients. As dark circles are not a serious skin issue, it could be dealt with home remedies efficiently but remember everything takes some time to work.
---
*
Fields are required. Make some cool noise, please don't spam and your voice will be heard.
Was this Article helpful?