Amazing Benefits of Papaya for Skin and Hair
Amazing Benefits of Papaya for Skin and Hair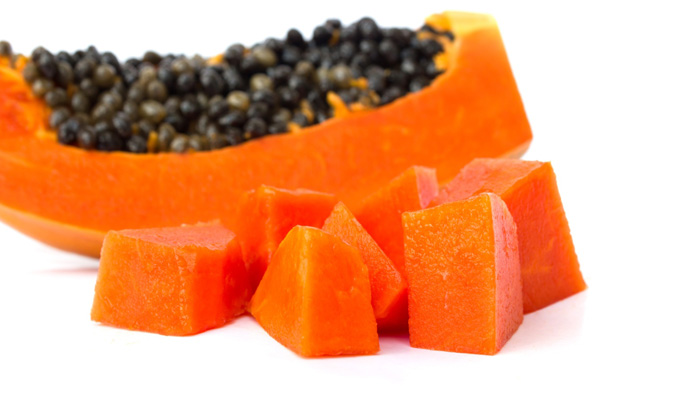 Did you know? Papayas contain an enzyme called papain which is an active ingredient in many skin lightening creams and commercial beauty products. Papayas help in preventing premature aging, softens and whitens the skin, reduces the appearance of freckles and red spots. It also has exfoliation properties, removes dead skin; has anti-inflammatory properties and anti-cancerous properties. Basically, when it comes to skin, papaya packs a punch. So why buy (a product,) when you can DIY (using natural ingredients)? Here is some
easy do-it at home skin care tips
that'll guarantee a beautiful you.
Papaya For Skin Lightening
Pick a ripe and healthy papaya, peel it, cut it and scoop out the seeds. Chop it up into medium-sized pieces and put it in a blender, run it until it's a thick, smooth mash. Now mix a cup of papaya with 1 teaspoon of Vitamin E oil, a spoon of yogurt, a spoon of honey and a dash of Dabur Gulabari Rose Water. Dab the mixture on your freshly cleansed face, massage it gently, leave it on for 15 minutes and then rinse off with lukewarm water, followed by cold water. Follow this skin care tip twice a week to lighten your dark spots and get glowing skin.
Papaya For Acne
The enzyme – papain doesn't just give your face instant fairness, it also breaks down protein and dissolves dead skin, so a papaya facemask not only helps in reducing dark spots and tan, it also helps in healing acne, smoothening the skin and gives you lovely glowing skin. Make it a habit to include papaya in your diet every day.
Papaya For Hair
Surprised? Well, apart from the 2 skin care tips mentioned above for glowing skin, you can also try a papaya hair mask to get convinced! All you need to do is mix 1 cup of very ripe papaya and 1 cup of ripe banana, mash it up, add 1 tablespoon of Dabur Amla Hair Oil and some yogurt. Blend the ingredients together such that there are no lumps and apply it on damp hair. Wrap up your hair with a shower cap and let it be for an hour or so. Apply heat via a hair dryer so the goodness of the ingredients are absorbed and then wash it off with a mild shampoo. You could even skip the conditioner. You'll be blessed with super soft tresses!
Papaya For Good Health
The fruit is not just great for glowing skin and fabulous hair, it is cholesterol free, high in fibre and low in calories, all of which make it ideal for a healthy diet and good metabolism. Papaya is filled up with lots of nutritional values as it contains vitamins, iron, calcium, riboflavin and enzymes, thus ensuring in the perfect functioning of the digestive system. As a rich source of potassium and fibre, the cardiovascular system is also protected by these nutrients. Papaya is rich in anti-oxidants too, which translates to protection from colon cancer and cervical cancer. The other important property is that the seeds come in handy to cure stomach pain, fungal infections and skin diseases. All in all, don't you think it's time to paraphrase the age-old idiom to "a papaya a day keeps the doctor away"? We sure think so!
---
*
Fields are required. Make some cool noise, please don't spam and your voice will be heard.
Was this Article helpful?