Yogurt Benefits for Gorgeous Hair Naturally
Yogurt Benefits for Gorgeous Hair Naturally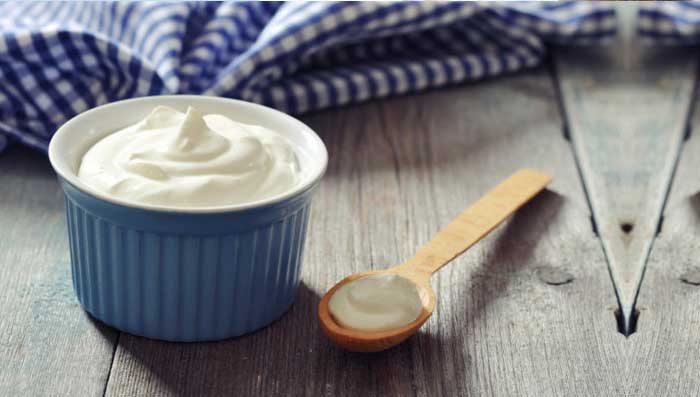 You know how good yogurt is for your health, but did you know it has hair-saving benefits too? Boosting hair growth, providing nourishment, strengthening roots, stimulating blood circulation – yogurt packs a punch when it comes to hair. Read on for nifty
hair care tips
that will make you look gorgeous!
It is a natural conditioner
Yogurt doesn't just have moisturizing properties that make it a great skin care ingredient; it acts as a great natural conditioner for dry and damaged hair as well. So follow this natural hair care tip to regain lost moisture. Take a small cup of yogurt, beat it well to make it smooth paste and coat your hair using a brush or fingers, Wrap all your hair in a towel and let it rest for 20 minutes before you rinse with Vatika Premium Naturals shampoo. You'll experience a cooling effect; your hair will be frizz-free and hydrated. You can also try this natural hair care tip using a cup of yogurt, 2 spoons of Dabur Almond Hair Oil and 2 beaten eggs to fight dry hair. Apply the paste, leave it on for 30 minutes and shampoo it!
It gets rid of split ends and hair fall
Split ends are a sign of malnourished hair and hair that lacks nourishment also falls! But worry not; we have a hair care tip to take care of this problem of yours. Make a pack of mashed papaya and yogurt, make it a smooth paste and apply the mixture on your hair, leave it for 60 minutes and then rinse with a mild shampoo. You can also try Vatika Enriched Olive Hair Oil, if hair loss persists. Enriched with the goodness of olive, almond protein and aloe vera, this hair nourisher gives you hair fall control by 50%.
It fights dandruff and itchy scalp
Packed with anti-fungal and anti-bacterial properties, yogurt helps stimulate hair growth by acting as a natural scalp cleanser and removing dandruff and flakes. What's more the cooling effect of yogurt also soothes the scalp and reduces itchiness so try massaging yogurt into the scalp at least once a week and wash off with lukewarm water after half an hour. The lactic acid hydrates the scalp and removes dead skin cells, thereby removing dandruff and giving you shiny beautiful hair. For an easy off-the-shelf solution, you can try a hot oil massage using Dabur Amla Hair Oil followed by Vatika Premium Naturals anti-dandruff range. To understand the causes and remedies of dandruff better, read our articles with natural hair care tips.
Read More Tips On:
How To Make Hair Silky
How to Get Shiny Hair
Healthy Hair Tips
Hair Fall
Long Hair Tips
Tips for Dry and Damaged Hair
​
*
Fields are required. Make some cool noise, please don't spam and your voice will be heard.
Was this Article helpful?