How to Color Hair Naturally? - Home Remedies for Grey/White Hair
How to Color Hair Naturally? - Home Remedies for Grey/White Hair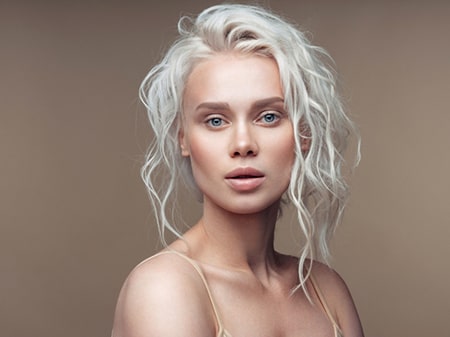 In many cultures grey hair is considered as a sign of wisdom and maturity but lets be honest everyone premature greying is not something anyone wishes for these days. Although the super market shelves are stuffed with hair dyes but they contain many harmful chemicals which interns causes rapid hair greying along with many more health issues. So what should we do, should we continue with the salt and pepper? I say not! Fortunately, mother nature has provided us with many safe and easy solutions to fight premature grey hair.
Video:
Dabur Amla Hair Oil for Strong & Beautiful Hair
Some of the natural ways that we are going to discuss in detail here are being used since ancient times with an assurance that all of them are safe, natural and easy to make at home.
But before we dwell into the solutions lets understand both of our enemies here that is Grey hair and white hair.
How Does Our Hair Get Its Colour?
Melanin is the pigment which is responsible to give hair its colour. Within your hair follicles are melanocyte which generates pigment modules called Melanin. While the hair is still inside these follicle melanin is imparted within the hair fibres and hair obtain its natural colour. So to summarise everything melanin is the natural dying agent for our skin and hair.
There are two different types of melanin found in humans:
EU Melanin: Black and Brown pigments
Pheo Melanin: Red and yellow Pigments
What hair and skin colour you are going to have is going to depend on you parent's genes and what type of Melanin has been passed to your DNA.
Reasons for Grey Hair:
Primarily it was believed that hair turn grey due to the loss of pigment making melanocyte, but latest research shows that hydrogen peroxide (H2o2) is the real culprit behind those premature greying. Hydrogen peroxide acts as a bleaching agent and bleaches the hair from inside out. This H202 or Hydrogen Peroxide is produced as a by product of our regular metabolic activities, although in younger people it is quickly broken down to smaller elements of Hydrogen and oxygen, with increasing age this breakdown gets much slower and hydrogen peroxide starts to accumulate in large quantities in out hair follicles stop and hence we see a greater tendency in older people to have white hair.
Causes of White Hair (Premature Greying):
Premature greying is the condition where a relatively young Subject starts experiencing deposits of hydrogen peroxide in the follicles and as a result there is a sudden onset of grey/white hair cropping up. There are a number of reasons which can trigger premature grey hair in a person:
A. Stress
B. Lifestyle choices like smoking and drinking alcohol
C. Improper diet
D. Regular usage of electric blow dryers and straightening/curling irons
E. Hyper or Hypo Thyroids can affect melanin production.
The good news is that we are going to discuss a few easy home remedies for grey hair turn into black, below:
Home Remedies for White Hair:
Vitamins for Grey Hair :

You must be familiar with the saying that prevention is the best cure for any ailment. Same is for premature greying. Not surprisingly the lack of nutrients in diet is also one of the primary causes of white hair, especially Vitamin D and B12. Both of these vitamins are present naturally in milk. Although fish and other animal meat is also rich in Vitamin B12. If you are a vegan then it is advised that you seek medical assistance to find the right vitamin supplement for you. Epsom salt and Desi ghee is also rich in these vitamins. Also read more vitamin e benefits hair.

Amla Or Indian Gooseberries for Grey Hair :

Amla or the indian gooseberry is a god send when it comes to maintaining hair help. Amla has a lot of anti oxidant properties as it is loaded with Vitamin C. There are multiple ways as to how we can use Amla powder for white hair prevention. Some of the most effective ones to stop grey hair are shared below:

Drink fresh Amla juice, diluted with any other sweet juice or clean water, as the extreme taste could be discomforting for certain people.
Adding dry amla powder to your soups or having it with water is also good for your hair as well as your overall health.

Gooseberry Enhanced Coconut Oil for Grey Hair:

Take coconut oil in a pan along with a couple of gooseberries and boil them together over low heat.
Cut the heat when you see that the gooseberries are turning slightly brown. Allow the mixture to return to room temperature
Apply the oil trough out your scalp and to the entire length of your hair.
Leave it on for a few hours or overnight. Follow the normal shampoo and conditioner routine post application.

This is the best hair oil for white hair to black reversal. Not only it can help you to prevent white hair but also promote overall hair health.

Gooseberry Pulp for Grey Hair:

Mix some gooseberry pulp along with some lemon juice and apply this mix as a hair mask.
Leave it on for a couple of hours or for overnight.
Rinse with a mild shampoo post application.

This is a great grey hair remedy plus an effective white hair solution, Especially if you like trying out different hair masks, this natural and almost free trick for a grey hair cure, Is sure going to keep you busy with the application and delighted with the results.

Gooseberry Pulp Along With Almond Oil for Grey Hair:

Another great trick to reverse the flow of time, as this three-step recipe is the champion among all other home remedies for grey hair turns into black fast. Follow the below listed steps to for an easy DIY grey hair remedy.

De-seed a couple of gooseberries and set aside the flesh.
Mash the flesh into a pulp and add half Tbsp of almond oil.
You are experiencing dandruff as well you can consider mixing a couple of drops of lemon juice to the blend.
Apply this as a hair mask and leave it on for at least half an hour.

Henna for Grey Hair:

As we know somethings in life just can't wait, similarly sometimes you just cannot wait an entire month to see a couple of strands turn black. Regular dyes are laced with harmful chemicals that upon contact can not only trigger an allergic reaction but also can cause many other serious health ailments. So the question arises "how to color hair naturally?" and the answer is none other than the very much beloved Henna. It is a prominent and natural way to dye hair since ancient times. Natural is always better than chemical laced and Henna is a great way to dye your hair naturally and stay away from the physical complications that chemical dyes can induce like an allergic reaction or a skin rash.

To use this natural hair dye, please follow the following steps:

Grind Henna leaves to a fine paste or buy henna powder from any nearby departmental store. Add water to make a thick paste.
Add 2 tbsp of coconut oil, one tbsp of coffee powder and a tbsp of fresh yoghurt.
Mix thoroughly and apply the same to your hair.
Leave the mixture on for a couple of hours and rise properly followed by a mild shampoo and hydrating conditioner for best results.

Onion for Grey Hair:

Onions being rich in a antioxidant enzyme catalase are helpful in restoring the hairs natural colours. Also the Vitamine C, folic acid and copper contribute to make onions one of the greatest grey hair remedy there is. Sometimes premature greying is due to the decrease in catalase levels. Onions juice promotes catalase production.

There are multiple ways in which we can use beneficial properties of onion to prevent white hair

Use raw onions in your salads and in mashes.
Applying onion juice is also a great way to decrease the hydrogen peroxide build up in the hair follicles. As a matter of fact similar to Henna this particular method has also been on the block since ancient times.

How to Use onion to reduce Grey hair?

Apply Onion juice on your scalp and gently massage for a good 5-7 minutes.
Let this sit for at least 30-40 minutes in total.
Rinse with cold water or Use a mild shampoo if you have to.

Read more on how to use onion for hair.

Amarnath for Grey Hair:

Scientifically name: Amaranthus. It was not long before we were unheard of the miraculous health benefits that this plant has to offer, the irony is that the Amarnath grain has been used for thousands of years by the Inca, Mayan and Aztec civilisations. This gluten free and protein rich grain could be eaten as breakfast, the high amount of Lysine, an essential amino acid that the body needs to absorb other nutrients but can't manufacture on its own, is beneficial for hair health as per studies.

Its easy to incorporate Amarnath in your daily diet or beauty regime to prevent white hair:

To eat Amaranth as a grain:

Take 6 cups of water to boil around two cups of Amaranth, also if you wish to use it as a replacement to the store bought breakfast cereal you can boil the amaranth in milk and serve with your choice of seasonal fresh fruits.
You can also make a flour out of the Amaranth grain and use it as part of your daily diet.

Use Amaranth As A Medicine:

Crush a few Amarnath leaves and squeeze the pulp to get some juice out of it.
Apply the juice to your scalp and gently massage.
Rinse your hair with cold water.

Curry Leaves for Grey Hair:

Curry leaves are a great source of anti oxidants that are helpful in reducing the free radicals that are created in our body and are responsible for tissue damage and boost general well being. Also Curry leaves are full of anti-inflammatory and anti-bacterial in addition to the antioxidant properties. Curry leaves are beneficial in restoring the damage done to the scalp by pollution and to stop grey hair. Also since curry leaves are rich in Beta-carotene and proteins which supplements hair growth.

Curry leaves could be used in a number of ways for restoring hair health:

As Hair serum:

Mix freshly plucked curry leaves with some coconut oil in a bowl and start simmering the mixture on very low flame.
Cut the heat off when you see a black residue in the bowl.
Allow the mixture to Cool and apply directly to scalp.
Leave it on for any where between 2 hours to overnight.
Repeat this everyday fro 15 days and you will start noticing the difference. This is a great home remedy for grey hair turn into black fast.

Read more on how to use curry leaves for hair growth

As hair mask:

Make a handful of curry leaves into a paste and add around one and a half Tbsp of yoghurt to the paste.
Apply this on your scalp and enjoy the cooling effect!
Leave it on for around 20 minutes
Wash off with a mild shampoo.
Repeat this once a week for a month and you will start noticing change.

As Curry Leave Tea:

Boil a few fresh curry leaves with some water
Add sugar and a couple of drops of lemon juice to it.

This tea does not only make your hair Shiney and strong but also aids digestion.

Wheat Grass Juice For Grey Hair:

Wheat grass juice is a great grey hair cure. It contains a lot of health boosting vitamins like A, B complex, C and E along with Amin acids that are important for protein synthesis and metals like Iron, selenium, copper. If you think that wheat grass goodness is limited to this then you are highly mistaken as research shows that additional to above discussed Wheat grass is also rich in calcium, Iodine and Anti oxidant enzyme catalase, which is especially helpful in reversing the Hydrogen peroxide buildup in our hair follicles.

You can reap the benefits of wheat grass by either growing your own wheat grass or extracting fresh juice out of it or you can buy the ones that available in market. However you do it I can guarantee you that your search history will never contain a "how to color hair naturally" thread

Dabur Amla hair oil is a great way to prevent and fight hair problems. It helps you in making your hair strands strong from inside and beautiful outside. Let your hair look gorgeous all day long with the nourishment of Amla hair oil.
Read Also:
How to Grow Long Hair Naturally
How to Use Hibiscus Powder/Leaves for Hair
*
Fields are required. Make some cool noise, please don't spam and your voice will be heard.
Was this Article helpful?