Hibiscus for Hair - Amazing Ways to Use Hibiscus for Hair
Hibiscus for Hair - Amazing Ways to Use Hibiscus for Hair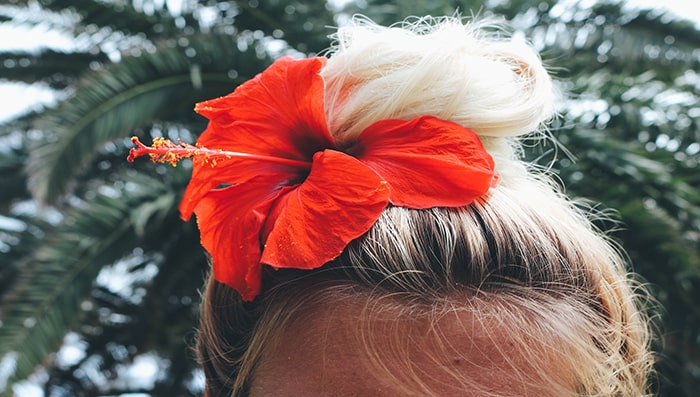 One of the most beautiful flowers found in the lap of Mother Nature is the hibiscus flower. Ever heard of it? Of course, you have. It is bright red, almost picturesque to look at, and most importantly is a savior when it comes to hibiscus benefits.
Video:
Dabur Vatika Shampoo with Satt Poshan (Power of Seven Natural ingredients)
Hibiscus for hair is one of the most well-known herbs when it comes to its use. A lot of women suffer from the problem of thinning of hair and well, the following sentence might ring true for a lot of women reading this and men who are trying to grow their hair, that what starts with smile on your face and a thick ponytail slowly turns into a frown and a thin ponytail.
How to Use Hibiscus for Hair?
Hibiscus benefits are best utilized with hibiscus oil for hairand we are here for just that. Read on to find out why and how hibiscus can be used in various forms and ways to bring joy to your scalp and hairline. We say that with confidence as the exotic flower has gained recognition not only for its power to simulate hair growth but also activate the most dormant of hair follicles, especially in bald patches.
Hibiscus flowers for hairare an efficient remedy to halt hair fall and premature graying. Let's find out how.

But before we begin, the magic of hibiscus for hair has also been bottled for your use by Dabur. Vatika's enriched coconut oil with the power of hibiscus has all you need to get thicker, stronger, silkier hair.
How Does Hibiscus For Hair Care Aid Us?
Hibiscus oil for hair has shown fantastic results for accelerating hair growth. Just like amla, it is rich in Vitamin C that boosts the collagen that is produced in our body and lends strength to your hair.
Hibiscus is also rich in amino acids and as we all know, amino acids help in strengthening your roots among other things.
How to use hibiscus for hair?
How To Make Hibiscus Oil For Hair

For This, You Will Need The Following:

8 hibiscus flowers
8 hibiscus leaves for hair
1 cup coconut oil

How to Go About It?

Thoroughly wash the flowers and grind them into a consistent paste
Heat 1 cup of coconut oil in a saucepan and introduce the hibiscus paste in it
Heat the pan for 2 minutes and extinguish the flame
One the oil has cooled down, store it all after taking out 2-3 spoons for use
Massage the oil deep into the scalp and end the massage by ensuring its application on the tips of your hair.
The massaging does not stop there, after application; spend another 10 minutes massaging your scalp to get that hibiscus oil goodness properly.
Finally, leave the oil in for 30 minutes and wash it off with a mild shampoo.


Now, preparing the oil and applying it can be quite a task, so why not purchase the goodness of hibiscus and coconut brought to you together by Dabur Vatika enriched coconut oil with hibiscus, a must have for all your hair care needs.


Hibiscus Hair Mask for Dandruff

With the amount of stress and pollutants in today's world, lucky are those people who are not afflicted by dandruff, but if you are not that lucky, don't fear, we have a recipe for a hibiscus hair pack that will do just the trick. It involves using hibiscus leaves for hair

For This, You Will Need The Following:

Handful of hibiscus leaves
1 tablespoon fenugreek seeds
1/4th cup of buttermilk

How to Go About It?

Begin by soaking fenugreek seeds in water overnight and then the following day, take the hibiscus leaves and the seeds and grind them into a fine paste.
Mix the buttermilk swiftly, apply this hibiscus hair pack, and leave it on for another hour
Take it off by rinsing your hair with lukewarm water and a mild shampoo. Hibiscus benefits of hair also extend to taking care of dandruff and avoiding an itchy scalp.

Read more home remedies for dandruff at our blog.

Mehendi and Hibiscus Hair Pack

For This, You Will Need The Following:

A handful of hibiscus flowers
A handful of hibiscus leaves
A handful of mehendi leaves
Half a lemon

How to Go About It?

Grind all the above handfuls into a paste and squeeze the lime juice into this hibiscus laden hair pack
Apply this paste to your hair and leave it on for an hour
Wash it off with a mild shampoo

Another concoction where hibiscus leavesfor hair work like a charm as this hair pack moderates the pH balance of the scalp, moisturizes your hair and fights dandruff

Hibiscus Hair Mask with Amla

For This, You Will Need The Following:

3 teaspoons of hibiscus flowers and leaves
3 teaspoons of Amla Powder

How to Go About It?

Mix the ingredients properly until it forms a paste. Add some water to add consistency to the mixture.
Apply the mixture to your scalp and hair.
Ensure all your hair are covered with said mask and then let it stay for another 40 minutes for best results.
After it dries, rinse it off with a mild shampoo and lukewarm water. Do this twice a week to get optimum results.

The hibiscus benefits for hair do not end here though.

Hibiscus For Hair Growth with Egg

For This, You Will Need The Following:

2 egg whites
3 teaspoons crushed hibiscus flower

How to Go About It?

Mix the ingredients together and keep whisking until it forms a paste of perfect consistency.
Apply this paste all over your hair and ensure not part is left which has not been covered.
Let the hibiscus hair mask stay in for 20 minutes and after that wash it off with a mild shampoo.

Do this for once a week and let this perfect combination balance your hair pH levels and encourage hair growth.
So by now, we all know the power of the hibiscus flower and with just a few tweaks how much it can help our hair quality and growth.
Dabur Vatika Enriched Coconut hair oil with Hibiscus holds all the answers when the question is of hair care.

Read Also:
Homemade Hair Conditioners for Smooth, Silky Hair
Natural Herbs For Hair growth and Thickness
*
Fields are required. Make some cool noise, please don't spam and your voice will be heard.
Was this Article helpful?