Pre swimming hair care tips
Pre swimming hair care tips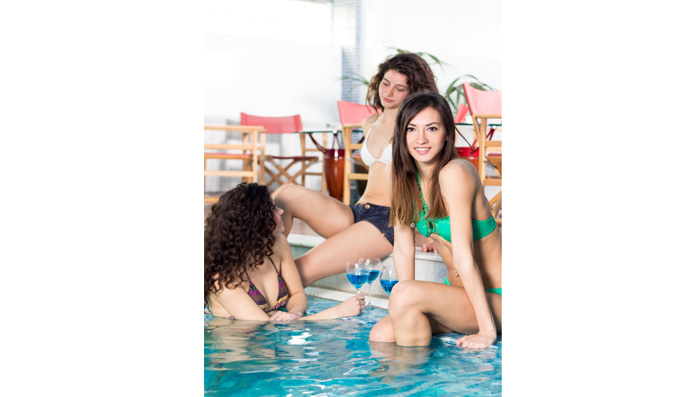 Be a part of the summer madness by beating the heat with swimming. It is a great exercise to relax your body and makes your muscles stronger. But as much as you love it, your hair is not too fond of it. Your hair likes the water but not the chlorine which is often put in swimming pools. It makes your hair dry, brittle and damaged, leading to hair fall. So here are a few hair care tips to ensure that your hair also enjoys your idea of fun. And if a beach holiday is on the cards for you, then you love these
hair care tips
.
Pre swimming hair care tips
Wear a swim cap

Wearing a swimming cap protects your hair by preventing contact with chlorinated water. Though it is not very effective as it only minimises contact as water sweeps into it, but it is still a good idea to wear one.

Saturate Your Hair

Rinse your hair with fresh water so that your hair strands absorb enough water to be saturated. This way they will absorb lesser chlorine and water salt than dry hair. But remember to not shampoo your hair before swimming as it drains your hair of natural oil and moisture paving way for more chlorine absorption.

Apply hair Oil

The oil acts as a barrier between your hair and chlorinated or salty water, thus preventing hair damage. Use Vatika Enriched Almond Hair Oil as it makes your hair stronger and thicker. It blends easily with your hair in seconds and gives you the desired protection from harmful chemicals dissolved in water. Remember that applying oil is much more effective than water saturation as a remedy against chlorine absorption.
Post swimming hair care tips
Wash your hair

Clean your scalp and hair strands using a mild shampoo. Shampooing is important to remove the chlorine absorbed by your hair. Make sure you wash your hair more than once or twice but not much so as to avoid drying.

Deep conditioning

Give your hair a hot oil massage and let it absorb the oil to the fullest. This is very important as your hair tends to dry out completely post swimming. Make sure that you don't use other styling or products which may drain your hair of its moisture. For more on preventing hair damage and alternatives to styling with heat, read our article on no-heat styling. We hope that chlorine and other salts in water will not deter you from swimming anymore. Unleash the mermaid in you with these hair care tips and rest assured that your hair will remain beautiful.
Read More Tips On:
Tips for Dry and Damaged Hair
How to Get Shiny Hair
How To Remove Dandruff
Healthy Hair Tips
Hair Fall
Hair Care
Long Hair Tips
Hair Oil
​
*
Fields are required. Make some cool noise, please don't spam and your voice will be heard.
Was this Article helpful?