6 Amazing Home Remedies For Wet Dandruff Hair Loss
6 Amazing Home Remedies For Wet Dandruff Hair Loss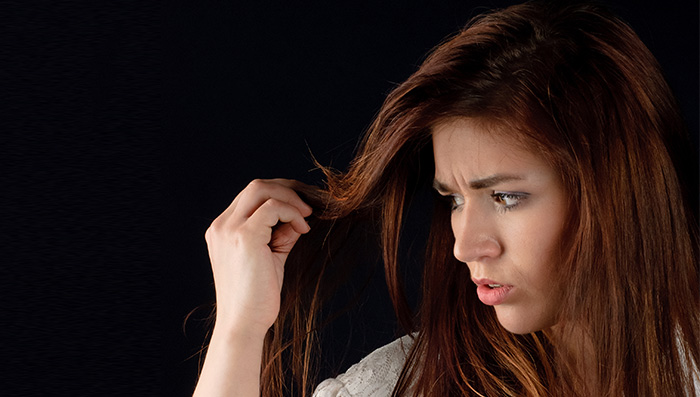 An itchy and scratchy scalp is not just irritating but can be very embarrassing as well. A lot of factors contribute to scalp problems and that includes dandruff too. When you scratch your scalp and your fingernails get covered with white particles then you must raise the alarm. You could be suffering from Seborrheic Dermatitis. This particular skin condition occurs when your oil glands start producing too much oil and yeast called malassezia starts to build-up, which eventually leads to wet dandruff. Factors like stress, pollution and weather change can trigger the problem of wet dandruff.
What is wet dandruff?
Oily dandruff is also known as wet dandruff or greasy dandruff. When you suffer from oily dandruff or wet dandruff the dandruff flakes formed on your scalp sticks to it and causes discomfort to the scalp. But do not jump to conclusions just yet. Instead of rushing for expensive saloon treatments opt for home remedies for dandruff, which can help you get rid of this problem from the root.s
How To Cure Wet Dandruff?
If you are wondering how to cure dandruff then wonder no more. Here are the effective home remedies for dandruff. (But before starting, remember to take a patch test for these natural remedies for dandruff)
Aloe Vera

Aloe vera gel is a magic gel loaded with medicinal properties. It is one of the most effective home remedies for wet dandruff.

Rub juice of fresh aloe vera on your scalp
For best results, you can add few drops of lemon juice to it
Leave it overnight
Wash it the next morning
Repeat the process at least thrice a week to clear the problem of wet dandruff from the root

Coconut Oil Massage

Oil massage has been a great dandruff home remedy since ages. It nourishes the scalp, kicks dandruff out and adds life to your strands.

Apply Vatika Enriched Coconut Hair Oil on your scalp and hair
Massage your scalp in circular motion
Leave it for an hour and wash it with a mild shampoo
For effective results, repeat the process at least once a week

Apple Cider Vinegar

Apple cider vinegar is an awesome wet dandruff cure. It also aids in prevention of oily dandruff and oily scalp. It restores the natural balance of your scalp thus giving you healthy and shiny hair.

Massage your scalp with the mix
Take two equal proportions of apple cider vinegar & water
Leave it for an hour
Wash using a mild shampoo

Note: If frizziness occurs, rub few drops of Vatika Jasmine Hair Oil between your palms and run through damp hair. The non-sticky formula is an effective remedy to control unmanageable and frizzy hair in minutes.

Henna

Henna powder is a natural wet dandruff cure. It provides nourishment to your scalp and conditions it from deep within to give you lustrous locks. Definitely, a simple yet wonderful dandruff home remedy.

Mix henna powder (mehndi) & soap nut powder (reetha)
Form a thick paste using lukewarm water
Soak the mixture for 2-3 hours
Apply the mixture on your scalp and hair
Leave it for 1 hour
Wash it with water followed by shampoo

(If you have colored hair then avoid this remedy as henna can leave its color on your hair)

Lemon

Citric acid in lemon juice absorbs the excess oil in your scalp and so makes for an effective home remedy for wet dandruff treatment.

Squeeze juice of 1 lemon
Massage on the scalp
Let it dry for 5-10 minutes
Rinse with water

Baking Soda

Baking soda is easily available in every kitchen and makes for a fantastic home remedy for dandruff. It cures wet dandruff by soaking up excess scalp oil and removes dandruff by scrubbing and cleaning the scalp of all impurities.

Take 2-3 teaspoons of baking soda in a bowl
Add few drops of water to make a paste
Massage your scalp with the mixture
Let it set for 2 minutes
Rinse with water

Among the many other reasons of wet dandruff, pollution is the most common and prominent one. The harmful pollutants in the environment can rob your scalp of its natural oils and nutrients thus making your hair weak and dull. To strengthen your hair, opt for mild and gentle hair products that will nourish the scalp and strengthen the hair strands form root to tip and give you strong, healthy and thick tresses.
Apart from this, following a good diet also plays a major role in keeping the natural oil balance and sheen of the hair intact. Eat vitamin, mineral and iron rich diet that will stimulate and promote growth of beautiful and gorgeous hair.
Read more about home remedies for dandruff & itchy scalp in monsoons and how to treat dandruff at home.
Read More Tips On:
Tips for Dry and Damaged Hair
How To Make Hair Silky
How to Get Shiny Hair
Healthy Hair Tips
How to Stop Hair Fall
Hair Fall due to Dandruff
Hair Care
Hair Oil
*
Fields are required. Make some cool noise, please don't spam and your voice will be heard.
Was this Article helpful?