Quick & Easy Tips to Get Rid Of Itchy Scalp
Quick & Easy Tips to Get Rid Of Itchy Scalp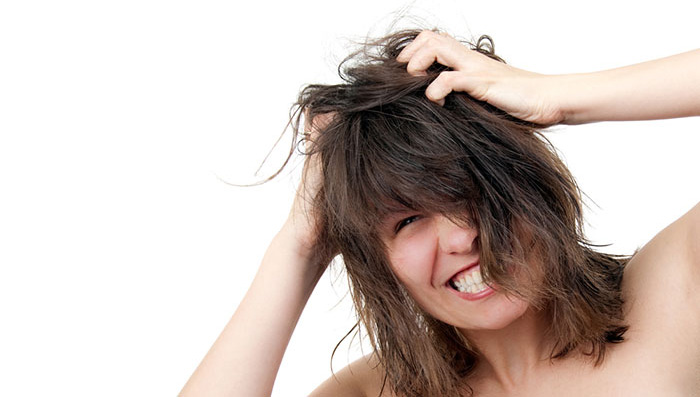 Do you scratch your head and scalp a bit more often than the usual? Does your scalp skin feel dry most of the times? Has your problem of itchy scalp become a bone of contention between you and your social life? Time you did something to get rid of it immediately! But before jumping to any conclusions and rushing for those expensive saloon treatments, try these quick and easy tips to get rid of your scratchy and oh so itchy scalp.
How to get rid of itchy scalp?
Scalp itch is a common problem and can easily be treated at home by taking good care of your scalp. To help you combat the problem of itching on the head, we have got you covered some of the best cures for itchy scalp that you can easily make use of anytime.
Get your basics right :

Scalp itch is a result of poor hair care. In order to get rid of itching in the scalp you've got to wake up to a proper and good hair care regime. There is no need to opt for expensive hair treatments but doing the basic of washing your hair regularly, keeping them dry at all times and checking your scalp for any allergies or product related inflammation goes a long way in keeping under check the problem of itchy head.

Oil for sure :

One of the major reasons for itchy head problem is lack of moisture in the scalp. Opting for regular oil treatments and therapies will not only strengthen the hair protein that is useful in preventing host of hair problems like dandruff that is caused due to dryness of the scalp; split-ends; and thinning & dullness of the hair; but also help development of stronger and thicker hair. Using hair oils like Vatika Enriched Coconut Hair Oil at least once a week will aid in conditioning of the scalp from deep within while treating the hair from any damage thus encouraging growth of nourished and healthy hair.

Switch shampoo:

Have you ever bothered to check the ingredients your favourite brand of shampoo is made of? If not then do it now. Presence of sulfate, silicone or mineral oil in your shampoo could be among of the reasons for you suffering from scalp itch. While these ingredients provide short term solutions to hair problem, what they do in the long run is harm the natural balance of the hair thus resulting in problems like hair fall, dryness and itching on head. So what should you do rid yourself of itchy head? Opt for mild shampoos like Vatika Hair Fall Treatment Shampoo. A unique formula fortified with natural extracts of hibiscus, methi, avocado and essential amino acids; it nourishes and moisturises the scalp inside-out with all the essential nutrients thus keeping at bay the problems of itchy head and itching in scalp.

Go all natural:

Excessive use of chemical laden products can often damage the natural shine and beauty of your hair. It can also result in itchy head and scalp. To restore the natural moisture of the hair and return them back to glory, you should always opt for natural remedies. Natural remedies are often free from any side effects and can easily be prepared using ingredients from your kitchen. Instead of using chemically treated conditioner, opt for rinsing your hair with yogurt for itchy scalp treatment. Yogurt has natural antibacterial properties and works as a good antioxidant for the hair. Regular use of yogurt will add natural shine to the hair, deeply nourish & condition them from root to tip by adding revitalizing nutrients and fiber and also free you from the problem of scalp itch.

Check for dandruff:

Among the top most reasons for you getting an itchy head despite trying all the tricks in the book is dandruff. The flaking in the head is caused due to over-production of yeast or fungal infection that in turn is caused by dryness of the scalp. Being consistent with your hair care regime is the key. Exfoliating your scalp using natural ingredients like lemon juice or aloe vera can do wonders in keeping your scalp dandruff free. Brushing your hair 2-3 times a day aids in shedding dry flakes and equal distribution of natural oils across the scalp.

Keep your hair care tools clean :

One of the main reasons behind you getting an itchy scalp could be improper or no care at all of your hair care tools. Itchy scalp is a contagious condition so maintaining a good personal hygiene plays a vital role in keeping your scalp squeaky clean. Avoid sharing your comb, hair brush, towel and other hair styling products and clean them once every week at least.



Still wondering how to treat itchy scalp?
Read our blogs on
home remedies for dandruff & itchy scalp in monsoons
and
how to treat dandruff at home
.
Read More Tips On:
Hair Oil
How to Stop Hair Fall
Tips for Dry and Damaged Hair
How To Make Hair Silky
How to Get Shiny Hair
Hair Care
Healthy Hair Tips
​
*
Fields are required. Make some cool noise, please don't spam and your voice will be heard.
Was this Article helpful?