Layered Haircut For Long Hair
Layered Haircut For Long Hair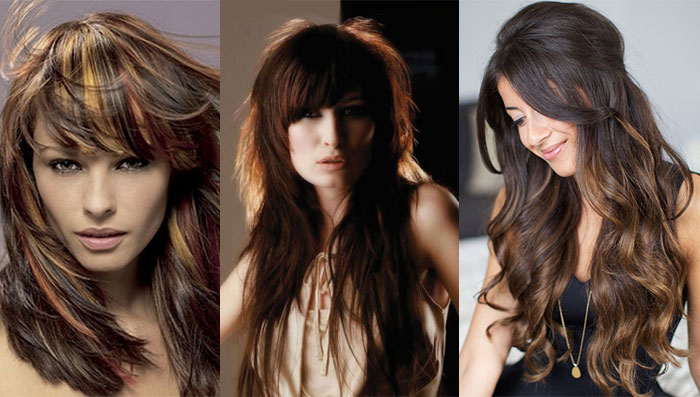 In case you're one of those women who has long tresses and but doesn't exactly know how to style them, this one's for you. Managing long hair can be quite a task and is not everyone's cup of tea. Not every lady manages to grow long hair. Some struggle with the issue of brittleness and others consider it to be too troublesome to. But if you are bored and tired of your long locks and need a change, layered haircuts are the best solution to retain your envious length and relieve yourself of much weight. Here are seven of the most beautiful and eye-catching
hairstyles for long hair
.
Fine outward feathers

An airy, delicate and refined hairstyle for long hair, this one works beneficially for fine hair, adding body to your hair and embellishing a face of practically any shape.


The curly-do

If you have beautiful long curly hair, you are so lucky, because you can easily wear awesome hairstyles like this. Can things get any trendier than this?


Layered excellence for long hair

A 2-layered long hairstyle that makes it easy to style and experiment with shapes and lines styling the contour tresses outwards or inwards, this hairstyle for long ahir one can give you a soft and feminine touch.


Sleek waves

An amazingly eye-catching and touchable hairstyle with highlights, this one accentuates the beautiful texture of hair while highlighting the eye-colour and facial features.


More mess = more chic

Try this naughty hairstyle for a complete natural grungy look. A complete out of the bed look will make you feel like you've just washed your hair and let it air dry.


Curly luxury as elegant long hairstyle

Long lustrous hair with a touch of elegance, this hairstyle for long hair will make you stand apart no matter where you are. A combination of beautiful loose curls with a reverse ombre effect is bound to turn you into a show stealer.


Soft waves & braiding

Adding a natural look to your hair soft waves can make your hair look absolutely gorgeous. Combining this do with a braid only makes the whole look classier. This hair-do will certainly make you want to wear your gorgeous long layered hair loose to show its beauty.


So, go on and transform your whole look with these magnificent hairstyles for long hair. Don't forget to nourish your long hair with Dabur Amla Hair Oil and so share which one you liked the best in the comments section below.

Here are a few long hair tips to keep them healthy & shiny.


Also Read
How to get Silky Hair
Home Remedies For Dry & Damaged Hair
Healthy Hair Tips
How to stop Hair Fall
How To Remove Dandruff
Home Remedies for Shiny Hair
Hair Oil

*
Fields are required. Make some cool noise, please don't spam and your voice will be heard.
Was this Article helpful?