How to Take Care of Your Hair and Skin During Holi
How to Take Care of Your Hair and Skin During Holi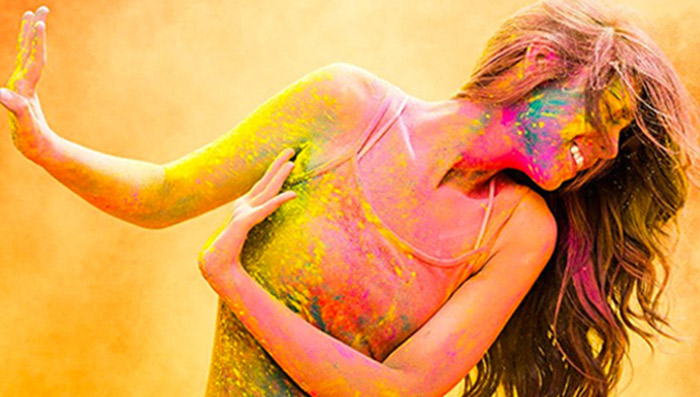 The festival of color is on the corner and hopefully everyone is ready with their color attack strategies. Holi, the festival of color is fun festival played with colors, water balloons and other water toys. Surely, everyone likes to play Holi but many people are scared to participate in the festival. All because everyone is too cautious about their beautiful skin and thinks that their skin will get damaged with colors. Well! Staying cautious and careful for skin is good but ignoring the festival with threat of color is complete injustice to the festival as well as friends and family. One could play Holi without any worries; if they do some pre-preparations to protect their skin from damage.
Well, there is no way one could avoid getting colored after moving out of their room but the damage to skin can be avoided easily. Wildness and no restrain is the real characteristic of Holi festival. Hence, preparing own self for ultimate colorful violence is the only option left in hand. All one has to do is follow some cool tricks or tips that will tell how to take care of your skin during Holi. There is no doubt in the fact that the colors used in the festival are quite harmful and harsh for skin. And the immediate effects of color on skin could vary from mild irritation to rashes, itching, allergy break-out and many more. Earlier, the color fashion was simple and soft using natural dyes. But now, the whole coloring scenario is changed. The soft and natural dyes are completely replaced with synthetic dyes that carry toxic effects for skin.
Skin is invaluable and any kind of reluctance would only lead to regret. Many teenagers have complained that their previous Holi experience forces them to stay back from colors. All such complaints are result of individual's reluctance and negligence towards their skin. After skin, another important body area which requires special attention and protection from color is hair. Hair is as much equally prone to damage as skin. Dry and harsh colors might cause intense itching and burning in scalp. Colors might bring up existing hair or scalp allergy too. Hence, protection of hair from Holi colors is as much important as skin protection.
Preparing skin and hair for harsh colors needs some pre as well as post festival arrangements. This means that the job of caring skin and hair doesn't end as the festival of Holi gets finished. So, folks make sure to follow up the skin and hair care tips and remedies very carefully for some days after the festival of Holi. Post remedies are necessary for skin and hair as it ensures complete damage repair of skin and hair in all ways.
Now, it's time to focus on some pre remedies for skin and hair before stepping out to play Holi:
Pre Holi remedies for skin
Oiling skin before coloring: Everyone knows that getting rid of harsh and dry colors is very difficult after playing Holi. So, here is a smart trick that could save hours of efforts in washing off the colors. Application of mustard or coconut oil in generous amount over facial skin, hands, neck, legs, and area behind ear works as a protective shield against colors. It doesn't allow color to penetrate deep down the skin and dry off easily. One could also apply thick layer of moisturizing cream such as Dabur Gulabari Moisturising Cream or cold cream instead of oil.
Sunscreen application: As the weather near Holi festival gets quite warm and the sun stays ready to attack skin; it is always advised to apply sunscreen lotion or cream with high SPF before moving out for playing with colors. Sunscreen will do dual function of protecting skin from sun as well as colors.
Covering skin: The best policy that works great and proves beneficial for skin is covering skin as much as possible with clothes. Wearing full pants and full sleeve shirts will help in covering maximum skin area and will reduce color attack over skin substantially.
Stay hydrated: In winters, it is very important to keep body and skin hydrated. This policy is very helpful and beneficial at the time of Holi too. Drinking lots of water and keeping skin wet doesn't allow the chemicals in colors to dry out easily. Both inside and outside hydration is important and helpful in dealing with colors on Holi
Avoid waxing before Holi festival: It is strictly recommended that one should avoid waxing and threading prior to Holi as it makes skin sensitive and opens pores for certain period. Waxed skin would have increased chance of damage with color as the chemicals in color will find it easy to penetrate deep down in skin through open pores.
Makeup is helpful in Holi time: It is not a mandatory exercise but yes makeup is very helpful in protecting skin from colors. Whether it is applied in powder form or with water base, both work as a protective layer over skin and reduce skin irritation chances from color.
Pre Holi remedies for hair:
Oiling hair: Oiling plays an essential and big role in protecting hair and scalp from damaging effect of Holi colors. Oiling hair thoroughly with standard coconut oil hair oil such Vatika Enriched Coconut Oil works as shield to protect hair cuticle.
Lemon drops: If scalp allergy is very frequent to any individual then they should add some lemon juice drops in hair oil to keep away all kind of infection from Holi colors.
Pre Holi remedies are quite an easy job to do before playing with colors. The real and tough job is to get rid of stubborn colors from whole body after playing hours of Holi. So, let's get down to some cool quick remedies and ideas to get rid of colors without damaging skin and hair:
Post Holi remedies for skin:
Use cleanser first: The biggest people do to get rid of color immediately after playing with colors is washing and rubbing skin with soap. Don't get into the practice of cleaning skin with soap immediately after playing Holi. First, rinse skin with clean water for few minutes and then use a cleanser over facial skin especially to get rid of stubborn colors. Now, use a cotton ball to wipe of the cleanser. One could use natural cleanser too such as Aloe Vera or milk to clean skin.
Use natural pack for removing color: After rinsing skin with water and usage of cleanser, it's time to go for some natural pack for removing color. Using natural pack for skin will help in removing colors from skin easily without making it dry and irritated. One effective natural pack to get rid of colors is gram flour pack. To prepare it, take 4 teaspoons of gram flour, 2 teaspoons of curd and ¼ teaspoon of turmeric powder. Mix all the ingredients well and add few drops of lemon juice in it. Now, apply the pack over colored skin area and leave it to dry naturally. In the end, use normal water to remove the pack. Application of natural pack over skin for few days after Holi festival will help in repairing skin damage from color.
No bleach for few days: Avoiding any kind of skin or facial bleach for few days after playing Holi is necessary for skin. This will allow the skin to normalize and obtain its balance naturally.
Rosewater and Glycerin: Application of combination of rosewater and glycerin for few days after Holi will help in reducing itchiness and dryness of skin occurring from colors. There is variety of rosewater available in market; one reliable option among them is Dabur Gulabari Rosewater. In the combination, use both ingredients in equal quantity and apply it over skin. After few minutes, rinse skin with lukewarm water.
Post Holi remedies for hair:
Avoid immediate use of shampoo: Using shampoo for immediate head wash after playing Holi is not a good idea. This could damage hair and scalp as the harsh chemicals in color would cause more irritation after coming in contact with shampoo.
Do water rinsing first: The best and most neutral way to get the colors out from hair is to do water rinse for few minutes. Take normal or cold water to rinse hair and scalp. Never use hot or lukewarm water to rinse hair as it solidifies the chemical based colors.
Natural hair treatment: Now, when it comes to get rid of colors from hair and scalp after water rinse, choose to go by natural treatment. In the natural treatment either take curd or egg yolk to get rid of stubborn colors. Apply curd or egg yolk over hair and scalp evenly and leave it work around 45 minutes. After this, it is important that an individual uses mild shampoo to wash hair to get maximum benefit of natural hair treatment. Choosing any shampoo randomly for washing hair might result in dried hair even after taking the natural hair treatment. One reliable and trustworthy option of mild shampoo in Holi time is Vatika Smoothing Treatment Shampoo.
Follow up natural hair treatment: After washing off colors, a follow up natural hair treatment for few days after Holi is very important. This will help in nourishing hair and will allow scalp to attain its natural pH balance. One could use oiling follow up treatment to nourish hair naturally. In this treatment, take one tablespoon of coconut oil and one teaspoon of castor oil. Mix both oil and heat it to lukewarm temperature and massage hair and scalp with the mixture for few minutes. Now, wrap a hot towel over hair in turban style and let the towel stay over hair for few minutes. Repeat the hot towel practice twice or thrice so that the oil gets absorbed by scalp properly. After an hour, wash hair with mild shampoo.
This brings end to the easy and cool Holi attack survival guide. Hope the ideas will be helpful and beneficial in protecting skin and hair from damaging effects of Holi colors.
Read More Tips On:
Hair Care
How to Get Shiny Hair
Hair Oil
How To Remove Dandruff
Healthy Hair Tips
Tips for Dry and Damaged Hair
Long Hair Tips
​​​
*
Fields are required. Make some cool noise, please don't spam and your voice will be heard.
Was this Article helpful?