How to Shampoo Your Hair 6 Easy Steps
How to Shampoo Your Hair 6 Easy Steps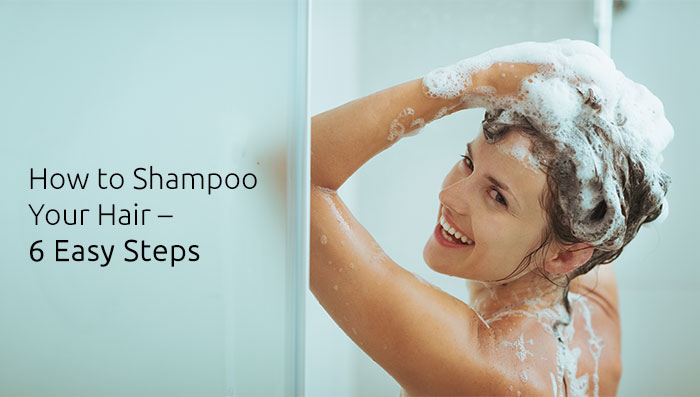 Picture this – you are half-way through blow drying your hair and your hair still feels oily. Despite using the best shampoo and conditioner, if your hair still feels weary and lifeless, don't blame it on the products, it's time to understand the basics of which shampoo is best for your hair and how to shampoo your hair, the right way. Great products help out when we shampoo and condition, but their magic can only go so far without the right techniques. And no-one wants to drain a hard-earned product due to lack of know-how when it comes to something as simple as washing your hair. These tips on how to shampoo your hair will be a way of correcting all of our hair-cleansing errors.
Who says that a shampoo has to lather
Believe it or not, but you've been fooled. Many shampoos that you pick off the shelf contain a high quantity of Sulphates. And Sulphates are industrial-strength cleaning ingredients that you should avoid at all costs in your shampoo, especially if your hair is colour treated. So think before you decide which is the best shampoo for your hair
Drying your hair with a cotton cloth instead of a towel helps tame the frizz
Try using a soft T-shirt instead of a towel and feel the difference. A towel creates friction, which causes tangles and split ends. Instead, here's what you can do - squeeze the excess liquid out with a cotton T-shirt and wrap it onto your head. That's a good way to dry after you wash your hair.
Don't apply conditioner on dripping wet hair
Squeeze your hair out before you apply conditioner. The water dilutes the efficacy of your conditioner and it won't work well.
Wash your hair with conditioner
Here's another way to wash your hair the gentle way – use a conditioner instead of shampoo, this will help your hair retain moisture while very gently cleansing it. Just make sure your conditioner doesn't contain any silicones, or your hair will feel weighed down.
Thick hair? You might be using too much shampoo
If you have really thick hair, you might be using shampoo excessively. Instead of wasting your shampoo, dilute it with warm water in a nozzle bottle. You'll be able to make the most of it by applying the shampoo to your scalp in order to maximize cleansing.
While using a dandruff shampoo, keep it on for at least 3–5 minutes
Let the shampoo work its magic by letting the shampoo sit. You can also use a soft massaging brush to really work it in, but just make sure you rinse it thoroughly.
Hope these ways to wash your hair work wonders for you. Don't forget to use Dabur Vatika Heena & Olive Shampoo and feel your hair growing heathier and stronger day by day.
Also Read
Home Remedies for Shiny Hair
How to Treat Dry Hair
Home Remedies for Healthy Hair
How To Remove Dandruff
Long Hair Tips
Home Remedies for Silky Hair
Hair Fall
Hair Oil

​
*
Fields are required. Make some cool noise, please don't spam and your voice will be heard.
Was this Article helpful?