Tips to Prevent Hair Loss: How to Prevent Hair Loss Naturally at Home
Tips to Prevent Hair Loss: How to Prevent Hair Loss Naturally at Home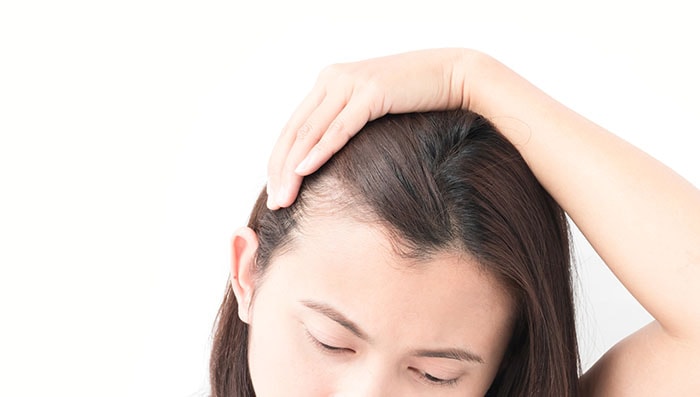 We have been raised to believe that shoes are the first thing that anyone notices while meeting or communicating with someone for the first time, well let me tell you something. That has changed and people notice the mop on your head before anything else and while it is perfectly fine and normal for men to get pattern baldness it still remains as a big deal for women to get the same. So let's look at some very easy and effective but most importantly one hundred percent natural remedies for hair loss prevention.
Let's dig a little deeper to understand what causes our hair to become brittle and accelerate our hair fall and subsequently on ways to how to prevent hair loss naturally at home.
Hair Fall Reason:

In order to explore 'how to prevent thinning hair' or 'how to prevent hair loss' a dreaded question with multiple yet simple answers we need to look into the reason why hair loss occurs :

Thyroid condition (Hypo or Hyper)
Nutrient deficient diet
Chemical laced hair products
Certain medications
Over treatment with hairstyles and hot iron rods.

Natural Tips to Prevent Hair Fall

Firstly lets discuss ways in which we can modify our very unhealthy lifestyles to stop the damage that we have been doing to our hair on a daily basis:

Get Proper Sleep:

This is a very neglected factor which we need to consider before we even can start thinking in leading a healthy life. Experts recommend a minimum of 7 hours sleep to ensure that our bodies are properly rested. Also I am sure that you would not be oblivious to the fact that most of the tissue damage repair happens while we are sleeping. So having a full night's sleep is one of the easiest ways to prevent hair fall.

Balance Meals with Daily Intake of Nutrients:

Mostly what we eat at our home is sodium, gluten and Fat, and almost no nutrients like vitamins, minerals, amino acids etc. The right stuff is to include a lot of leafy vegetables, salads, milk, eggs and other items that can help us cope up with deficiencies, which are in most cases the culprit behind skin and hair problems and hence is the simplest solution to 'how to prevent hair loss' or 'how to prevent hair fall' queries. If you are unable to cook or include the above mentioned I suggest you ask your doctor to prescribe you some multi vitamins and other essential nutrient. Your simple answer to how to prevent thinning hair?

Exercising Regularly:

It's high time we realize that our sedentary lifestyles are again a big culprit behind a lot of physical ailments that we face. Regularly indulging in sports and other fitness activities will increase your blood Flow and release a lot of endorphins in your blood stream and while the former ensures your god health the latter makes sure that you are bright and cheerful all day long along with being great at hair loss prevention

Regular Head Massages with Oil:

Looking for some easy solutions for how to prevent hair fall naturally at home? Remember your grandmother used to chase you with a hair oil bottle and that was not for nothing. Turns out that regular oiling can keep your scalp moisturized and the massaging effect will stimulate increased blood flow to your scalp, nourishing your hair from roots. Also oils have many properties which might be really helpful in combating hair problems.

Less Chemicals and More Natural:

Okay, I admit we have already discussed this above but the importance of this point is so massive that I wanted to put a footnote on it. In today's world, a cheap shampoo or any hair care product not only can damage your hair but also can trigger allergic reactions. Make sure you use products with natural ingredients.

How to prevent hair fall naturally at home?

Now since we have stopped the damage let's discuss on natural ways to prevent hair fall with simple home-made remedies. I promise you'll never look up 'how to prevent hair fall naturally at home' after reading this.

Neem Leaves to Prevent Hair Fall:

The medicinal properties of neem are not unknown to anyone. The benefits of neem leaves are such that now days many of the modern day medicines also are integrating concentrated neem extracts to their products, including some hair care products that claim they have the answer to 'how to prevent hair loss', but after reading this blog so will you! The juice that is extracted from these leaves have anti microbial, anti inflammatory and anti fungal properties as is helpful in getting rid of scalp infections and open up clogged and bacteria ridden follicles to boost hair growth, so close your search thread for 'how to prevent hair fall naturally at home'

Onion to Prevent Hair Fall:

Much similar to the above discussed neem leaves, onion juice are also rich in anti-bacterial properties. Onion juice also has high sulphur content in it, which makes it ideal to rejuvenate hair follicles and increase blood circulation helping you to prevent hair fall naturally. Click here to read more on how to use onion for hair growth.

Curry Leaves to Prevent Hair Fall:

You must have smacked your lips on the curry leave laden sambhar or the famous Goan sole kadhi but I can bet that you didn't knew that these small flavor bombs can also help you get rid of many of your hair fall problems. Laden with beta-carotene and proteins these leaves have the capability to nourish your hair from the inside and make them shiny and strong. Another great answer to the dreaded 'how to prevent hair fall naturally at home' question. Click here to read more on how to use curry leaves for hair growth.

Coconut Oil to Prevent Hair Fall:

This magical oil has great penetrating power along with the properties that actually nourishes and moisturizes the scalp skin keeping dandruff at bay. You can even mix this with other essential oils to increase its effectiveness on hair fall. So if you have been searching the internet for 'how to prevent hair fall' this is your cue to be happy and celebrate as you have found an effective hair loss prevention technique and now you can prevent hair fall naturally

Hair Mask/ Pack to Prevent Hair Fall

Hair masks are also very effective when we seek natural ways to prevent hair fall. All hair mask that are listed here are easy to make and the ingredients are easily available at your nearest grocery shop.

Curd Hair Masks to Prevent Hair Fall:

Use curd as hair masks by mixing with other ingredients that promote hair health like henna powder or curry leaves powder is one of the many excellent tips to prevent hair loss.

Avocado Hair Pack to Prevent Hair Fall:

Hair thinning is on the rise, let's face it. We cannot just look in the other direction anymore and I am not in a mood to do so. Today we will put an end to this problem with our next all Natural hair mask. Your answer to 'How to prevent hair fall' is right here. Avocado has always been a favorite among other natural ways to prevent hair fall, for this just scrape the flesh off a fully ripe avocado and mix the same along with some olive oil. Avocados are a rich source of healthy fats and a powerhouse of vitamins and other essential nutrients. Apply this pack once a week and notice the difference. Now you have a how to prevent hair fall naturally at home solution.

Eggs and Curd Paste to Prevent Hair Fall:

Although we have already discussed curd but what about eggs we cannot leave that behind if we are discussing 'how to prevent hair fall' because eggs are full of healthy fats and proteins that help us to keep our hair healthy and helps in hair loss prevention.

Some Additional Tips to Prevent Hair Loss:

Meditate regularly to keep yourself stress free and don't keep thinking about 'hair loss prevention' or 'how to prevent hair fall' I assure you we have thoroughly covered that in the above mentioned.
Use a comb daily to increase blood flow to your scalp and stimulate your hair follicles. This is the easiest way of 'how to prevent hair fall' solution that you are going to come across.
Avoid brushing wet hair as wet hair tends to tangle and break, logically it's one of the easiest ways to prevent hair fall.
Keep yourself hydrated.
One of the easiest naturally safe ways to prevent hair loss is to use the natural oils like
Dabur's range of oils which includes Dabur Amla hair oil, Dabur Almond hair oil, Dabur Vatika Olive oil. These oils are enriched with the goodness of unadulterated herbs and ingredients, which suit all your hair care needs. Switch to them today!
Read Also:
How to Use Black Cumin (Kalonji) For Hair Growth?
How to Use Brahmi for Hair?
Acupressure Points for Hair Growth
*
Fields are required. Make some cool noise, please don't spam and your voice will be heard.
Was this Article helpful?