How To Pick The Right Shampoo For Your Scalp
How To Pick The Right Shampoo For Your Scalp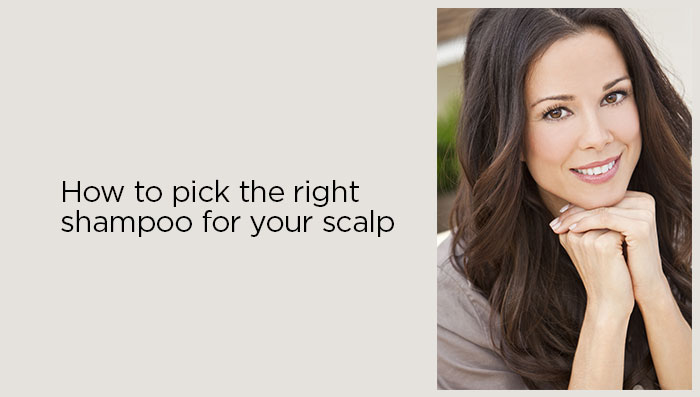 A shampoo can be confusing as there are hundreds available in the market, each meant for a different purpose. Moisturising, hydrating, volumizing, strengthening, smoothing, curling! How do you match the description on the bottle with the hair on your head? The good news is that it's no rocket science. Here are some
simple hair care tips
that will help you match the results that you seek with shampoo.
First, define your scalp type!
It's extremely important to know what your shampoo does, how to use it, and how that relates to your hair and scalp before you choose it. A shampoo is meant to remove the dirt, oil, and residual hair products from your hair/scalp. While it's common to think of shampoo as a hair cleansing agent, it's more important to consider your scalp when choosing a shampoo. The condition of your scalp should determine the kind of shampoo that you use and not the other way round. This way, if your scalp is oily and your ends are dry, choose a shampoo that is best suited for an oily scalp and a conditioner that is best suited to hydrate your dry ends. This is a very important hair care tip!
Shampoo advice for oily scalps
You've probably tried everything from washing daily to putting days between shampoos in an effort to control oil. As a matter of fact, it can feel embarrassing when your scalp feels oily. Here are a few dos and don'ts to keep in mind while choosing a shampoo for an oily scalp:
In order to avoid your hair from getting oilier, avoid shampoos that are hydrating, moisturizing, smoothing, or good for curly hair.
Look for labels that read volumizing, strengthening, or balancing. These products are less moisturizing and more effective at removing excess oil.
A daily clarifying shampoo can be a big help for super oily scalp conditions, but be careful that you're not over drying your scalp when choosing the shampoo.
Be sure the shampoo you choose for your oily scalp is color safe, if you have coloured hair that is!
Spend extra time working the shampoo into your scalp to break up oil. Rinse well.
After shampooing, avoid using the conditioner on your scalp. Instead, concentrate on keeping the conditioner on the mid-shaft and ends of your hair. Again, rinse well with cold water.
Shampoo advice for dry scalps
When your scalp is dry, itchy, or even flaky, it's important to choose a shampoo that doesn't add to the issue. Follow these hair care tips to choose a shampoo for your dry scalp:
To avoid stripping your scalp off necessary moisture, avoid strengthening, fortifying, and volumizing shampoos.
Go for shampoo labels that promote moisture, hydration, smoothing, or curls if your scalp is slightly dry with little to no itching and flake. These products promote moisture and can be beneficial to your dry scalp.
If your scalp is very dry, itchy, and or flaky consider shampoos that are specifically formulated for dry scalp.
Even if your scalp is dry, it's important to properly shampoo your hair for best results.
Shampoo advice for combination scalps
When your scalp isn't necessarily dry or oily you can easily choose a shampoo that's perfect for your desired hair style:
Hydrating/Moisturizing Shampoo: great for adding moisture, shine, and smoothness to hair. Good for thick, curly, or course hair.
Volumizing Shampoo: excellent for hair that is fine or limp. If your hair needs a boost and lift, a volumizing shampoo can be a great foundation.
Strengthening/Fortifying Shampoo: contains extra protein to improve the condition of your damaged, over processed, highlighted, weak, or brittle hair.
Balancing Shampoo: balancing shampoos are typically neutral in nature. Not too moisturizing, but won't dry your hair out.
Smoothing/Straight Hair Shampoo: extra moisturizers and smoothing agents help seal the cuticle and provide a great start for your straight and smooth hairstyle.
Curly Hair Shampoo: formulated for curly hair, these shampoos are typically very moisturizing and make an extra effort to reduce frizz.
Now that you know how to pick the right shampoo for you, make an informed choice and select a variant from the Vatika Premium Naturals range. For more information on
shampoos for your hair type, you might want to read this article
. Be gorgeous and shine on!
Also Read
Home Remedies for Shiny Hair
How to Treat Dry Hair
Home Remedies for Healthy Hair
How To Remove Dandruff
Long Hair Tips
Home Remedies for Silky Hair
Hair Fall
Hair Oil

​
*
Fields are required. Make some cool noise, please don't spam and your voice will be heard.
Was this Article helpful?