How to Have A Beautiful Natural Hair & Skin with Almond Oil
How to Have A Beautiful Natural Hair & Skin with Almond Oil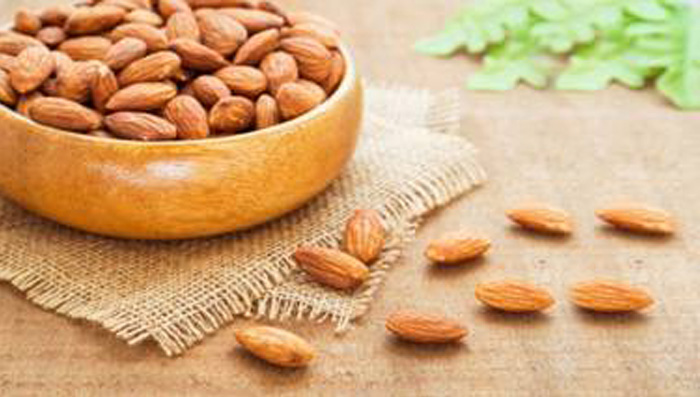 Five soaked almonds every morning are a sign of a loving mother! Whether you eat them raw or use them to dress your favourite shakes, ice creams and sweets, almonds are a part of many Indian delicacies. Diwali celebrations are also incomplete without serving a bowl of almonds. Ever wondered why they are so closely linked to anything auspicious? That's because almonds are packed with goodness for health, natural beauty of skin and hair as well. Now let's see the uses of almond oil for health, skin and hair.
Almond oil for health and natural beauty
Natural beauty is always a sign of a healthy body. Almond oil helps you in keeping yourself healthy in a number of ways and hence promotes your natural beauty.
Almond oil is rich in folic acids, saturated fats, protein and potassium. They prevent heart ailments and keep your heart strong. You can add a teaspoon of edible almond oil in your daily cooking to take advantage of the goodness.
Almonds are also useful in delaying the process of ageing. Apply regularly on your face to remove dead skin and dark spots.
As you all must already know, it is effective for sharp memory.
Almonds boost immunity.
Almond oil is one of the most popular essential oils used in aromatherapy and massage. It relaxes the body and eases the muscles.
Rich in minerals, vitamin E and protein, almonds aren't just great for your body, they work wonders for your hair too. Try Vatika Enriched Almond Hair Oil for a noticeable difference.
It regulates blood pressure and maintains cholesterol levels due to its high potassium content and low sodium content. This again helps in preventing heart diseases.
Consuming almond oil is beneficial for digestive system.
Almond oil also releases pain. It is used as an effective painkiller. Hence almond is a reliable massage oil.
It nourishes the brain and the nervous system. You can also add almond slivers to your diet as a tasty salad garnish.
It is a good solution of Eczema and Psoriasis. Massage it on your skin daily for results.
It enhances intellect and endurance. Add a spoon of almond powder to your glass of milk daily.
Another way through which almonds can help you maintain your natural beauty is by promoting healthy and strong nails. Massage your nails with few drops of almond oil. The potassium and zinc content of almond oil makes nails stronger and hydrated, making them less prone to breakage.
We hope that the
goodness of almond
oil has a role to play in your health and natural beauty regimen. Get your pack of almond oil from Dabur and enjoy its many benefits.
Also read
Almond Benefits For Hair
Benefits & How to Use Almond Oil for Hair

---
*
Fields are required. Make some cool noise, please don't spam and your voice will be heard.
Was this Article helpful?