Receding Hairline Women - How to Make Your Hairline Grow Back
Receding Hairline Women - How to Make Your Hairline Grow Back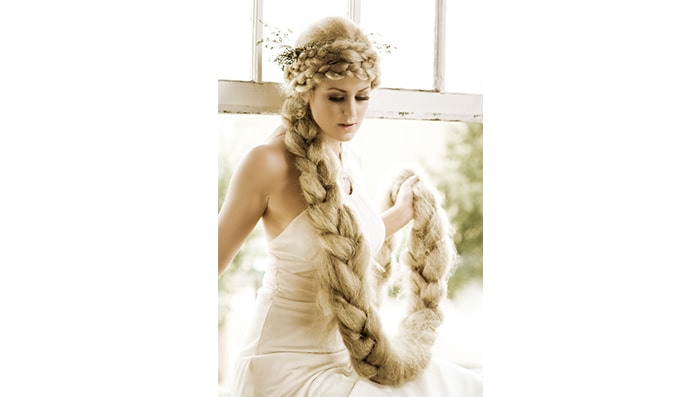 Remember Rapunzel and remember what happened to Rapunzel when her luscious locks were chopped off. She had to go through multiple hardships, but there was an end to all of her misery and she finally managed to find her prince and her happiness. So, people, just don't worry about a receding hairline, there is always hope and there are always remedies you can rely on! A receding hair line need not be the reason for you to be depressed because there is always a way out. There is always a way out or a solution to all the problems and remedies for receding hairline. All that is required is to know the root cause of the problem in order to fix it. So, get ready because we are going to tell you how.
What causes a receding hairline?

There are chances that you may lose dozens of hairs on daily basis. If hair follicles are damaged, or there is some medical situation that disturbs the growth cycle, it can be the reason for receding hairline. Some of the other reasons of receding hairline are as follows:

Family history

It is generally said that a receding hairline is a hereditary trait, with hair follicles being too sensitive due to certain male hormones. Also, men who have a family history of baldness are more likely to lose their hair. The timing of hair loss is often similar from one generation to the next.

Hormonal Changes

Hormonal change is considered as one of the main reasons of receding hair line in women, even though the role of hormones in the pattern of female hair loss is less clear than the pattern of hair loss in males. In women, menopause, for example, can lead to thinning hair, though the hairline doesn't always change

Medication

Medications that are taken for cancer, blood pressure, heart disease, gout, and depression can cause hair loss. As we all our aware of the fact that one of the main side effects of chemotherapy is large scale hair loss, which continues even after the treatment is over.

Insufficient Nutrition

When the required amount of nutrition is not received by the body, it starts to show us the symptoms to warn us that there's something wrong. Hair loss is one such symptom.

Stress

Whether emotional or physical, Stress can be one of the major and leading causes of receding hair line. One can also experience a receding hairline at a very early age. If are suffering huge hair loss in your early 20s, it is essential for you to look out for these signs.

How to treat receding hairline?

How to treat receding hairline is a million dollar question. Following are some of the home remedies that would help you to re-grow receding hairline:

Massage Your Scalp

Thinking of how to grow hair on receding hairline? Massaging is the answer!
Massaging has been a favorite past time activity to each one of us since the days our childhood days when our grannies would make us sit on a Sunday and give us oil massage. Not only does a hair message increases blood flow but also invigorates the hair follicles. A few minutes of hair massage regularly helps
activate the cells that promote hair growth and also reduce stress.Dabur Vatika Enriched Olive Hair Oil works perfectly as massaging oil reduces hair fall up to 50%.It is antibacterial and anti-inflammatory, making it ideal to apply on the scalp.It is also rich in antioxidants and balances the pH levels of the hair

Follow a Healthy Diet

How to stop receding hairline and how to re-grow receding hairline, are these the questions that occupy your mind when you think about your hair loss? As simple as it may sound, this is very important. In most cases, hair loss majorly happens due to many nutritional deficiencies. Therefore, it becomes essential to ensure that you include a balanced mix of vitamins and minerals in your diet in order to promote hair growth. Having diet with high quantity of iron, such as beans, lentils, green leafy vegetables, pumpkin, and whole grains, help stimulate hair growth by boosting and increasing the hemoglobin levels in your blood. Furthermore, try and increase your intake of amino acids as they produce keratin, which is essential for the growth of hair, and red blood cells that supply nutrients and oxygen to the hair follicles. To have that healthy luscious hair, avoid having junk and refined food. Make naturally grown food your preference and eat it very minimally cooked. Try Including fish oil in your diet as it is rich in omega-3 acids which help stimulate hair growth, fight free radicals, and reduce inflammation.

Change Your Combing and Styling Patterns

The thumb rule to protect your hair is to handle and manage your hair properly. This is the fine line between having normal hairline vs. a receding hairline. Handle your hair gently. Never back comb your hair ever and try avoiding tying your hair up tightly in a ponytail. Minimize the use of heating and styling tools on your hair and also avoid alcohol-containing hair styling products. Not to forget, the easiest and most cost-effective way to prevent hair loss and a receding hairline is to avoid stress as much as possible. Stress can lead to some major health problems, the first sign of which may appear as a receding hairline. Try yoga and meditation to stay calm and balanced, avoid over thinking, and try to get at least 6-8 hours of sleep every day and let all of this strengthen each hair strand of yours from root to tip.

Got a hair fall problem? Is hair color making your hair super dry? Whatever be your emergency, we have a solution for you, for the love of your crowning glory – your hair; try Dabur's range of hair oils and shampoos which includes Vatika Coconut Enriched Oil, Vatika Jasmine Hair Oil, Dabur Vatika Enriched Olive Hair Oil, Dabur Almond Hair Oil among others. Give your hair a new life naturally by using these products, make your life problem free, and flaunt the look you deserve.
Read Also:
*
Fields are required. Make some cool noise, please don't spam and your voice will be heard.
Was this Article helpful?