Hairfall Due to Thyroid - How to Prevent Thyroid Hair Loss Naturally?
Hairfall Due to Thyroid - How to Prevent Thyroid Hair Loss Naturally?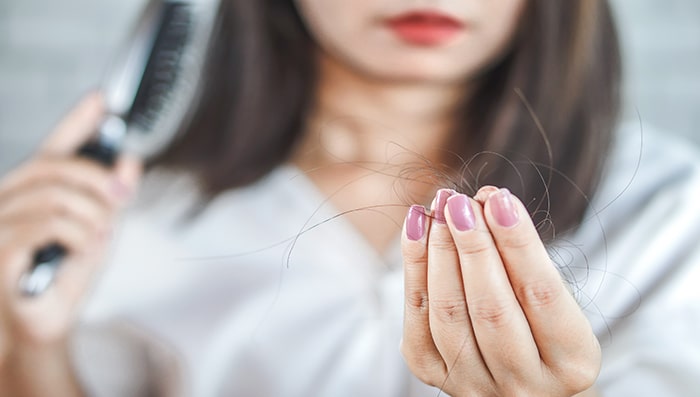 Does thyroid cause hair loss? Well, the answer is, yes! You should rather ask how thyroid causes hair loss. One of the major complications of imbalance in thyroid hormones is hair fall. As soon as you start your treatment to regulate thyroid hormone levels, the problem of thyroid hair loss should resolve by itself. However you should follow the steps listed down below to deal with hair fall due to thyroid.
Thyroid and Hair Loss:

The dysfunction of the thyroid is characterized by the loss of hair all over the scalp; thyroid hair loss pattern is not restricted to just a single area. Thyroid conditions – hyperthyroidism and hypothyroidism trigger this kind of hair loss. Once you get the treatment to regulate the thyroid hormone levels, hair fall due to thyroid problem is curbed, but it almost never grows back with the same as before. Alopecia areata are also caused due to thyroid issues, which causes hair, fall to a particular area around the scalp, and it usually happens in circular patches. This usually leads to unexpected baldness.

It's the imbalance in your hormones that's the main reason behind hair loss induced by thyroid. This is why it becomes essentially significant to treat the thyroid when you are dealing with hair fall. Keep reading to find out how to prevent thyroid hair loss

How to Treat Thyroid Induced Hair Loss:

The very first step to treating thyroid induced hair fall is to consult a medical professional. You will most likely be prescribed medication to rectify the hormonal imbalance. Furthermore, you can re-grow you hair by using some simple home remedies for hair loss due to thyroid.

Vitamins for Thyroid Hair Loss:

Consuming Vitamin C regularly improves the efficiency of the immune system and also helps boost collagen levels which not only maintain skin health but also promote hair health.
Drinking a glass of lemon juice on an empty stomach everyday is also beneficial but you can also consume 2 teaspoons of pure Indian gooseberry juice after adding 2 tablespoons of water and 1 teaspoon of honey in it.
You can also eat guava everyday to ensure proper intake of vitamin C since guava contains more vitamin C than most citrus fruits.
Another beneficial vitamin for hair growth is Vitamin E. It is a powerhouse of antioxidants that helps combat free radicals which trigger hair loss. It helps prevent hair loss and also promotes hair re-growth.

Read more about the best 5 hair growth vitamins.

Evening Primrose Oil for Thyroid Hair Loss:

Gamma-linoleic acid (GLA) is present in rich quantities in evening primrose oil. It is an omega-6 fatty acid that enhances hair health and hair growth. This oil curbs the conversion of testosterone to DHT, which helps prevent hair fall.
Apply the evening primrose oil directly to your scalp, or you can consume it in capsules.
Not only does this oil promotes hair health but also helps with hormonal imbalances and is also recommended in doses of 500mg twice a day.

Sea Kelp for Thyroid Hair Loss:

Sea Kelp consists of iodine content which stabilizes thyroid function which helps in preventing hair fall and enhances hair health and hair re-growth?
In addition to this, Sea kelp is also loaded with multiple vitamins and minerals that nourishes and strengthens your hair while protecting it from the harmful rays of the sun.
Sea kelp can be consumed in supplement form, dried flakes and raw sea week.

Biotin for Thyroid Hair Loss:

Vitamins for thyroid hair loss are essential. Biotin, widely known as vitamin H, is extremely significant to hair growth vitamin.
Biotin is one of the most popularly prescribed supplements for thyroid hair loss growth. This happens due to the direct co-relation between low biotin and hair loss.
Biotin can however sometimes has an impact on your thyroid test results which is why it is always suitable to consult a doctor/ professional before taking the supplements.

Read more on how to stop hair fall naturally at home.

Best Shampoos for Thyroid Hair Loss:

It can be tricky to find the best/suitable shampoo for thyroid-induced hair loss. Not only do you need to look for a shampoo that curbs thinning and hair fall but it should also enhance your hair health and make your hair frizz-free.
The very first thing that you need to consider while buying a product that can help your hair in moisturizing and hydrating. Out of million hair care tips, this one is essential because being picky and choosy about your shampoo is essential to protect your hair from harmful chemicals that damage your hair.
Some key ingredients you should look for are glycerin, silicone, and keratin. If your hair is not dry, but you're still experiencing a lot of hair fall, your best bet is to use products specially formulated for hair loss such as OGX's Fight Fallout Niacin & Caffeine Shampoo, or Pantene's Pro-V Hair Fall Control Shampoo.

Coconut Oil for Thyroid Hair Loss:

Loosing hair because of thyroid? Well, Coconut oil for thyroid hair loss is beneficial. If you have hypothyroidism, coconut oil can be your savoir.
One of the major causes for changes in hormones are polyunsaturated fats. They worsen the thyroid problem by blocking the secretion of the thyroid hormone
On the other hand, coconut oil carries medium-chain fatty acids and healthy saturated fats which restore thyroid health.
Having 1 table spoon of coconut oil can be extremely beneficial for those who suffer with hypothyroidism

Saw Palmetto for Thyroid Hair Loss:

Saw palmetto is a beneficial natural remedy that inhibits in the production of DHT in the body.
It helps prevent hair fall from follicle damage and enhances healthy hair growth.
Consume saw palmetto in supplement form, that's the best way to consume it. The usual recommended dose is 160-200 mg twice a day but consulting a professional/ doctor is considered suitable.

Yoga for Thyroid Hair Loss:

Yoga is the best thing that you can do to yourself ever. Yoga can relieve you from thyroid, be it hypothyroidism and hyperthyroidism. There are several yoga asanas, especially the inversion poses, which can help combat various thyroid issues effectively.
For hypothyroidism, you can try the following

Viparitakarani
Janu Shirasasana.
Matsyasana
Halasana
Marjariasana
Surya Namaskar.

For hyperthyroidism, try the following

Setubandhasana
Marjariasana
Shishu Asana
Shavasana,
Slow Surya Namaskars.

Other asanas that enhance hair growth are the following

Uttanasana
Ustarasana
Vajrasana
Balayam Yoga.
Will hair grow back after thyroid is regulated? Well, yes! If you follow above given remedies and decide to take care of your hair health and your overall health, your hair health will enhance itself. You can also use Dabur's range of hair oils to promote your hair growth, curb hair loss and give your hair a new life, naturally. Try Dabur Almond hair oil which provides superior nourishment keeping hair free from damage through the nourishing power of 2X Vitamin-E# and Almond Protein.
Read Also:
Hair Fall in Monsoon
How to Use Reetha Powder for Hair?
*
Fields are required. Make some cool noise, please don't spam and your voice will be heard.
Was this Article helpful?