10 Reasons Why Oiling is Good for Your Hair
10 Reasons Why Oiling is Good for Your Hair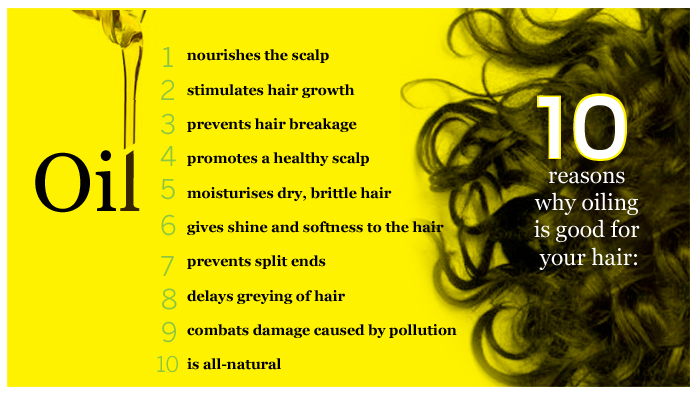 Oiling hair before washing, also known as "champi" is an Indian practice that has been followed for centuries. Our mothers, grandmothers and great grandmothers have all used this technique and never complained of hair damage the way our generation does today. But with so many fancy hair styling options and chemical treatments available in the market and trendy salons, experts are of the opinion that going back to the basics would be best for us. After all, staying close to nature has long term benefits! The age old
natural hair care tips
have given our grandmothers and mothers the locks that they treasured. It's time to learn from them and realise that nothing beats the love of nature, because nothing helps our hair shine more than natural oils.
Oiling can be a god-send to those with severely damaged, over processed, and heat styled hair. Here's why: Oil works brilliantly in reconditioning dry and damaged hair by moisturising it and penetrating the hair shaft, getting past the cuticle, repairing and preventing damage from inside out. All of this helps increase the hair's strength, thereby preventing breakage, split ends and hair fall. Apart from damage, oiling also prevents protein loss, and restores nourishment, thus making your hair shine! With nourishment, hair has lesser tangles, gets more manageable, grows faster and gets thicker. Healthy hair tips also has lesser chances of dandruff, lice and premature greying.
However, it is important to pick the right oil for your hair, use the right quantity and apply it the right way, allow the oil to penetrate well and wash with the requisite amount of shampoo. This is a key hair care tip to follow so that your hair doesn't end up being weighed down or excessively dry and frizzy.
There's more on oiling coming up in the articles to follow. Stay tuned and do tell us if you liked our hair care tips.
Also Read
How To Get Silky Hair
Healthy Hair Tips
Tips for Long Hair
How To Remove Dandruff
How to Get Shiny Hair
Tips for Dry and Damaged Hair
How to Stop Hair Fall
Hair Oil

*
Fields are required. Make some cool noise, please don't spam and your voice will be heard.
Was this Article helpful?