How to Get The Perfect Ponytail
How to Get The Perfect Ponytail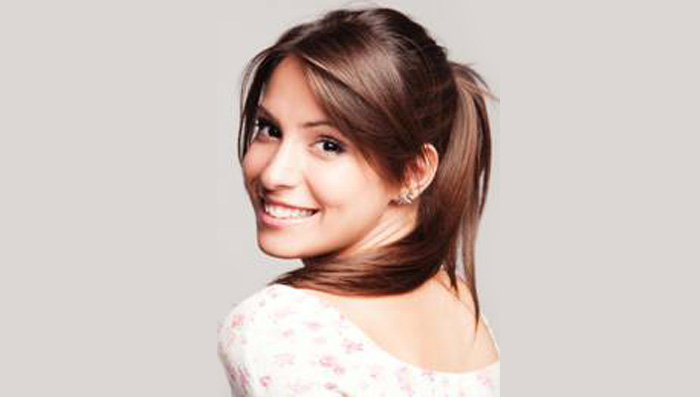 It's simple. It's quick. It's a go-to hairstyle for some. It's a bad hair day saviour for others. And we believe a good ponytail has the potential to be a head-turning
hairstyle for long hair
. The thing about ponytails is that it's deceivingly simple but it's harder than it looks. So read on to know how to get the look, in style.
First things first, wash your hair with a gentle herbal shampoo like Vatika Premium Naturals Shampoo. Pick one that suits your hair type.
Air dry your hair and give your tresses a good brushing to make sure you don't have any knots or tangles.
Gather all your hair together and hold it tightly near the scalp. Decide the position you want your pony tail to be – high, middle or low, before fastening your hair.
Then, stretch the hair band with your other hand, grab the hair with one hand and use three fingers of the other hand to fasten the ponytail.
Entwine the band tightly till there is no remaining part of the band wrapped around the ponytail.
If you want a high ponytail, you could bend over, let your hair hang down and gather your hair together. Smooth out your hair with a brush, starting from the hairline to make it look neat. You can also try a spritz of hairspray to set the look. Skip the spray if you want a messy do.
If you want a loose ponytail, make a ponytail and tug the band a little away from the scalp.
If you are looking to experiment with different ponytail hairstyles for long hair, here are some ideas:
You could dress up your plain-Jane ponytail with interesting hair ties, ribbons or flowers.
To add volume to your ponytail, try back-brushing the hair and then make your hairstyle for long hair.
Here's another no-fuss alternative of the ponytail – try a zigzag parting across your head and make a tight but low ponytail.
Want a neat ponytail? Make the ponytail like you typically would and iron out the hair.
Want a wavy 'tail? Curl the ponytail with a curling iron or make a loose braid when your hair is semi-dry, keep it on overnight and make a ponytail the next morning.
Hair care tips to make your hair healthier than ever:
A ponytail is a great style for tropical summers. It saves you from humidity.
Never make a tight ponytail! It can cause hair fall.
If you want your hairstyle for long hair to stay longer, spritz some hairspray after you're done making the 'do. You can also dab some hair serum for smoothening and shine.
If you have bangs that are long, you can brush them back and make a pouf.
If you have flyaways, wear a headband.
Follow these
hair care tips
and tell us in the comment section if your ponytail looked better than before. We're dying to know how many compliments you received!
Also Read
Home Remedies for Shiny Hair
How to Treat Dry Hair
Home Remedies for Healthy Hair
How To Remove Dandruff
Long Hair Tips
Home Remedies for Silky Hair
Hair Fall
Hair Oil

​
*
Fields are required. Make some cool noise, please don't spam and your voice will be heard.
Was this Article helpful?