How To Choose The Right Hair Oil For You
How To Choose The Right Hair Oil For You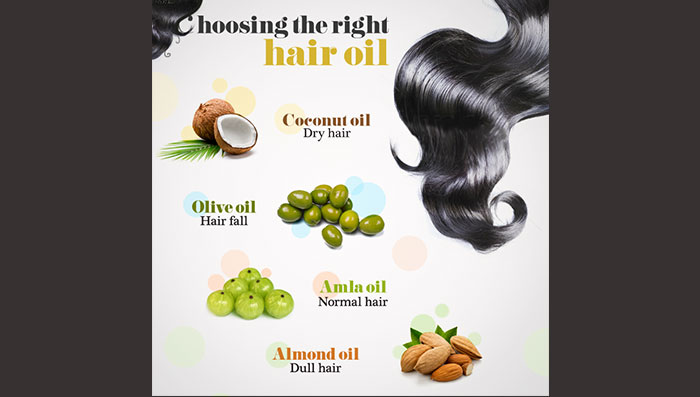 The secret behind beautiful hair isn't just great styling, it is hair that's healthy from root to tip! But what makes your hair look healthy – oiling! Yes, you don't need a host of products to maintain your hair, just use our
natural hair care tips
and maintain a regular oiling regime. Oiling can be a god-send remedy for those with severely damaged, over processed, and heat styled hair. After all, it's because of oiling that our mothers, grandmothers and great grandmothers never complained of hair damage the way our generation does today. Here are few rules you should consider on how to choose the right hair oil for you:
The first thing about oiling is to choose the right hair oil. It's important to pick a hair oil that you benefit from. Different hair oils have different benefits, while some take care of scalp issues like dandruff, some give your hair shine and remove dryness. So make a wise decision.
If it's an essential oil you're using, always follow our hair care tip and never apply the oil near to your hair or scalp, you must mix it with a carrier oil to form a base first. For example, if you're using eucalyptus oil, dilute a few drops (depending on how strong it is) with say an olive oil and then use it on your scalp or hair.
Essential oils are to be chosen after knowing their inherent properties, for example, lavender oil is great for great for dry hair, sandalwood oil works well for split ends, tea tree oil is perfect for dandruff, lemon oil is awesome for a greasy scalp, rosemary oil can be used for normal hair and argan oil is for frizzy hair.
Examples of good carrier oils are amla (Indian gooseberry), olive, almond, coconut, jojoba and avocado. These oils contain so many hair care properties that they can be used on their own too. Read on to know how:
Dabur Amla Hair Oil
Packed with many benefits for hair, it lends goodness to the hair in various ways. The Indian gooseberry strengthens your hair follicles, thus encouraging
hair growth
, it acts as a great conditioner for dry and rough hair and is used as a cleanser for the scalp. It's rich in antioxidants and vitamin C which prevent premature greying of hair. Regular use of amla prevents accumulation of dandruff on your scalp. And besides strengthening your hair, regular use of amla counters several hair problems like hair loss, split ends and frizzy hair.
Vatika Enriched Coconut Hair Oil Enriched with 8 time-testes herbs and the natural goodness of coconut, Vatika Enriched Coconut Hair Oil, gives your hair body and radiance while taking care of the critical balance of ingredients. Coconut oil is also a great choice when it comes to deep conditioning for coloured/damager hair.
Vatika Enriched Coconut Hair Oil With Hibiscus
Hibiscus flower is known for its natural goodness in helping control hair fall and maintaining the natural colour of hair. So its nourishing properties along with the inherent qualities of coconut make Vatika Enriched Cocount Oil with Hibiscus the perfect combination for thicker, stronger and silkier hair.
Vatika Enriched Olive Hair Oil Dabur's first ever olive oil that takes care of all your hair needs and problems. Its high nutritive value and vitamin E content has made even the Egyptians use this extensively. So why not enjoy the benefits yourself? Vatika Enriched Olive Hair Oil isn't as sticky as compared to most of the other commonly used oils due to which it can be rinsed off easily, This is the reason olive oil has been recommended by many hair care experts and professionals as one of the most promising products and even a one-stop hair care solution.
Dabur Almond Hair Oil
The wholesome goodness of almond protein when combined with the nourishing power of 2x vitamin E, gives you a non-sticky light hair oil with a mild fragrance that keeps your hair gorgeous. Not only does almond oil make your hair smooth and manageable, but its regular massage helps fight dandruff, promotes blood circulation and the growth of new hair, protects the hair from breakage and makes them stronger too.
There's more on oiling coming up in the articles to follow. Stay tuned and do tell us if you liked our article on how to choose the right hair oil.
Also Read
How To Get Silky Hair
Healthy Hair Tips
How to Get Long Hair
How to Stop Hair Fall
Hair Oil

*
Fields are required. Make some cool noise, please don't spam and your voice will be heard.
Was this Article helpful?