How To Blow Dry Your Hair at Home
How To Blow Dry Your Hair at Home
24 May 2018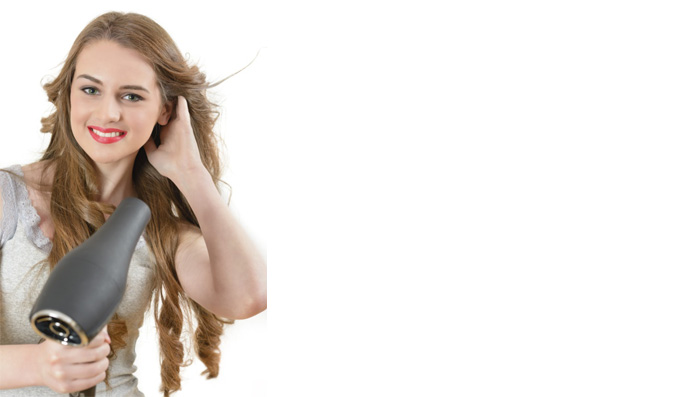 Hairstyles for long hair tend to get tedious and time consuming, especially if you have wavy or curly hair. So here's a hair care tip which would help you prepare your hair for any occasion without any mess. Just like nude works the best when it comes to make up, simple open hair works the best when it comes to hairstyles for long hair. But how can you do that when you are having a bad hair day? Learn to tame them. Just blow dry your hair at home and give them any style you want. Sounds simple? Well we won't lie to you. It can get really tough and is a lot trickier than it appears at first. But if you follow these simple steps, you can attain salon style hair in a matter of minutes.
What you need for this easy hairstyle for long hair
Vatika Heena and Olive Shampoo
A wide tooth comb to detangle the hair
Section clips to protect your hair from overheating and burning
A round brush
A blow dryer with a nozzle of good quality, preferably with different options of heating and air speed
A good hairspray to give a smooth finish

Step 1: Wash your hair with Vatika Heena and Olive Shampoo. It nourishes your hair and makes sure that heat doesn't damage your hair. Then towel-dry your hair and comb it.

Step 2: Now remove the excess water from your hair using the dryer on low setting. To add volume to your hair, bend your head down and blow dry your hair pointing the dryer upwards.

Step 3: Apply some smoothening cream or lotion on your hair for a long lasting effect.

Step 4: Divide your hair into four equal sections and secure each section with a section clip. Unclip one section from the front and using a large round brush beginning at the roots, gently pull through the hair to the ends while directing the blow-drying on high speed. Pull the hair away from your head at about 45 degrees angle, making sure to stretch it as you go. Important hair care tip: To add to the shine and prevent damage, point the nozzle down the hair and not directly at it or facing upwards. That can make your hair fizzy.

Step 5: Continue unclipping and blow-drying the hair in the same way until it is dry and styled smooth.

Step 6: Now finish with blowing cool dry air into your hair. This helps to close the cuticle and maintain the style for long, adding shine to it.

Step 7: In the end, just use a bit of spray or shine serum and lock a wonderful hairstyle for long hair

This hair care tip gives you the power to flaunt your tresses in their most natural form. Make sure that you compliment it with minimal make up so that your natural beauty can shine. Team up this look with a casual dress or colour blocked ethnic suit. If you have any other ideas about completing this look, do tell us in the comments!
Read More Tips On:
How To Make Hair Silky
How to Get Shiny Hair
How To Remove Dandruff
Healthy Hair Tips
Hair Fall
Long Hair Tips
Hair Oil
Tips for Dry and Damaged Hair
​
*
Fields are required. Make some cool noise, please don't spam and your voice will be heard.
Was this Article helpful?