Mehendi for Hair: How to Use Henna for Hair Growth?
Mehendi for Hair: How to Use Henna for Hair Growth?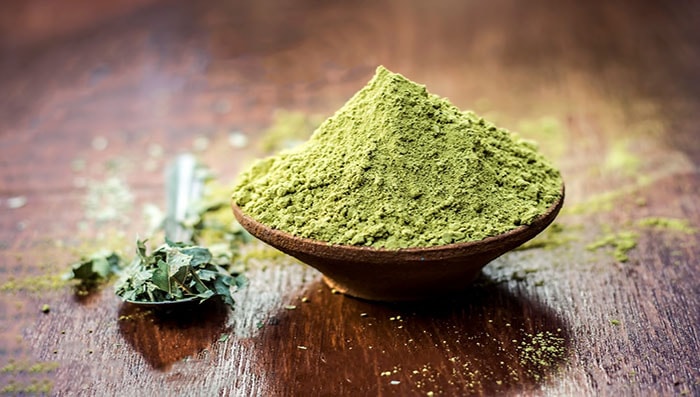 In the age of hair color and chemical products dominating our lives, it is hard to make choice between using them and losing hair small amounts of hair over time, and not using them and then waiting for the inevitable to happen.
Video:
Vatika Enriched Coconut Oil For Hair – Reduce Hair Fall By 50%| MyBeautyNaturally
While we struggle to battle with 'what is good for now' and what will be good for later, we forget that sometimes, the best things are not found no matter how hard you look outside, but are present around you and your home.
DIY hair treatments have become all the rage and no wonder in the list of things mentioned that promote hair strength and growth, Henna almost tops the chart. Yes, henna, that green or brown thing you see your parents or grandparents apply on a holiday or when they designate to.
Henna for hair is literally a godsend. It is a vital ingredient to encourage hair growth and hair blackening among other things.
Here we will discuss a lot of things, like is mehendi good for hair, how henna leaves for hair are good, how to color hair naturally and benefits of henna for hair.
Let us first talk about benefits of henna for hair and a bevy of advantages it brings.
Benefits of henna for hair

Scalp health upkeep

In the heat and dryness of the world, henna for hair is just what you need. Benefits of henna for hair include its antimicrobial attributes and henna helps in cooling the scalp.

Balances pH levels

Henna for hair also helps stabilize the pH level of hair. It is an excellent way to moderate the oil release in your scalp and hair. Benefits of henna for hair also extend to helping unclog follicles.

Boots hair growth

Is mehendi good for your hair growth? You bet! When your pores are unclogged and the pH levels are in check. These are optimum conditions for the hair to prosper and when hair growth is possible more than ever. Henna benefits for hair not only help your hair grow faster but when they do they are of a better texture.

Repairs and enhances

The nutrients in henna are highly helpful to nourish and repair your hair. Improve hair elasticity by using henna for hair.

Conditions hair

Henna for hair growth is also directly related when it is combined with hydrating ingredients for hair enhancement. Henna builds a protective layer around the hair so the moisture is locked in.

How to use henna/How to apply henna

Now that we have an answer to the question 'is henna good for your hair' let us find out a few ways in which henna can be utilized for all your hair problems and needs.

How To Go About It?

For henna hair care you will need the following:

1/2 cup henna powder
1/4 cup warm water
Gloves
Coconut oil
Applicator brush
Shower cap

Mix water and henna together and whip it until a smooth paste is formed and leave it to stew for another 12 hours. If you do not want the henna to give color start applying as soon as you make the paste.

Apply some coconut oil on your ears, around your hairline and all the other places where the henna should not be touching.

Get those gloves on and start applying the mixture on your hair applicator brush. Begin from the bottom and reach the tips of your hair.

Ensure you bring every section to the top of your head so as to form a bun.

Now cover the head with a shower cap and give it two hours. Skip conditioning and rinse the henna with a mild shampoo and lukewarm water.

This henna mehandi for hair is not only great for your scalp but is also excellent in coloring your hair and covering your premature or mature gray hair. Mehndi benefits for hair range from unclogging pores to restoring the pH balance along with providing nutrition for your hair.

Is henna good for hair growth? Yes, even when used alone, although when combined with other ingredients, mehandi benefits for hair growth are greatly enhanced.

Speaking of henna hair packs and its advantages, here are some of its more successful accompaniments

Henna Powder for hair with amla

For this concoction, you need:

Half a cup henna powder
Two tablespoons amla powder
One quarter warm water
Gloves
Coconut Oil
Applicator Brush
Shower cap

In a glass bowl, mix the henna powder, amla powder, and wait until you get a thick and smooth consistency. You can start applying the mixture instantly in case you don't want the mehandi to leave color.

Cover all your hair with this paste and make sure to avoid areas like your hairline, eyes and ears.

Make sure every section comes back to the top of your head to form a bun.

Leave the henna on for 2 hours and after that rinse it with a mild shampoo. Do not use a conditioner after.

Let your hair air dry.

Amla is rich in Vitamin C and encourages hair growth hence is a perfect combination with natural henna for hair boost and growth.

Beetroot and henna for hair

Beetroot is a usual suspect and is a great combination for hair enhancement along with mehandi for hair. Here we will talk about how to mix henna for black color and how to mix henna for dark hair color.

For the following, you need:

1 cup grated beetroot
1 cup henna powder
2 cups water
Coconut oil
Gloves
Applicator brush
Shower cap

For coconut oil you can also use Dabur Vatika and its enriched coconut oil and hibiscus infusion for best results.

How To Go About It?

In a pot, boil the beetroot by adding 2 cups of water. Once the water is at full boil make it so that it reduces to half its volume and then set it aside to cool down. Proceed to puree the beetroot when it is cooled down with water and to this mix, add mehandi for hair. Set this mixture aside to develop for two hours

Apply some Dabur Vatika coconut oil around your hairline, ears and neck to keep it away from the henna concoction. Whip on those gloves and start applying the mixture thoroughly. Make sure every section comes back to the top of your head to form a bun. Leave the henna on for 2 hours and after that rinse it with a mild shampoo. Do not use a conditioner after.

Let your hair air dry.

Doing this once a month helps as beetroot contains vitamins and minerals that are essential for hair growth. It helps darken the hair color and boosts its swatch.

So now we know that henna is the perfect answer to all your hair problems, but so is the varied range of Dabur Vatika hair oil solutions which solve all your hair fall problems with a whole lot of nature. So get one now and feel the love of nature in your hair and on your hair.
Read Also:
Shikakai Benefits for Hair
Fenugreek for Hair
Kadi Patta for Hair
*
Fields are required. Make some cool noise, please don't spam and your voice will be heard.
Was this Article helpful?