7 Effective Natural Remedies using Fenugreek (Methi) for Hair
7 Effective Natural Remedies using Fenugreek (Methi) for Hair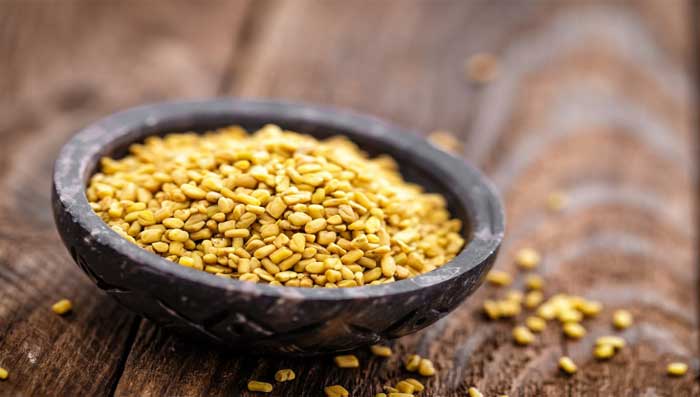 Fenugreek, most popularly known as methi dana in hindi language, an extremely common spice used in every Indian household. Not only is it used in cooking regional delicacies but can also be beneficial by using it in various home remedies , from aiding digestion to reducing hair fall. Well, you read it right. Methi seeds are considered as one of the most effective remedies to treat hair fall issues. Hair fall is like a very common problem and everyone around seems to be tackling with it and with the onset of winters, this problem is going to get bigger. You can blame it on your lifestyle or probably the stressful times that we are living in. Blame it on our lifestyle or the stressful times we live in, but it is a growing concern among many, and home remedies especially methi dana for hair seem to be the only effective way to treat it naturally
Video:
Vatika Enriched Coconut Oil For Hair – Reduce Hair Fall By 50%| MyBeautyNaturally
How to Use Methi for Hair?
As well have known and heard that Fenugreek seeds are a powerhouse of folic acid, Vitamin A, Vitamin K and Vitamin C, and are loaded with minerals such as calcium and iron. Fenugreek seeds also contain high protein and nicotinic acid content, which stops hair fall, dandruff, and is helpful in treating a variety of scalp issues like dryness of hair, baldness and hair thinning. Fenugreek seeds are also known to contain huge amounts of lecithin, which is helpful in hydrating the hair and strengthening the roots or hair follicles. The lustre and bounce that you have been longing to have is something that fenugreek seeds help in bringing back by moisturising your hair.
How to Use Methi for Hair?
To Prevent Hair Fall:

If you really want to treat your hair fall issues, one of the best remedies is to make fenugreek hair mask by the below given method:
Take a bowl of water, soak 2 tablespoons of fenugreek seeds in and leave it overnight but ensure to keep it in a cool place.
Take the seeds and grind the seeds into a paste using the same water. The paste will turn out to be sticky and slimy which is known to impart shine to your hair.
Use the paste on your hair and roots and leave it for 20 minutes on your head
Massage your scalp a little before washing off the paste from your hair with a mild shampoo.
If you want, you can also some lemon juice in the paste to treat your dandruff issues or 1 tablespoon of coconut milk for lustrous hair.

Use of Methi for Hair Re-Growth:

Fenugreek benefits for hair growth are really the best thing ever! Methi hair packs are beneficial for your hair; follow the procedure below to know how

Take fenugreek, boil it along with Dabur Vatika Coconut Oil till the time seeds starts looking red
Let this mix cool down a little and apply it to your scalp while it is lukewarm
You will be amazed to see as to how the use of methi will actually help boost your hair growth
Fenugreek oil for hair gives you lustrous and glossy hair

Fenugreek Hair Mask for Thinning Hair:

Take fenugreek seed powder. Put 2 tablespoons of fenugreek powder in a grinder and grind them till the time you get the fine powder out of it.
Mix the fenugreek powder with olive or argan oil whatever is preferable.
Apply this methi hair pack on your hair and roots and cover the entire head and scalp with the paste
Allow the mask to dry for approximately 10 minutes
Cover your head with a plastic shower cap to generate some heat
Wash off your mask with a mild shampoo and follow up with the conditioner

The results that of applying fenugreek powder for hair are extra ordinary. It helps retain hair moisture and prevents hair fall.

Fenugreek Seeds for Damaged Hair:

Fenugreek hair growth results are amazing and its hair reverse damage caused to your hair like split ends, frizz and general weak hair.

All you have to do is combine fenugreek paste with coconut milk and cover your hair and roots with this paste.
Keep it on for some time and cover your hair with a towel for about half an hour so you're your hair and scalp soak all the goodness
Rinse it off with a mild shampoo
Do this regularly to see the magic happen

Methi Seeds as Hair Conditioner

Take some methi seeds and soak them in water over night
Next morning, take the soaked methi seeds and grind them into a thin paste
Take this mask and apply it on your hair and roots and keep it on for about 30 minutes
Rinse off with water and mild shampoo
See how it will deeply condition your hair.

Methi benefits for hair are immense. It helps prevent hair fall and helps re-grow hair. So keep reading and exploring the various other benefits of methi for your hair.

Fenugreek Seeds for Lustrous, Glossy Hair:

Take some soaked methi seeds along with some curd, lemon juice, honey and water in equal amount.
Mix all the ingredients together and make a fine paste out of it
Use the hair pack all over hair and roots
Rinse off your hair after keeping the hair pack for 45 minutes with mild shampoo
Look how your hair gives you shine and prevents your hair from dandruff and hair fall as well

Fenugreek for Soft, Frizz-Free, Detangled Hair

Take a couple of tablespoons of fry fenugreek seeds
Wash them to remove any sort of dirt and soak them overnight
Next morning, collect the seeds and grind them into a thin paste.
Take some Dabur Vatika Coconut Oil and add it to the paste. Mix well
Use this mask to apply this mask on your hair and scalp
Rinse it off with a mild shampoo after 30 minutes
Get to see your shiny and soft hair post this amazing methi seed nourishment
Read Also:
Bhringraj Benefits for Hair
How to Color Hair Naturally?
Rainy Season Hair Fall Remedies
*
Fields are required. Make some cool noise, please don't spam and your voice will be heard.
Was this Article helpful?