Hair Care Tips for Different Hair Types
Hair Care Tips for Different Hair Types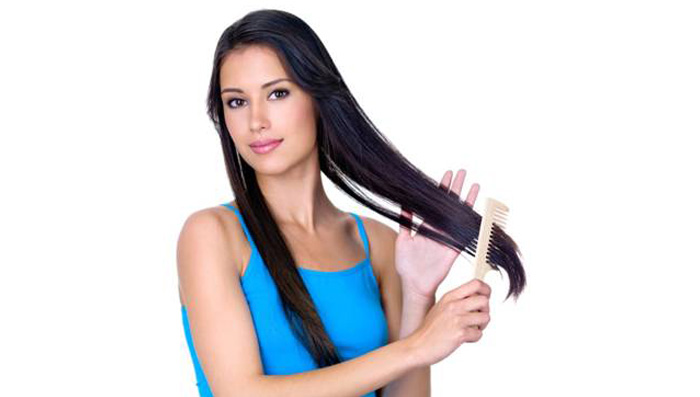 Every hair type is different. And there is no universal solution that fits all. But before you get to tackling hair problems, it's important to understand what type of hair you have. Figuring out hair types is easy! You could either have a greasy or dry scalp, your hair could be straight or curly, fine, thick or frizzy, and of course, there's hair that's undergone chemical treatment, colouring, etc. After you understand what your hair type is, here are some
hair care tips
you can follow:
Hair Care Tip For Greasy Hair – While too much oil makes your hair look limp and dirty, some amount of oil is normal and necessary to make your hair look like it's in good condition. So if you have super-greasy hair, here's what you need to do to control the oil – wash your tresses often, but not too often. Every alternate day is good. Make sure you don't use a heavy shampoo or conditioner. Also contrary to popular perception, an oily scalp causes dandruff, so choose a natural product that doesn't strip your hair off oils or create an imbalance. Pick a Vatika Premium Naturals anti-dandruff shampoo (choose either the Lemon Henna or the Lemon Tea Tree Oil variant) and ensure you use the flat part of your fingers while shampooing for gentler cleaning action. The more you massage, the greasier your scalp becomes.
Hair Care Tip For Dry Hair – Too many products, heat styling, chemical treatments, swimming, colouring jobs, sun exposure, etc., can damage your hair in the long run and make it dry, dull and damaged. So what do you do? Cutting down use of styling products and going the more natural way will obviously help. Always oil your hair with Vatika Enriched Almond Hair Oil before washing and use a mild shampoo that has conditioning properties like Vatika Premium Naturals Mandara Kunkudukai Shampoo with olive conditioning at least once a week.
Hair Care Tip For Fine Hair – Thin hair tends to look limp and lifeless, the trick is to get a haircut that gives you the illusion of thick hair. Also, when it comes to hair care, use a non-sticky oil like Vatika Enriched Olive Hair Oil and a light shampoo like Vatika Premium Naturals Black Olive Almond that cleanses gently. And only apply conditioner to the ends of your hair, not the roots, so your hair doesn't look thinner than what it is.
Hair Care Tip For Thick Hair – Thick hair means high maintenance! Regular cleansing, oiling, conditioning is vital to keep your scalp healthy. Use Vatika Enriched Coconut Hair Oil with Hibiscus to maintain the thickness of your hair, soak it overnight so your hair absorbs the goodness, and then rinse off with Vatika Premium Naturals Henna Olive shampoo. Follow this regime 1-2 times a week to flaunt hair that's full of life! Read more on home remedies for thick hair.
Read More Tips On:
Tips for Dry and Damaged Hair
How to Get Shiny Hair
How To Remove Dandruff
Healthy Hair Tips
Hair Fall
How To Make Hair Silky
Long Hair Tips
Hair Oil
​​
*
Fields are required. Make some cool noise, please don't spam and your voice will be heard.
Was this Article helpful?