Get Rid Of Dandruff Naturally With These Amazing Amla Home Remedies
Get Rid Of Dandruff Naturally With These Amazing Amla Home Remedies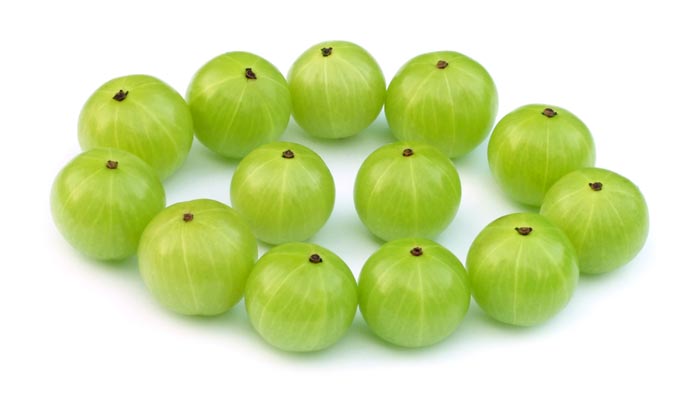 Dandruff features among the most common hair problem faced by people. A chronic scalp condition, it occurs as a result of an under-nourished and dry scalp. To save yourself from the embarrassment of moving around with a trail of white flakes resting on your shoulder or to avoid that curb to constantly scratch your head in public; you must restore to these absolutely superbly effective home remedies. These amla based natural remedies will not only help your scalp become dandruff free but also provide you with the confidence to go all out and flaunt your gorgeous tresses.
Video:
How To Use Dabur Amla Hair Oil for Stronger, Longer, Thicker & Silkier Hair
What is dandruff?
Dandruff is a chronic condition that produces white flakes of dead skin of the scalp, usually when the scalp is dry, or even greasy, for that matter. Although shedding of skin cells is a normal process, excessive shedding leads to dandruff. The oil from the scalp clumps the dead cells which then appear as white flakes. Many factors contribute to dandruff formation including skin conditions, sensitivity to hair products, overgrowth of yeast, dry or oily scalp etc.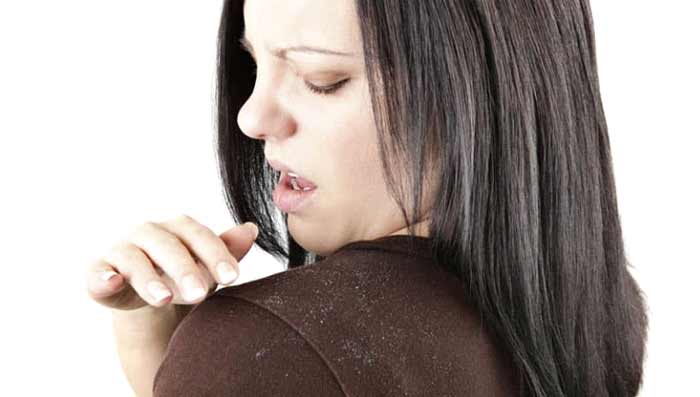 Why amla for dandruff?
While there are many remedies readily available in the market, there are more chances of those products reacting to your skin in an adverse manner and instead adding more to your hair woes than helping you reduce them.
Experimenting with products and ingredients to give your hair a boost of health and beauty is a good idea but only as long as the treatments you are restoring you are natural or homemade with ingredients from your kitchen. One such ingredient that you can add to your hair care regime to treat the problem of dandruff from the root is amla.
Packed with essential nutrients and vitamins, amla has anti-bacterial and anti-fungal properties that prevents exfoliates any free radicals and dead cells from the surface of the skin thus cleansing it inside-out to stop dandruff and any other scalp condition or infection from settling-in. Regular use of amla in any form, as a hair mask, oil or pack is the most effective way of bidding adieu to your hair problems and stimulate the growth of hair that are string, thick and healthy.
How to reduce dandruff with amla?
Ever wondered why despite you trying your best the problem of dandruff never seems to go away? There are many factors that causes dandruff to come back and haunt you again and again. The most common among them are:
Dryness of scalp
Excess of sebum
Skin conditions like eczema, psoriasis & dermatis etc.
Sensitivity/Allergy to certain hair products
Overgrowth of yeast
Improper hair care
Excess use of hair products/treatments
To banish all these conditions from marring the health and beauty of your hair, make amla, the wonder berry, as a constant and integral part of your hair care regime. To help you understand the various ways in which you can use amla for dandruff, we have listed down few effective home remedies for you.
Amla powder for dandruff:

Using amla powder for dandruff is the easiest way to stop the problem in the tracks. Combining it with a host of other readily available natural ingredients to make for a potent dandruff fighting concoction at home. Mix amla powder with water and apply the paste on your scalp. Leave the paste for about 30 minutes and rinse-off with a mild shampoo. Another alternative is to mix amla powder with a paste of medicinal plants like Tulsi and Neem to soothe irritated skin & cleanse the scalp of any infection causing bacteria. Keep the hair pack for 30 minutes before washing it off with a mild shampoo.

Amla juice for dandruff:

Applying juice of freshly squeezed amla juice in combination with lemon and aloe vera juice will help scrub-off any impurities from surface of the scalp, moisturise and condition the scalp from inside and stimulate growth of fresh hair. Mixing juice of amla with Vatika Enriched Coconut Hair Oil and massaging it gently on the scalp and the hair (from root to tip) will not only remove dandruff but also stop your hair from falling. Leave the mix in your hair for about 40 minutes before rinsing it off with a mild shampoo like Vatika Hair Fall Treatment Shampoo. Repeat atleast once a week for best results.

Amla hair oil for dandruff:

Did you know that dry, under-nourished and itchy scalp is a major contributor towards the problem of dandruff? To add strength and health to your hair, you must give it the required nourishment and care. Gently massaging your hair with Dabur Amla Hair Oil , atleast once a week, does just that. It strengthens your hair follicles; controls premature greying of hair; nourishes your scalp; enhances growth of thick & healthy hair; and gives them a boost of natural shine.
Read our blogs to learn more about benefits of amla for hair & tips on how to get rid of dandruff .
Read More Tips On:
Tips for Dry and Damaged Hair
How To Make Hair Silky
Healthy Hair Tips
How to Stop Hair Fall
How to Get Shiny Hair
Hair Care
Long Hair Tips
Hair Oil
​
*
Fields are required. Make some cool noise, please don't spam and your voice will be heard.
Was this Article helpful?