Fed Up With Hair Fall? Here is Amla to the Rescue
Fed Up With Hair Fall? Here is Amla to the Rescue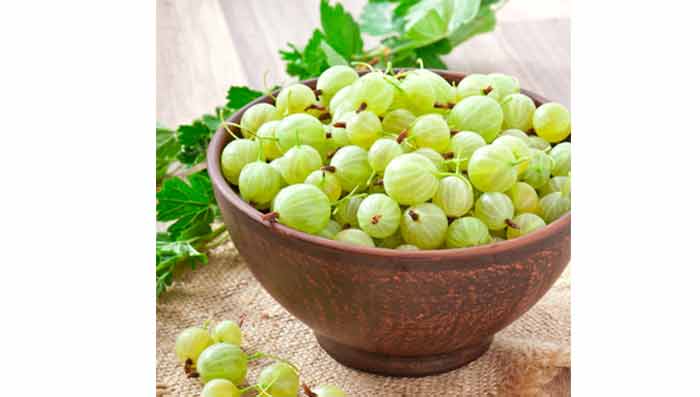 Is hair fall a constant problem for you? Do you gather a handful of your hair every time you take a shower? Don't know how to prevent hair fall? Fret not! We understand your misery and so have got you covered some amazing remedies and homemade natural treatments using amla that will not only prevent your hair from falling but also make them become strong, thick and healthy…just the way you want them to be!
Video:
How To Use Dabur Amla Hair Oil for Stronger, Longer, Thicker & Silkier Hair
Why use amla for hair fall?
Also termed as a wonder berry, amla is one of the most nourishing and nutrient packed herb to include in your hair care regime as it can do a world of good in treating your dull, damaged and brittle hair. As an excellent hair tonic, it aids in making your hair thick, strong and lustrous.
Among the many nutritional benefits of amla, the most-effective and widely known ones include:
Rich source of vitamin C & B complex
Calcium
Phosphorous
Carotene
Iron
Anti-oxidants
How to control hair fall using amla?
There are numerous ways in which you can use amla for hair fall and for problems related to hair breakage, split-ends & dandruff. As a rich source of vitamin C, anti-oxidants, calcium and iron; regular use of amla helps get rid of cell-damaging free radicals that can severely harm the health of your scalp and hair.
Without restoring to expensive saloon treatments and burning your money on chemically treated hair products, you can have beautiful looking tresses thanks to these home remedies for hair fall especially created for you using amla as the key ingredient. With these amla driven natural hair fall remedies, rest assured, your hair will get all the nourishment and care they have been craving for and make all your hair woes disappear in no time. So, what are you waiting for girls?
Amla juice for hair loss:
Amla juice is not only one of the best home remedies for hair fall but also protects the hair from premature grey hair. Wondering how to prevent hair fall using amla juice? Just mix 2 spoons of freshly squeezed amla juice with 1 tablespoon of lemon juice and massage in circular motion on your hair and scalp. Leave it to rest for 30 minutes before rinsing it off with a mild shampoo. Repeat this amla juice for hair fall remedy at least once a week to
Amla & Shikakai hair mask:
Amla mixed with shikakai makes for one of the best home remedies for hair fall. Mix equal quantities of amla and shikakai powder with water to make a thick paste. Apply the paste to your hair, all the way from root to tip, and leave it to rest for about 30 minutes before washing it off with a mild shampoo. Repeating the process at least once a week will reduce hair fall to a great extent.
Amla & Henna hair mask:
Henna in combination with amla aids in hair growth, reducing hair fall and providing the right alkaline balance for the scalp for it to stimulate growth of healthy, thick and strong hair. To make this effective home remedy for hair fall, mix 4 tablespoon of amla juice and 3-4 drops of Dabur Amla Hair Oil to 3 tablespoons of henna powder and make a thick paste. Apply on the hair and leave it to dry for 30 mintues before rinsing it off with a mild shampoo like Vatika Hair Fall Treatment Shampoo for added effects.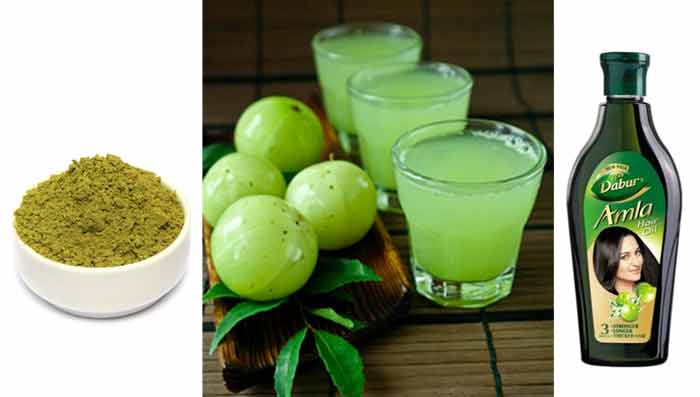 Learn more about other henna home remedies for hair.
Amla & tulsi hair mask:
Tulsi is as effective in treating hair fall as it is in treating any other ailment. As a wonder herb, when combined with amla powder, it makes for a super effective and functional home remedy for treatment of dandruff and hair loss and conditions the scalp from deep within to ward off any skin condition that can mar the beauty of your tresses. All you are required to do is to 2 tablespoons of amla powder add 2 tablespoons of tulsi paste made by crushing 6-7 leaves of the plant. Mix well and apply all over your hair. Leave it to rest for 15-20 minutes and wash off water followed by a mild shampoo rinse.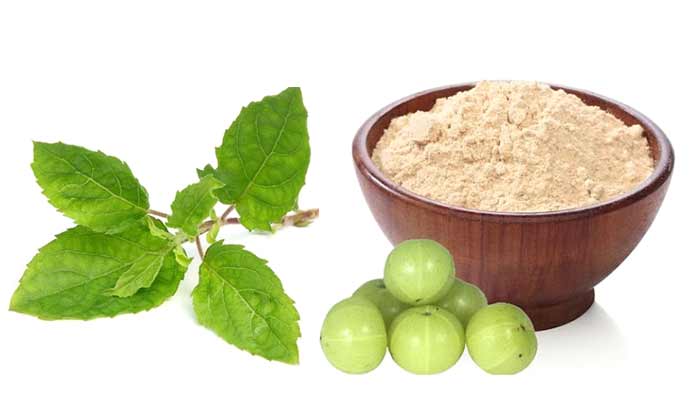 Also learn about benefits of tulsi for skin
Amla & coconut oil hair pack:
What can be better than pampering your hair with the goodness of amla and coconut oil! This hair pack is guaranteed to leave your scalp feeling healthy and hair smooth and happy. Just mix 2 tablespoons of amla juice with 2 teaspoons of Vatika Enriched Coconut Hair Oil and massage your scalp with it for 5 minutes. Leave the mix in your hair for 30 minutes before rinsing it off with a mild shampoo. The coconut oil, enriched with triple goodness of amla, henna & lemon will deeply condition the scalp, nourish it and enhance growth of thick and luscious looking hair.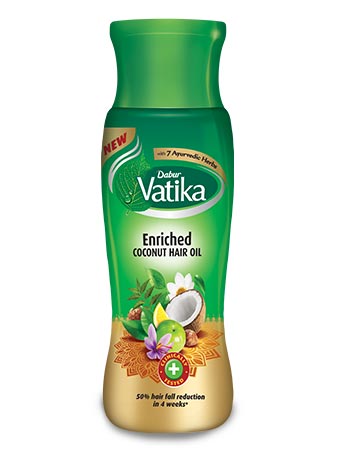 If trying out natural home remedies for hair loss or making your own amla juice for hair fall cures sound like too much of hardwork, you can still achieve your aim by investing in a nourishing and effective hair care regime. Massage your hair and scalp regualry with quality amla based hair oil like Dabur Amla Hair Oil. Fortified with natural amla extracts, it noiurishes the scalp from deep within, adds strength to the roots, controls hair fall and encourages growth of fresh, thick and strong hair. It simply is like one solution to any hair related problems.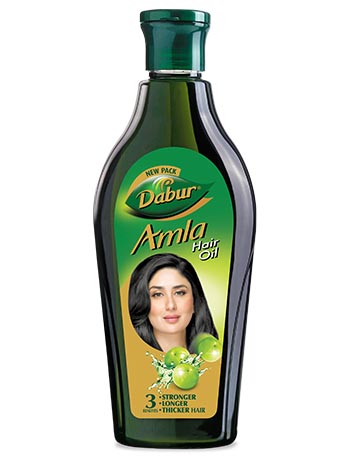 Read our blogs to learn more about benefits of amla for hair.
Read More Tips On:
Tips for Dry and Damaged Hair
How to Get Shiny Hair
Healthy Hair Tips
How To Remove Dandruff
Hair Care
Long Hair Tips
Hair Oil
​
*
Fields are required. Make some cool noise, please don't spam and your voice will be heard.
Was this Article helpful?