Causes & Hair Care Tips for Itchy Scalp in Monsoon
Causes & Hair Care Tips for Itchy Scalp in Monsoon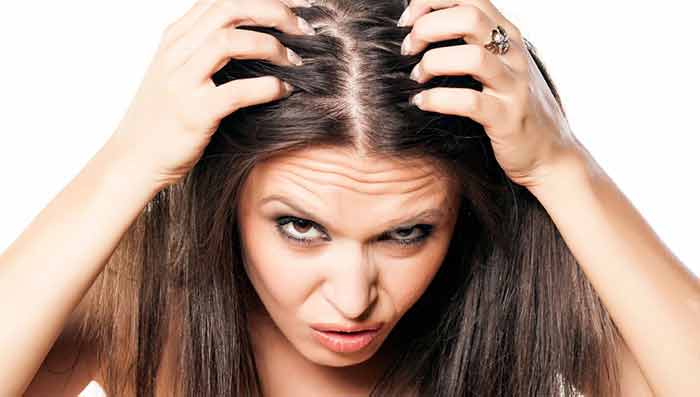 Monsoon, no wonder, is a good break from the hot and sweltering summer. But it also has a downside that can often time play havoc with your hair. It is normal to have a bad hair day during rainy season as high humidity levels make the hair go frizzy and look unmanageable. It is also the time of the year when your scalp becomes the breeding ground of host of problems like fungal and bacterial infections, dryness and itching in the scalp.
So, what can one do to get rid of the scalp problems and maintain healthy and beautiful looking hair during monsoons? Simple, maintain a healthy and regular monsoon hair care regime. Remember, your hair demand extra attention during monsoons and taking good care of them will go a long way in giving you gorgeously beautiful hair.
Causes of scalp itch in monsoon:
Itching on scalp is a symptom of unhealthy hair. The causes of scalp itch can range from poor dietary habits to negligence of hair care in rainy season. But the most common causes of itching in the scalp in rainy season include:
Dandruff:

When the sebaceous glands grow more vigorous they lead to the accumulation of dull skin scales on the scalp, which result in the formation of flakes and dandruff on the scalp.

Seborrheic Dermatitis:

It is a kind of skin disease that affects the health of your scalp by forming scarlet patches on it, which gradually convert into crusts. Getting drenched in the dirty, acidic and polluted rain water is one of the most common ways of coming in contact with it.

Inflammatory Conditions:

This condition is also known as psoriasis and causes formation of patches on the scalp that leads to scalp itch. As the weather gets more humid and wet, the condition also worsens.

Parasitic Conditions:

Hot and humid conditions during the monsoon season provide ideal setting for parasitic conditions to break out. It includes break out of lice and nits on the scalp. Sharing hair tools like combs and bands, improper hair care in rainy season and proximity with a person already suffering from the condition leads to it spreading fast. Parasitic condition is also among the most common causes of scalp itch during monsoon.
How can one get rid of scalp itch in monsoons?
The answer lies in a good monsoon hair care regime. Itching on the scalp in rainy season is quite common. Losing your sleep over it and rushing to try out expensive hair treatments is probably not the best solution to opt for. So what can you do to combat the problem of itching in the head?
Follow these tips to free yourself from the problem of itching on the scalp and get beautiful, manageable & healthy hair.
Tips for hair care in monsoon:
Regular hair wash :

Head itches are a result of unclean scalp. Rain water is full of chemicals & dirt and can spoil the health of your scalp. To keep your scalp squeaky clean and hair strong, wash it regularly with a mild shampoo. Regular usage of mild and nourishing shampoos will condition the scalp from within thus enabling your hair to grow stronger and healthier with every wash.

Oiling :

Regular hair oil massages will help nourish the hair from root to tip and add natural bounce and shine, which often goes missing from the hair during monsoon. As an effective routine for hair care in monsoon, massage your scalp and hair with Vatika Enriched Coconut Hair Oil . Loaded with triple benefits of henna, lemon and amla; it provides outstanding nourishment and care while treating any signs of hair or scalp damage. If frizzy and unmanageable hair is bothering you to no end, opt for regular head massages with the non-sticky and fragrant Vatika Jasmine Hair Oil .

 

Opt for natural remedies :

Excessive use of hair products can further add to your hair woes during monsoons. Spending a bomb on expensive hair treatments might not always yield the desired result. Remember the scalp is at its vulnerable best during monsoons so treating it with natural home remedies is the best option.

 

Using remedies like amla, lemon or aloe vera juice and baking soda mixed with water to exfoliate the scalp will aid in keeping head itches at bay; shoo away the problems of dandruff & scalp infection; and give you healthy and beautiful hair.

Let the hair dry naturally :

In wet season, avoid the usage of dryers. The heat from the dryer robs it of its natural moisture; make the hair follicles weak and aggravate the problem of split and dry ends.
Need more tips on hair care in monsoon?
Read our blogs on
hair care tips in monsoon
and
monsoon hair care remedies
.
Read More Tips On:
Tips for Dry and Damaged Hair
How to Get Shiny Hair
Healthy Hair Tips
How to Stop Hair Fall
Hair Fall due to Dandruff
Hair Oil
Hair Care
Hair Fall in Monsoon
​
*
Fields are required. Make some cool noise, please don't spam and your voice will be heard.
Was this Article helpful?