Benefits of Curry Leaves for Hair
Benefits of Curry Leaves for Hair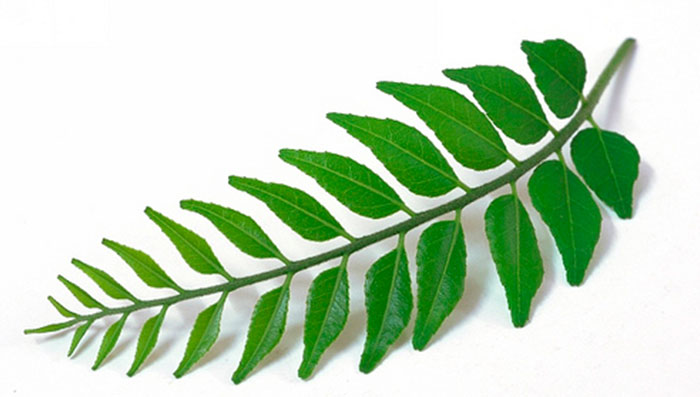 The flavoursome ingredient you use in curries, the curry leaf, is one herb that has loads of health advantages. From aiding your digestive system to controlling bad cholesterol, curry leaves aren't just healthy, they have tons of beauty benefits too. Especially for your hair! Read on to know how with these
hair care tips
.
Rejuvenates damaged follicles
Every time you eat curry leaves, remember that you are aiding your scalp's restoration process and feeding your hair follicles essential nutrients, thereby giving your hair more strength.
Strengthens hair
High in nutritional value, curry leaves remove many hair problems, one of them being hormonal imbalance, which in turn helps in repairing damaged roots and strengthening your hair strands.
Prevents premature greying
Did you know the vitamin B in curry leaves restore the natural colour of your hair by nourishing the roots and thereby preventing premature hair greying!
Reduces hair fall and aids hair growth
Hair fall happens due to many reasons, but one way to combat them all to consume curry leaves. Rich in beta-carotene, proteins, antioxidants and amino acids, curry leaves prevent hair thinning and hair loss by strengthening hair follicles, removing dead scalp follicles, moisturising the scalp and increasing hair regrowth.
Hair care tips on how to use curry leaves:
Eat it
Add curry leaves in your daily diet to get save yourself from hair-related problems. You could use it to garnish currys and dals or add finely chopped leaves to a glass of buttermilk.
Apply a mask
If you want to use curry leaves externally, try this hair mask. Making a fine paste with a few curry leaves, mix it with yogurt and massage it on your hair. Leave the pack on your scalp for 30 minutes and rinse off with a herbal shampoo. You'll be left with hair that's shiny, bouncy and healthy.
Use as a hair tonic
You can also make a hair tonic with curry leaves too! Try this hair care tip - boil a few curry leaves and add it to Vatika Enriched Coconut Hair Oil. Applying it on your scalp and massage well. Wash your hair for usual and follow this process once a week for a month to see a remarkable increase in hair growth. The hair tonic not only stimulates the scalp, it also enables hair growth.
Make tea
Never heard of curry tea? Trust us, it works wonders for your hair. All you have to do is boil some curry leaves in water, squeeze a lime and add a spoon of honey to it. Drink this tea, every day, for a week and see the results! Your hair will be smooth, shiny, black, devoid of dandruff and hair damage. What's more, it will grow faster too!
Also Read
How To Get Silky Hair
Healthy Hair Tips
Tips for Long Hair
Tips for Dry and Damaged Hair
How to Stop Hair Fall
Hair Oil

*
Fields are required. Make some cool noise, please don't spam and your voice will be heard.
Was this Article helpful?