6 Blow Drying Moves That Youve Got All Wrong
6 Blow Drying Moves That Youve Got All Wrong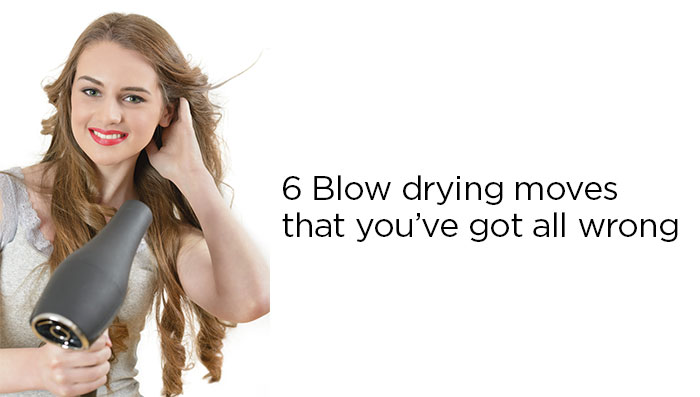 Not washing hair with an appropriate shampoo for starters, can cause some serious damage. The shampoos that you buy off the shelves contain ingredients that are capable of destroying hair from the roots to the tips. For luscious hair that flows flawlessly, use Dabur Vatika Heena & Olive Shampoo twice a week. But have you ever thought about the fact that your at-home blow dried hair doesn't come out quite as perfect and bouncy as salon styled hair? Does your aching wrist and frizzy blow dried hair end up taking a toll on you? Then we hate to be the ones to break it to you, but you're probably going wrong along the way. An otherwise simple and easy process is often done wrong which results and dried and damaged hair. Instead of making your precious tresses any worse, it is better to keep in mind these common mistakes, so that in the future you will be able to avoid them and obtain the perfect tresses with these
hair care tips
.
No sectioning of hair
Flipping your head over and over again to blow dry your hair until it gets frizzy isn't going to help your cause. Always section hair into the bare minimum of three sections as you dry.
Standing while you blow dry
Standing up during throughout the drill can make your upper body tired. But when you're comfortably seated, you can fully harness that upper-body strength without getting tired.
Holding the brush in the wrong hand
Mostly women hold the hairdryer with their dominant hand and use the brush with the weaker one. But what you don't know is that you'll get better results by holding the brush with your stronger hand and style your hair with even more finesse than professional hair stylists.
Holding the dryer too close
Holding the blow dryer right on top of hair doesn't dry it faster, but only causes damage. Always make sure that you put the plastic nozzle in front to regulate and direct heat, and keep it at least an inch away from strands.
Holding the dryer wrong
Always keep the drier nozzle parallel to each section of hair that you hit. Otherwise, the heat will irritate and roughen up the cuticle, leaving you with cowlicks and flyaways, damaging and smoking strands.
Blow drying too fast
Blow drying is not a race against time. Be more methodical, careful and hold your horses. If you race through the process, you'll find that you need to keep returning to re-do sections. If your hair dries quickly before styling it, keep a spray bottle of water nearby to spritz.
These might seem as trivial hair care tips, but it's the small things that make a big difference! Want to up to any more blow drying blunders? Share your thoughts with us in the comments section below.
Also Read
Home Remedies for Shiny Hair
How to Treat Dry Hair
Home Remedies for Healthy Hair
How To Remove Dandruff
Long Hair Tips
Home Remedies for Silky Hair
Hair Fall
Hair Oil

*
Fields are required. Make some cool noise, please don't spam and your voice will be heard.
Was this Article helpful?