5 No-Heat Hairdos You Must Try This Summer
5 No-Heat Hairdos You Must Try This Summer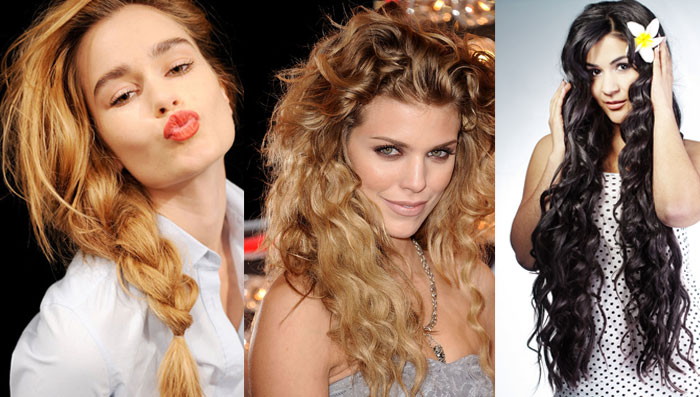 If you want to put an end to the severe damage caused by heat styling your hair, then this just might be the answer to your prayers. Every morning when you blow dry your tresses, you're stripping them off essential natural oils that keep them healthy and luscious. But on the other hand, there are some brilliant ways to style your hair using no heating equipment. These hair-dos are quick and easy and look even more gorgeous than the ones made using straighteners, crimpers and curling rods. And if you like to wash your hair at night because you can just let all the magical styling happen while you're asleep. So, check out some of the best no-heat hair styles to keep your hair looking fabulous every day.
The Frizzy Crimped Do



A crimped hairstyle, without using a crimping machine? Yes, it's very much possible with this hair care tip! Throw away your crimping iron because this technique of hairstyling can give your tresses a hot crimped do without heating them. All your need to do is, wash your hair an hour before you're planning to go to bed, give it about 30 minutes to dry naturally, then braid it into a lot of thin, tight braids. Leave the braids overnight, open them in the morning, style your hair and voila!
Beach Waves



How amazing would it be to get a head full of shiny, perfectly polished waves without coming close to a curling iron? Well, it's actually pretty easy with this hair care tip. Just start by shampooing and conditioning your hair. Let your hair dry until it is slightly damp. Use a wide toothed comb to untangle your hair. Now take a hair tie to twist and wind your hair around it to form a messy bun. Let your hair dry completely and then slowly take off the hair tie and style as required. Remember, the more hair ties and the more buns you make, the tighter and defines your curls will be.
The Wild Child



Here's one hair care tip/trick that comes handy in times when you want a gorgeous curly hairstyle without a single hot or regular roller. Cut an old tee/sheet/pillowcase into long strips and wrap sections of your half dried hair around them by placing the end of each section on the centre of the strip and rolling up. Once you're done, just tie the ends of the strip together and move to the next section. Don't forget to make smaller sections as they help create tighter curls. Now make a messy plait and get set to make heads turn!
Au Naturel Curls



Ever wanted those perfect round romantic curls for one of your dates? Fortunately, this beautiful hairstyle can also be achieved without any heat! Start with dry, clean hair, then slightly wet only the bottom half of your length. Apply styling mousse on the damp part, comb it to distribute the mousse evenly, then put it up in a tightly rolled bun. Let your hair dry for a couple of hours, then let it down and enjoy your naturally made loose curls!
Deep Waves



If you've got some scarfs that have been idling around, it's time to put them to use! All you need to do is take sections of damp hair and wrap them around the scarf. Once you've wrapped all your hair, the last thing you need to do is sleep on it and voila! Wake up with a gorgeous set of curls or waves that require very little time to style!
Follow these
hair care tips
and enjoy these super easy gorgeous hairstyles for long hair day after day! Don't forget to add more shine and bounce to these hairdos with
Dabur Vatika Enriched Almond Hair Oil
. So, which one of these hairstyles for long hair are you going to try first? Share your views with us in the comments section below.
Also Read
Home Remedies for Shiny Hair
How to Treat Dry Hair
Home Remedies for Healthy Hair
How To Remove Dandruff
Long Hair Tips
Home Remedies for Silky Hair
Hair Fall
Hair Oil

​
*
Fields are required. Make some cool noise, please don't spam and your voice will be heard.
Was this Article helpful?